Alignment question
06-14-2018, 05:31 PM
Alignment question
---
I recently installed Aspec springs with new OEM shocks. Since this lowers the car slightly, when I get my alignment,do I tell them it has aspec springs and that it's a tad lower than normal specs? Or jus let them do their thing and just go with the flow?

i ask because I got the alignment, but never said anything. Now I hear a "woomp, woomp, woomp" noise from my rear (I think drivers side), with some vibration that gets louder the faster it goes (only hear it past 40mph). I'm wondering if they aligned it to the non aspec version and that's why it's wonky.
06-14-2018, 05:32 PM
Moderator
Join Date: Apr 2010
Location: SoCal, CA
Posts: 34,483
Show us the alignment sheet
06-15-2018, 11:51 AM
I threw it away like a dumbass.
06-15-2018, 01:51 PM
I'm going to the same ay to get the tires balanced. Maybe they have it on my account
06-15-2018, 09:31 PM
Got em!
---
Got my tires balanced and rotated. The vibration isn't really there. But the noise is.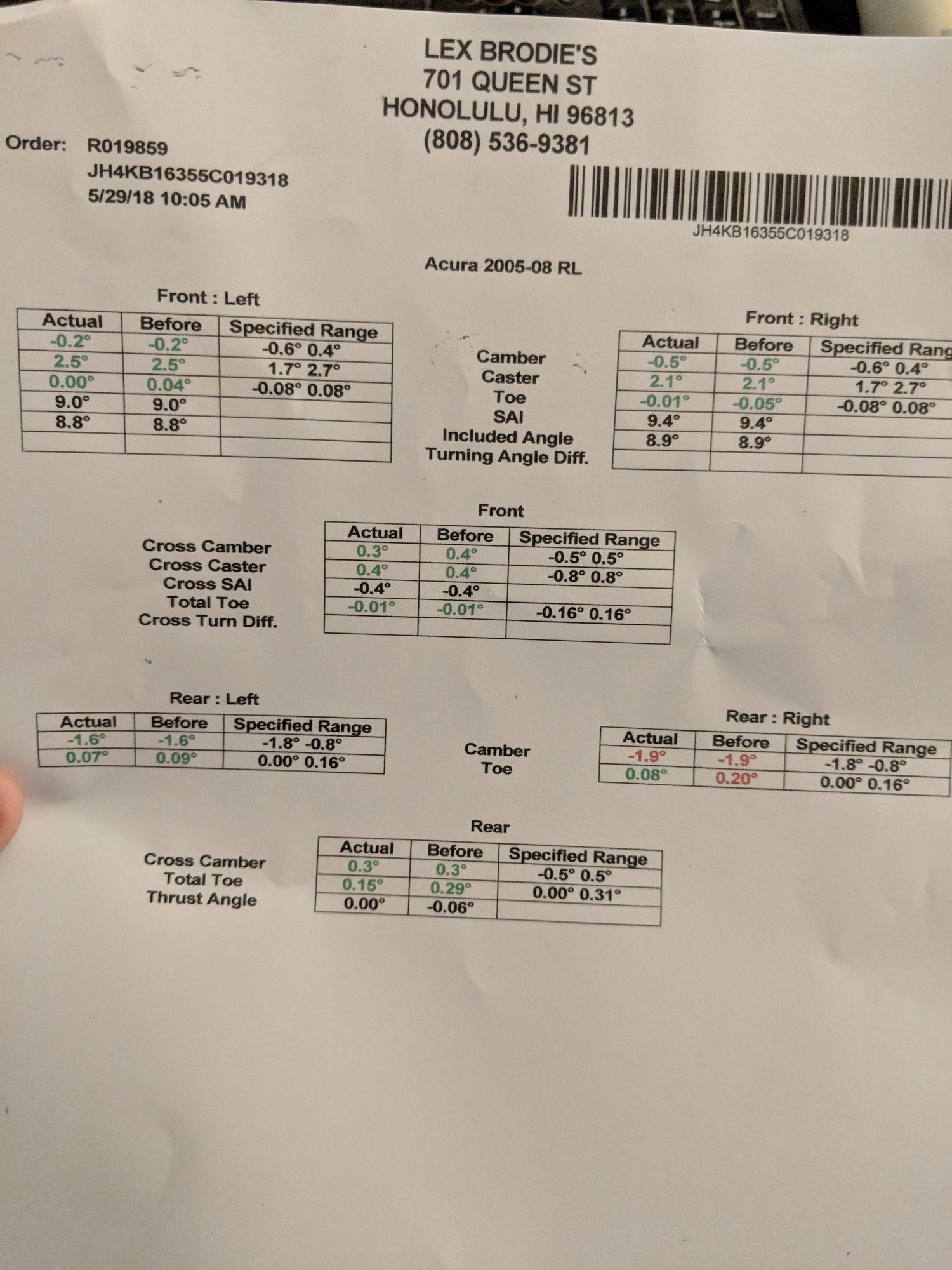 06-19-2018, 03:33 PM
Well, if anything, this post can act as a reference for others. Still Not sure if my alignment specs are right, so take the information provided with a grain of salt. Hopefully it's useful to someone
06-20-2018, 01:47 PM
Moderator
Join Date: Apr 2012
Location: Van Buren Township, MI
Age: 29
Posts: 2,322
Everything seems within spec?
06-20-2018, 06:25 PM
Is there a spec for aspec springs with OEM non aspec shocks?
08-07-2018, 09:09 PM
Back again. Went and changed the tie rod sets. The inner was dead, dropped like a rock. Had absolutely no resistance. Unfortunately, even after the alignment it still has some issues. Seems to like to pull to the drivers side still and a "whomp" noise at 45-60 mph. I have my alignment sheet, and it seems wierd they left one in the red. What you think?
Thread
Thread Starter
Forum
Replies
Last Post
3G TL Tires, Wheels & Suspension
3G TL Tires, Wheels & Suspension
1G TSX Tires, Wheels, & Suspension
First Generation CL Discussion (1997-1999)
Second Generation TL (1999-2003)