My simple DVD navigation install for under $700
09-23-2006, 08:37 PM
Acuuura
Join Date: Jun 2006
Location: Burnaby B.C.
Age: 41
Posts: 31
Thanks: 0
Thanked 0 Times in 0 Posts
My simple DVD navigation install for under $700
---
This thread is for the people who want an easydvd setup with no ipod/xbox/rear camera. Hopefully this answers some questions you have and more importantly, motivates you to go get this done in any of the dvd setups available:
3 months after getting my '06 TL, i've finally finished the nav/dvd install. By finally, i mean i started this the day after i got my TL and read a thousand posts to figure out how it works and what i needed, where to order, and how to install, (a little harder living in Canada). But once i knew that you could play dvd's in our TL, the mission was on. I'm not a wild teen with fresh ears anymore so didn't need any kind of crazy setup like my 1991 prelude with 12 speaker's, 3 amps and 2 `12 subs, which at that time in my highschool (early 90's) was the first time a lot of people heard actual bass in a car and some didn't even know what bass was, hehe looking back that's funny.
So with my new TL, and no desire to cut or modify my car in any way, i figured the best way for me was to get a 6-disc dvd changer and install it in the trunk and hardwire the audio using the XM radio input. All the in-dash/armrest/glove compartment dvd setups just didn't do it for me, especially when you can put 6 dvd's in the trunk and control it with a remote. The only problem is that 6-disc dvd players are very expensive. On eBay there are some kind've cheesy looking versions mostly from japan (Boss, Audiovox, Innovatek etc) and they go for about $250-$400. It was stressin' me thinking about ordering one of these based on customer reviews. The big audio shops here (circuit city/futureshop etc) don't really carry this product, based on store to store, but if you can find them there are two which i was deciding between. Alpine's DHA-S680 which is super expensive $1400 and Clarion's VCZ625 which is a bit less $900 (this one is on ebay for around $600 if you trust it) Well i lucked out and my friend that works at a&b sound here in vancouver found a demo for me at another store (only 1 in vancouver left for sale) and got me a super hookup on top of the demo price for $260!!! (Okay side note- everybody should find or make a friend that works at an electronics store. They basically get everything at cost + 10% which saves some bigtime dough especially on accesories)
With my dvd player at my house in my hand, the next thing was to get Dom's tvandnav2go $225 (
http://www.TvandNav2go.com
). If you don't know what this is, this device plugs into your navigation and has 2 video inputs with a switch, which you need to get a video stream to your nav screen. The video cable from my DVD changer goes into this unit. Called them up, they ship to Canada, it was here 5 days later. I needed to get the audio from the dvd changer to my speakers and no way ever was going to use a FM modulator after what i read. I didn't want a ipod either. Just one audio input device that plugs into the xm radio plug. The best device for this was the Blitzsafe Hon/Aux DMX V.2x and i got it from enfigcarstereo for $90 and they ship to Canada, with USPS. (
http://enfigcarstereo.com/shopsite_s...X_DMX_V2X.html
)
The last major purchase was the DCC factory looking DVD switch. He sells them so i guess pm him if you want one. He's great to deal with and now has figured out how to ship to Canada! I spent about $30 in cables (you need at least a 17 foot audio rca cable to run from your dvd changer to the blitzsafe unit behind your dash, and a short 5-10 foot Video cable to run from your DVD changer to your Dom's unit. That's it. 2 cables! (plus some power/ ground wires/ wire crimps)
With everything good to go, the install took one full day. It's a pretty easy install i did by myself and i'm not that handy either. It is kind've scary taking apart the trunk/seats/door sill panels/half the dash. Most pieces snap off and the sound they make isn't appealing to the ears but a few things here or there screw off. The best thing is you don't have to pull out the navigation unit to do this! Everything is plug and play and you just need to figure out your ground and power wires which a lot of threads on here can show you. I'm not going to explain the install but if you have any questions, ask. Oh, fuse #32 is your answer to your future question.
Dvd Changer $260
Dom's $225
Blitzsafe $90
DCC Swith $70
Cables $30
About $700 US before shipping/taxes. (another $100 US)
Below are some pics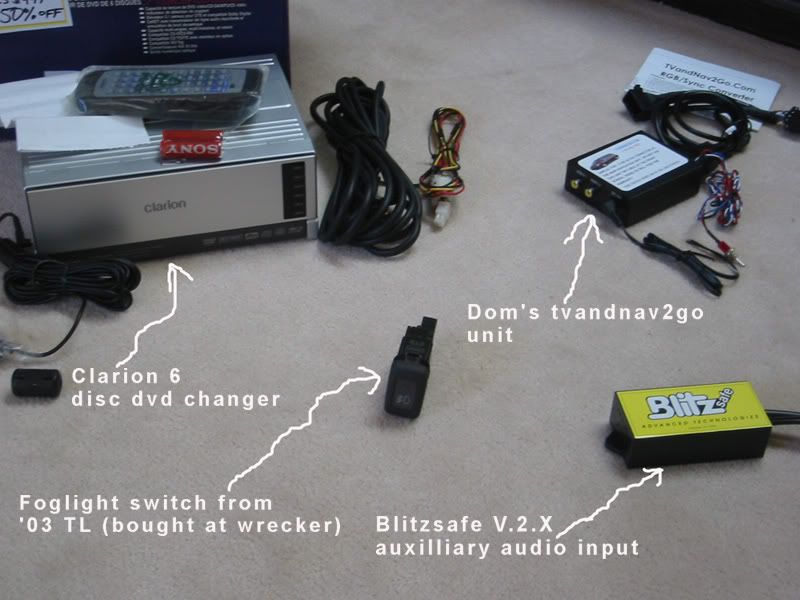 The 03 TL foglight switch doesn't fit 06 TL's. Worst $20 ever spent. Go with DCC.
I put a wood piece under the trunk liner and screwed the Changer down into it. Very sturdy.
With the trunk liner in, it protects your changer from damage and it hides it as well.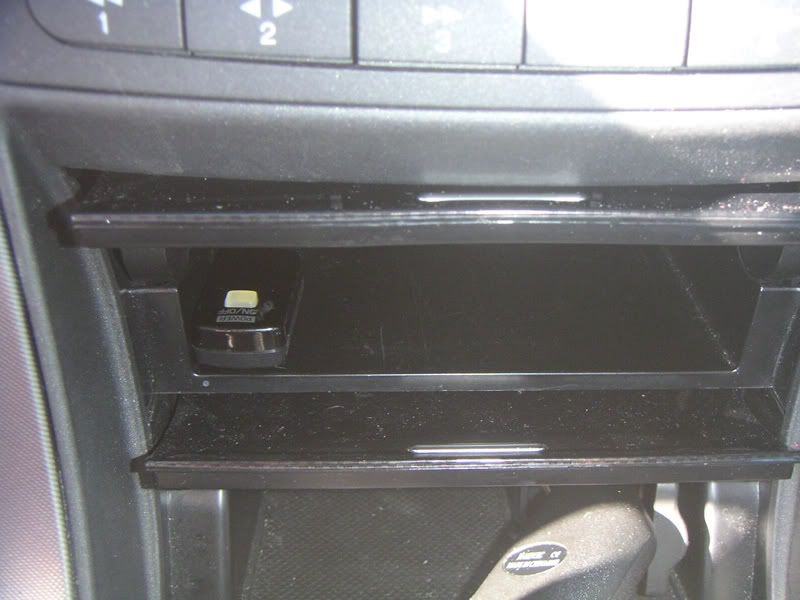 The remote sensor for the dvd changer. Everything controlled from your seat.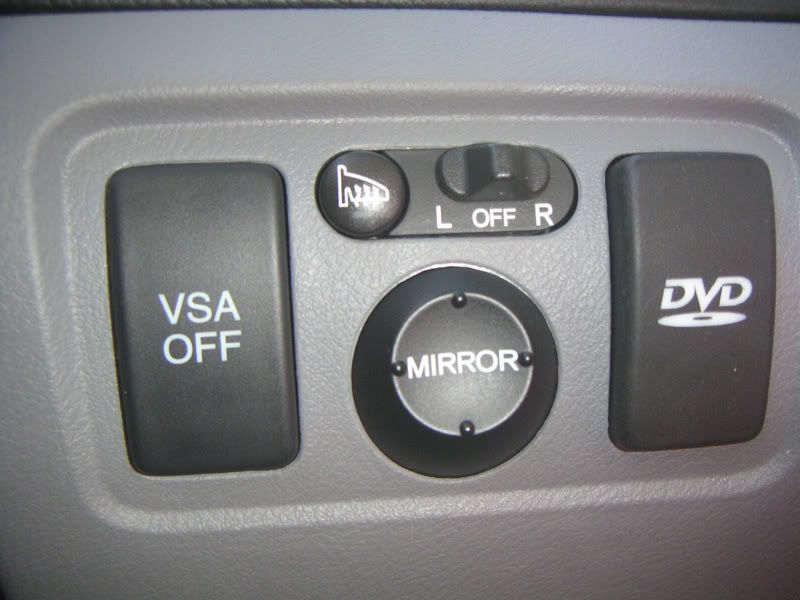 DCC's switch which is soooo kickass! Easy to install too.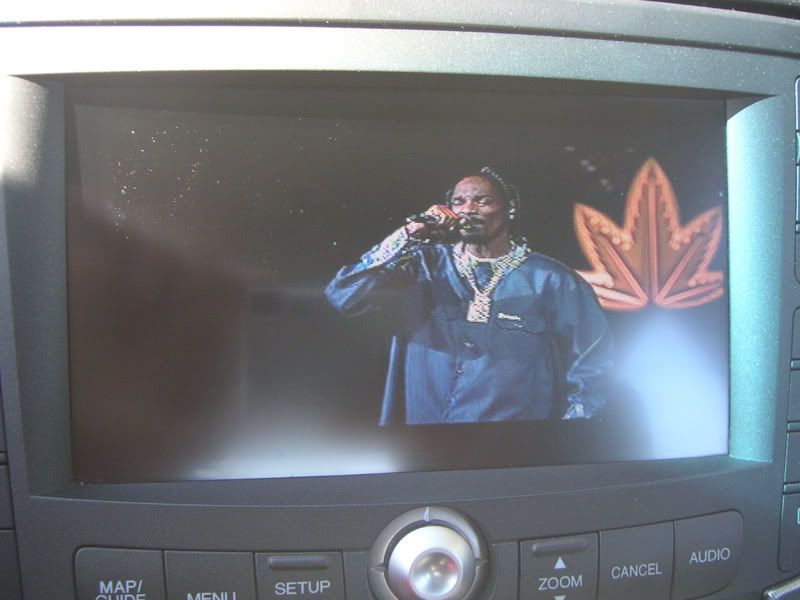 The dvd in action. Concert DVD's rule! Less distracting too then movies.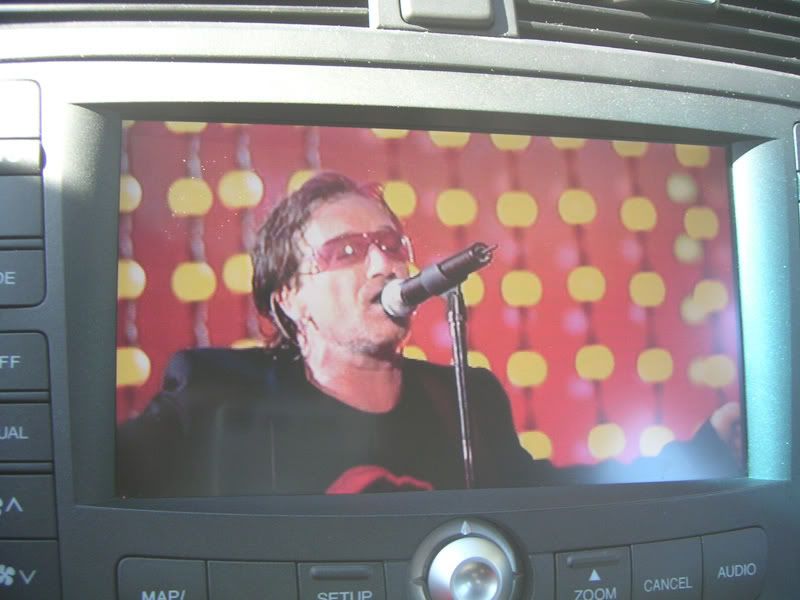 Another dvd pic. The quality of the video is awesome! Where the streets have no name, Go Canucks Go!
Pic of my Navi Hack. Thanks Byson guy. (this is really easy to do as well)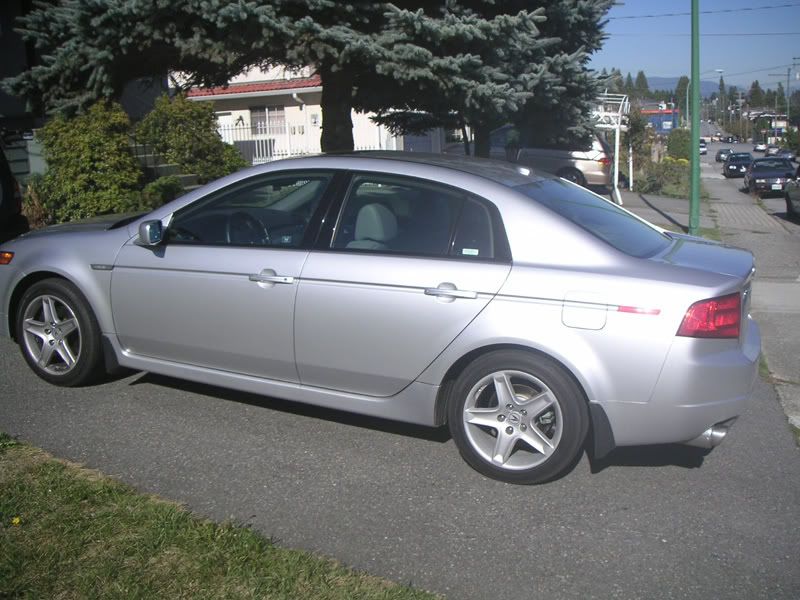 My ride. Needs tint. And bigger rims.
There's the pics. Installing the DVD changer was the greatest thing ever. It impresses the hell outta people and the car is pretty much a driving party. All plug and play no modifying or cutting anything. Simple and cheap! Audio from the factory speakers sounds just great to me. It maintains surround sound as well.
ps. I recommend getting concert DVD's too, they're fun to watch and not so distracting like movies/tv shows would be. By the way, driving with your dvd player is not as bad as i thought it would be. I usually glance down here or there at a stoplight or easy cruising. It's been 3 weeks and no accident yet! (did i just jinx myself?)
09-24-2006, 06:10 AM
Registered Member
Nice install and a nice long writeup to match! You even added a quick synopsis for newbies.
Unfortunately, there is currently no audio module that will support 5.1 surround sound for the TL, even the Blitzsafe Hon/Aux DMX V.2x. What you are hearing is most likely simulated surround sound, but its still 2-channel.
All in all, nice install and I'm glad your research paid off. I was in the same boat as you back in June. I agree, the install is very doable. Enjoy the new entertainment center! Just be careful. Thanks for the post.
As a additional note to all others, Dominic from TVandNav2Go.com is a vendor on here. You can check the
Sponsored Sales & Group Buys
thread for current offerings on the TVandNav2Go module.
09-24-2006, 04:34 PM
Acuuura
Join Date: Jun 2006
Location: Burnaby B.C.
Age: 41
Posts: 31
Thanks: 0
Thanked 0 Times in 0 Posts
The XM radio still works with the Blitzsafe unit. Basically you pull out the xm plug out of its slot, plug it into the Blitzsafe, then plug the blitzsafe into the XM slot.
09-24-2006, 04:42 PM
Acuuura
Join Date: Jun 2006
Location: Burnaby B.C.
Age: 41
Posts: 31
Thanks: 0
Thanked 0 Times in 0 Posts
I bought the Clarion VCZ625 dvd changer from a store here called a&b sound. Might not have them in the states but you could probably get it from any stereo shop that carries Clarion. It's a great changer, hasn't skipped once yet, has a nice remote, and plays dvd's, cd's, mp3's, and vcd's.
09-25-2006, 06:09 AM
Registered Member
Join Date: Sep 2006
Location: Nor Cal
Posts: 2
Thanks: 0
Thanked 0 Times in 0 Posts
Curious
---
Nice! I will be following your lead on this one...Question: Have you taken your car to the dealership for anything and gotten any comments from them regarding warranty issues because of this mod?
Thread
Thread Starter
Forum
Replies
Last Post
Second Generation RDX (2013-2018)
3G TL Audio, Bluetooth, Electronics & Navigation
First Generation RL (1996-2004)