Use this as a general guide, I'm not responsible if your car explodes or if you scratch up your panel. If you feel this is too hard please do take it to a professional and let them do it. If you want some nice pics of what it looks like behind the door and want to hear my experience pulling the panel off then carry on!
I recommend getting the plastic trim removal tools to not mess up the panel. You also need a phillips #2 screw driver and a small flat head screw driver. If you are removing the mirror you will need a 10mm socket and an extension.
1. Lower window. Pull off the panel behind the handle. Use small screw driver to push the top clip down and pull towards you. Remove 2 phillips screws behind it.
2. Remove the cover from the door handle. I inserted the trim tool in from the bottom where there was a gap and just edged it out to the bottom. It's held on by 2 clips. Once it pops off remove slowly from bottom. There are 2 tabs on the top so don't break them. Remove 2 phillips screws, one on the top and one inside a hole at the bottom.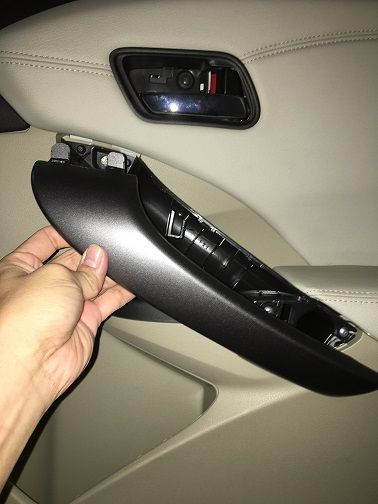 3. Removed the door tweeter. Pulled off from top with trim removal tool and unclipped the speaker. Sorry didn't take pics. There was tab at the bottom so don't pull from bottom.
4. With the trim removal tool start popping off the clips on the door trim. I started from the bottom outside corner and worked my way around. There are 9 clips on the perimeter and one towards the center. I popped all the perimeter clips out first then stuck my hand in behind the panel on the hinge side and popped the last one off. The clips are green in the picture below.
5. The door panel is now just hooked on to the door by the top edge. Grab handle and slowly lift it off the window edge. You will then see the electrical connection that you have to unclip in order to totally free it.
Tada!!! You are done.
If you want to proceed to remove side mirror there are 3 rubber plugs on the upper corner below where the tweeter would sit. The mirror is held on by 3 10mm hex nuts. If you drop one in the door you can remove the speaker (1 phillips screw) and dig for it down there (I reconnected the door panel temporarily to raise the window to get more space to look for that damn nut). Also to get the mirror off you have to unclip the electrical connection on the door and push in the clip that is holding the cable to the door (it's the black dot right under the clipped connection in picture above).