Just scored an Ajax floor jack; needs a universal joint.
04-28-2010, 06:42 PM
2000 TL Black on Beige
Just scored an Ajax floor jack; needs a universal joint.
---
I was getting ready to buy a jack and stands, but it turns out, a friend's garage is closing, and I got the 1.5 ton Ajax #95632 floor jack and 6000# stands for $35.
The universal joint is ripped, however. The part on the handle, the shaft with two prongs, that fits into the "U", is fine. I cannot find a resource on line for the universal.
Any ideas?
Also, to do the front mount, does anyone do it from the top, without jacking up the car?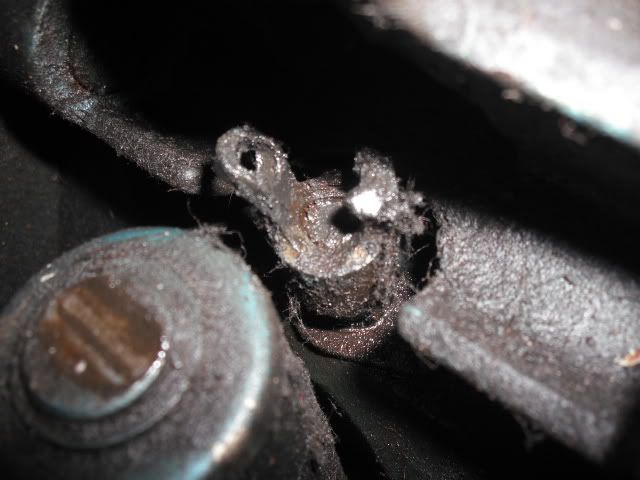 04-28-2010, 09:39 PM
Senior Moderator
Join Date: Aug 2002
Location: Appleton WI
Age: 43
Posts: 81,314
you could get a new jack that is in better shape for not much more. Check out Harbor freight.
As for your problem, Sorry. Not a clue.
04-28-2010, 11:30 PM
I got the Shifts
Join Date: Oct 2007
Age: 29
Posts: 14,204
19 dollar low pro jack from vato-zone never failed me
04-29-2010, 06:59 PM
Registered Member
Join Date: Mar 2010
Posts: 5
Thanks: 0
Thanked 0 Times in 0 Posts
04-29-2010, 07:37 PM
2000 TL Black on Beige
Thanks for the link. I also found a schematic
http://www.ohiohydraulic.com/pdfs/93632%20F-H.pdf
I got the universal off this morning by grinding the rivets off.
While the universal used to be available by itself, one must apparently now the whole assembly.
Blackhawk has it for $72.50, but a local shop that does hydraulics has the part for $37.50.
Ajax, Walker, and Snap-On had their jacks made by Lincoln, which itself has been sold a few times since my jack was made. I'd like to fix this one rather than buy a Chinese-made import, and will check a few industrial suppliers for the universal-only.
05-01-2010, 02:04 PM
Registered Member
Join Date: Feb 2006
Age: 66
Posts: 1,465
Both Mcmaster-Carr and Graingers have small u-joints that should work.
05-01-2010, 04:55 PM
2000 TL Black on Beige
I picked up the universal assembly yesterday for $32, and had a decent talk with the guy who fixes them for a living. In installing the part, I found that the plastic air vent was broken inadvertently, so it will mean one more trip to HISCO.

I have a Grainger account from my plumbing contractor days, but a web search of their site turned up jacks, but not parts.

Comparable USA made, similar quality commercial car jacks cost $500, so fixing it seems better than junking it.

As to whether it will work, well, with these, it either works or it doesn't.

I'd probably jack the car up, and leave it be for half an hour, to test for issues.
Regardless, I wouldn't be working under a jack, but under stands.

This may throw my engine mount install back a week, but there are other items to address. A second trans drain/fill [$7.08 qt in Delaware, no tax; picked up another three quarts, and have most of another quart of Z-1 left], and the windshield clay-bar to remove wiper blade scratching.

On the other hand, I may pick up a jack tomorrow at Sears. From 6pm to 9pm, I can get 10% plus 10% off on anything in the store.
05-01-2010, 11:26 PM
'13 Hyundai Sonata
Join Date: Jul 2007
Location: RI (401)
Age: 28
Posts: 5,928
I picked my jack up from Sears.

I got a 3-ton Craftsman floor jack. I like it but it does take some getting use to because it drops the car pretty quick if you don't know how to use it.
05-02-2010, 11:21 AM
Registered Member
Join Date: Aug 2003
Location: S. Florida
Posts: 2,270
Originally Posted by
jocson
I have a Drednaut 1.5 ton jack that my father bought sometime in the mid 70's and just started to leak H-fluid. The company in the link above is the only one (on the web) I can find that has a repair kit. Thanks for the link!
05-02-2010, 02:29 PM
2000 TL Black on Beige
Ask the local Snap-On guy where to get parts. One steered me to a local pump, jack, press, hydraulic service and parts company called Hydraulic Industrial Supplies Co Inc. [HISCO CO.] It was on the edge oof the industrial area of an older area. The shop looked like it was in it's tenth decade of pump repair, a dim warren of parts bins and greasy benches, dozens of jacks and pumps repaired or waiting for repair.
The universal assembly I wanted was less than half the cost of Blackhawk.
I emailed a buddy in Opa-locka, FL, to ask if he had a tip on a local parts supplier that might help you.
Thread
Thread Starter
Forum
Replies
Last Post
3G MDX Discussion (2014+)
5G TLX Audio, Bluetooth, Electronics & Navigation
1G RDX Audio, Bluetooth, Electronics & Navigation