Acc, CMBS and air bag disabled
02-12-2019, 03:10 PM
Fk no!TheyldstroyEvrthing
This matter of them popping up when something else is pressed.. a window button...

I rarely, but it happens, get them when i sound the horn. cmbs pops up and disappears right after.

My guess is either moisture, and/or the connector is loose. Which when the horn sounds, could vibrate that module and connector....

But a window operation.... that brings me back to my original idea over a year ago: power distribution. Something is juicing the power. It is already quite a heavy load on the battery. So when a new feature is activated, it sucks some extra and the power on the sensor/connector becomes weaker, and it lights up.

No one was ever able to answer the question of: is there a 'power distribution module'? or maybe a way to detect the current's level.

I'm thinking placing a meter on the connector, and sounding the horn and see if the power goes down?

Hoping to sort this out next week. But if anyone has ideas... .
02-19-2019, 11:49 AM
My 2011 had an extended sleep over at the dealership and I'm hoping that I will find out more today.

The tech followed all the procedures and ti lead to the diagnosis that the ACC module was bad. Not what I was hoping for but also not the right answer in my mind....

The ACC module was replaced under warranty (thankfully) only 1.5 years ago. The issue came back within 6 months in the colder weather. I have been working with a fantastic dealership so my patience is still intact and hoping the true resolution will be found sooner than later.

Will keep you posted!

PS - in my 03 accord there was an issue with the ELD in the main fuse box that caused the headlights to dim when the alternator would cycle. Beginning to wonder if this is something down the same path...
02-19-2019, 01:14 PM
Fk no!TheyldstroyEvrthing
Now I've been saying this for over 2 years. a load distribution. thanks for thinking of that, i had no idea where to look. That makes sense when combined with a light popping when a horn is sound or a window lowered as in your case.
It doesn't explain the weather or car wash necessarily, unless moisture on modules affect how this fuse box & ELD work... in which case, replacing it is pointless. but itt's good to tell this to your technician in hopes he ets to an answer.
Here's what i found online:
The ELD (electric load detector) is part of the fuse box. You can't replace it without replacing the whole box. ---- The ELD is essentially a current transformer that monitors the amount of current draw the car is pulling from the battery. This amount varies from time to time depending on what you have turned on (various electrical devices). The ELD will output .1 - 4.8 volts to the ECU. This reference voltage is what tells the ECU to increase or decrease the field strength in the alternator, which in turn bumps up the output of the alternator. (
http://acurazine.com/how-tos/a/acura...harging-426923
) -- courtesy of acura tsx.. also picture shows tsx.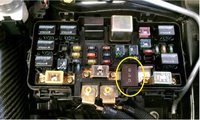 But the link below says an ELD can be replaced.
https://acurazine.com/how-tos/a/acur...harging-426923
03-01-2019, 06:52 AM
Hi All,

It's been 10 days since picking up the car back up with all codes cleared, no Christmas Tree of light and no decisive resolution on what the actual problem is.

Fingers crossed, everything has been perfect so far. Best suggestion to everyone that experiences this issue is to visit the dealer and have them clear the codes from all 3 locations in the computer (PCE, body and transmission).

I love this car so it's not going anywhere for a long time and will continue to expand my knowledge about all things RL.
03-02-2019, 07:13 PM
Fk no!TheyldstroyEvrthing
That's it? Clearing the codes makes it go away for good?
03-02-2019, 08:46 PM
Clearing the codes properly gets rid of the issue until the next time the original cause pops up.

If you donít clear them, it stays in a compounding cycle of lights. The number of errors keeps growing in the pcm and makes everything even more sensitive.

CMBS light came on today while driving but there was a bunch of wet snow so it wasnít a surprise.

Will post lay when it rears itís ugly head again.

Cheers!
---
Last edited by theShaft; 03-02-2019 at

08:50 PM

. Reason: Phone glitch
03-03-2019, 05:30 AM
Fk no!TheyldstroyEvrthing
Ok, so im gonna go forward with my plan and wrap this module up.
Thread
Thread Starter
Forum
Replies
Last Post
Second Generation RL (2005-2012)
Second Generation RL (2005-2012)