Lion Air (Boeing 737 MAX 8) Crash
10-29-2018, 01:19 AM
Lion Air (Boeing 737 MAX 8) Crash
---
https://www.bbc.com/news/world-asia-46014463
Lion Air crash: Boeing 737 plane crashes in sea off Jakarta
5 minutes ago
A Lion Air Boeing 737 passenger plane with 188 people on board has crashed into the sea shortly after taking off from the Indonesian capital, Jakarta.
Flight JT 610 was on a scheduled flight to Pangkal Pinang, the main town in the Bangka Belitung Islands.
It lost contact with ground control a few minutes after take-off, and was last tracked crossing the sea - it is unclear if there are any survivors.
The plane was a Boeing 737 MAX 8, a brand new type of aircraft.
"The plane crashed into water about 30 to 40m deep," Search and Rescue Agency spokesman Yusuf Latif told AFP news agency. "We're still searching for the remains of the plane."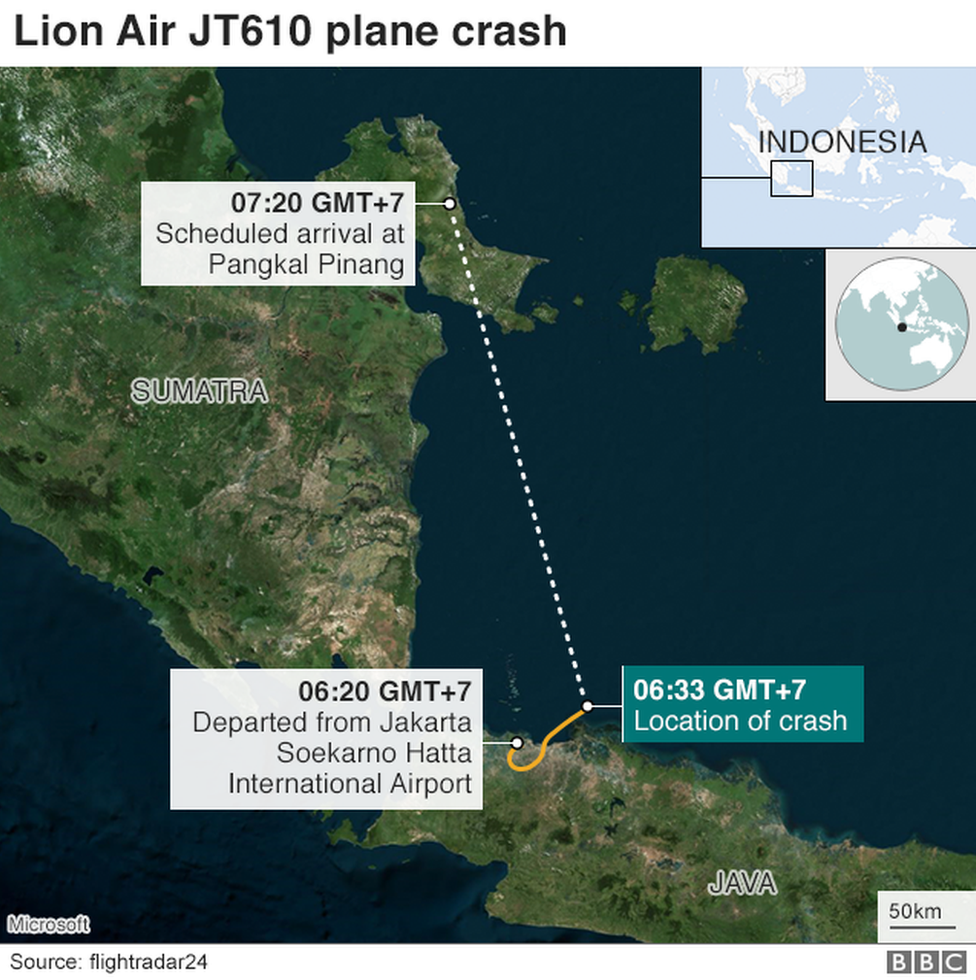 At a news conference, officials said the plane had been carrying 178 adults, one infant and two babies, as well as two pilots and five cabin crew. However, there are conflicting reports on the exact number of people on board.
What happened?
Flight JT 610 took off from Jakarta at 06:20 local time on Monday morning (23:30 GMT on Sunday).
It was due to arrive at Depati Amir airport in Pangkal Pinang an hour later but about 13 minutes into the flight, authorities lost contact with the plane.
The pilot had asked to return to Jakarta's Soekarno-Hatta airport, the head of Pangkal Pinang's search and rescue office, Danang Priandoko, told local news outlet Kompas.
The head of Indonesia's disaster agency, Sutopo Purwo Nugroho, has tweeted images which he said showed debris and personal belongings that came from the aircraft and had been found floating in the sea.
He also shared a video he said had been taken from a tugboat off Karawang, just east of Jakarta, which appeared to show floating debris and an oil slick.
Debris was also seen near an offshore oil refinery operated by state-owned energy firm Pertamina, an official from the firm said.
What do we know about this aircraft?
Lion Air said in a statement to the BBC that the pilot of the crashed plane was experienced, with more than 6,000 flight hours.
The aircraft was reported to be a Boeing 737 MAX 8, a model only in commercial use since 2016.
Lion Air said the aircraft involved in the crash was made in 2018 and has only been operated by the airline since 15 August this year.
Meant for short-haul travel, the single-aisle plane can fit a maximum of 210 passengers. The plane serving Lion Air flight JT 610 was configured to seat 189 passengers, said aviation consultant Gerry Soejatman.
He told the BBC the MAX 8 had been experiencing problems since it was introduced, including difficulties maintaining a level flight.
How is Lion Air's safety record?
Indonesia, a vast archipelago, is heavily reliant on air travel, but many of its airlines have a poor safety record.
Lion Air is Indonesia's largest low-cost carrier, operating flights domestically as well as a number of international routes in South East Asia, Australia and the Middle East.
Established in 1999, it has had issues of safety and poor management in the past and was banned from flying into European airspace until 2016.
In 2013, Lion Air flight 904 crashed into the sea on landing at Bali's Ngurah Rai International Airport. All 108 people on board survived. In 2004, flight 538 from Jakarta crashed and broke up on landing at Solo City, killing 25 people.
In 2011 and 2012 there was a spate of incidents where pilots were found in possession of methamphetamines, in one incident hours before a flight.
10-29-2018, 12:42 PM
Moderator
Join Date: Oct 2004
Location: Las Vegas
Age: 34
Posts: 56,230
10-30-2018, 11:46 AM
Senior Moderator
Join Date: Dec 2001
Posts: 145,422
Reading up on this particular plane, it sounds like the flight prior to the crash also had mechanical problems....If Lion Air failed to execute the proper maintenance/repairs, wow...they have blood on their hands.
10-30-2018, 12:07 PM
Moderator
Join Date: Apr 2010
Location: SoCal, CA
Posts: 37,038
I was reading a few articles and apparently Lion AIr has been pretty notorious for crashing planes.. :what;





10-30-2018, 04:33 PM
Alright, alright, alright
Join Date: Nov 2004
Location: Maryland
Posts: 11,851
11-13-2018, 12:43 AM
https://www.wsj.com/articles/boeing-...ers-1542082575
Boeing Withheld Information on 737 Model, According to Safety Experts and Others

Data related to a new flight-control feature suspected of playing a role in crash in Indonesia

Nov. 12, 2018 11:16 p.m. ET

Boeing Co. withheld information about potential hazards associated with a new flight-control feature suspected of playing a role in last month's fatal Lion Air jet crash, according to safety experts involved in the investigation, as well as midlevel FAA officials and airline pilots.

The automated stall-prevention system on Boeing 737 MAX 8 and MAX 9 models — intended to help cockpit crews avoid mistakenly raising a plane's nose dangerously high — under unusual conditions can push it down unexpectedly and so strongly that flight crews can't pull it back up. Such a scenario, Boeing told airlines in a world-wide safety bulletin roughly a week after the accident, can result in a steep dive or crash — even if pilots are manually flying the jetliner and don't expect flight-control computers to kick in.

That warning came as a surprise to many pilots who fly the latest models for U.S carriers. Safety experts involved in and tracking the investigation said that at U.S. carriers, neither airline managers nor pilots had been told such a system had been added to the latest 737 variant — and therefore aviators typically weren't prepared to cope with the possible risks.

"It's pretty asinine for them to put a system on an airplane and not tell the pilots who are operating the airplane, especially when it deals with flight controls," said Capt. Mike Michaelis, chairman of the safety committee for the Allied Pilots Association, which represents about 15,000 American Airlines pilots. "Why weren't they trained on it?"

One Federal Aviation Administration manager familiar with the details said the new flight-control systems weren't highlighted in any training materials or during lengthy discussions between carriers and regulators about phasing in the latest 737 derivatives.

Boeing declined to immediately answer specific questions Monday. "We are taking every measure to fully understand all aspects of this incident, working closely with the investigating team and all regulatory authorities involved," the company said in a statement. "We are confident in the safety of the 737 MAX."

On Monday, an FAA statement reiterated that the agency had mandated flight manual changes to emphasize proper pilot responses to the new flight-control systems. "The FAA will take further action if findings from the accident investigation warrant," the statement noted, but declined to comment further.

Boeing marketed the MAX 8 partly by telling customers it wouldn't need pilots to undergo additional simulator training beyond that already required for older versions, according to industry and government officials. One high-ranking Boeing official said the company had decided against disclosing more details to cockpit crews due to concerns about inundating average pilots with too much information — and significantly more technical data — than they needed or could digest.

Minutes after takeoff from Jakarta in good weather, Lion Air Flight 610 experienced problems with airspeed indicators and a related system that feeds data to computers about the angle of the nose. The crash killed all 189 people on board.

Investigators haven't described the precise sequence of events that caused the twin-engine jet to plummet into the Java Sea at a steep angle and high speed. But Indonesian authorities already have called for stepped-up pilot training and suggested they are delving into design issues. In the U.S. at least, substantial training changes will have to wait until new flight simulators are delivered to carriers.

The focus of the probe is shifting away from its early emphasis on individual system malfunctions and suspected pilot mistakes, according to people tracking developments.

Instead, these people said, U.S. and Indonesian crash investigators increasingly are delving into the way the MAX 8's automated flight-control systems interact with each other, and how rigorously the FAA and Boeing analyzed potential hazards in the event some of them malfunction and feed incorrect or unreliable data to the plane's computers. Swiftly turning off the automated feature is the solution in such cases.

Earlier 737 versions have different stall-protection systems, that don't automatically drive down the nose even when other functions of the plane's autopilot are turned off. Yet operation of those older systems was highlighted in training over the years, and pilots had to memorize steps to counteract potentially dangerous unintended consequences. MAX 8 training materials don't include a requirement to memorize the steps to turn off the stall-protection system.

Stepped-up scrutiny of the latest 737 MAX features applies to more than 200 of the models that have been delivered to customers around the world, including Southwest Airlines , American Airlines and United Airlines. Boeing's 737 factory near Seattle currently churns out 52 planes a month.

"We're pissed that Boeing didn't tell the companies and the pilots didn't get notice obviously, as well," said Capt. Jon Weaks, president of Southwest Airlines Co.'s pilot union. "But what we need now is... to make sure there is nothing else Boeing has not told the companies or the pilots."

Like Mr. Weaks, some FAA managers and industry officials aren't satisfied with what they contend is Boeing's belated candor.

Boeing is working on a software fix, according to industry and government officials, that would likely mitigate risks. On Saturday, the company went further than before in spelling out dangers pilots can face if they misinterpret or respond too slowly to counter automated commands.

In a message sent to all 737 operators, and reviewed by The Wall Street Journal, the Chicago plane maker explained in painstaking detail the engineering principles and operational parameters behind the latest automation.

That message was more detailed than the bulletin Boeing voluntarily issued earlier, alerting pilots about the potential hazard — and touching off debate over the stall-prevention system's design. Within hours, the FAA followed up with its emergency directive mandating changes in flight manuals.

Such interim efforts "are very appropriate in the near term to increase pilot awareness," said John Cox, a former 737 pilot and ex-crash investigator for North America's largest pilots union who now consults on safety for carriers and business aviation.

Boeing's latest communications with airlines prompted American's union to alert its members. "This is the first description you, as 737 pilots, have seen," the union pointedly told pilots in a memo, referring to the 737 MAX stall-prevention system. Noting the system wasn't mentioned in American Airlines' or Boeing manuals, the union memo added: "It will be soon."

The ultimate way to counteract dangerous automated nose-down commands is basically the same for old and new systems, though checklists and procedures for the 737 MAX 8 entail more steps and take more time. Investigators and safety experts are convinced that as the emergency worsened, the Lion Air crew had barely seconds in which they could have diagnosed the problem and taken action to save the aircraft.

Shortly before the plane crashed, according to local Indonesian media reports, one of the pilots told air-traffic controllers about difficulties controlling the plane.
11-13-2018, 12:46 AM
Registered Member
Join Date: Jun 2014
Location: In an igloo
Posts: 30,496
Wtf.
11-13-2018, 08:08 AM
Alright, alright, alright
Join Date: Nov 2004
Location: Maryland
Posts: 11,851
Pretty unreal Boeing would not inform the operators of their aircraft of that function/feature.
11-13-2018, 05:45 PM
Needs more Lemon Pledge
Join Date: Mar 2005
Location: Phoenix, AZ
Age: 46
Posts: 51,918
11-18-2018, 02:29 PM
https://www.wsj.com/articles/lion-ai...ars-1542549600
Lion Air Crash Probe Eyes Sensor Hazards Stretching Back Years

Investigators are examining how Boeing heeded earlier warnings about flight-control-sensor failures similar to the one implicated in 737 MAX crash

Nov. 18, 2018 9:00 a.m. ET

Aviators around the globe have long recognized potential hazards of malfunctioning flight-control sensors similar to the one implicated in last month's Lion Air jet crash. Now, investigators are examining how plane maker Boeing Co. heeded those earlier warnings.

The latest investigation has expanded to delve into whether Boeing — as well as regulators specifically responsible for certifying the sensor system — fully incorporated those earlier safety lessons into the final design of the Boeing 737 MAX 8, the model that crashed in Indonesia, according to industry and government officials.

The Federal Aviation Administration, which oversaw the design and testing of the suspect sensor and related hardware, has said it is reviewing risk analyses and pilot-training requirements originally developed by Boeing. These actions are part of the crash investigation led by Indonesian authorities, according to the agency.

Boeing didn't respond to questions about how it assessed earlier incidents when designing the MAX's flight-control systems.

Called angle-of-attack indicators, the system sends data to flight-control computers about how high or low a plane's nose or wings are compared to level flight. But if erroneous information is transmitted in certain situations while pilots are flying manually, the plane's computers will automatically and repeatedly push the nose down. Investigators have said publicly this is what they believe occurred on Lion Air Flight 610, because some apparent problem with the sensor system incorrectly indicated the plane was on an excessively steep climb at a relatively slow speed.

On MAX 8 models, under certain conditions, pilots may be unable to pull the plane out of a dive unless they react quickly and proceed to the most relevant portion of their emergency checklist. One fundamental question is how the FAA gave the green light for a system in which one malfunctioning sensor — called a "single point failure" in engineering lingo — can lead to a catastrophic dive.

Investigators haven't determined exactly what role erroneous angle-of-attack data played in the Lion Air tragedy, and other potential malfunctions or factors may have contributed. In addition, since the crash, Boeing has said its flight manuals and training materials adequately addressed the risks, privately telling pilots and airlines that any pilot who follows required procedures can avoid a crash, according to government and industry officials familiar with the discussions.

In addition to sensor hardware, investigators also are looking into operation of separate software used to digitally process signals from sensors.

As far back as 2013, however, regulators on both sides of the Atlantic issued safety directives mandating emergency pilot responses to ensure that failures of the same type of sensors on long-range Airbus SE A330 and 340 models didn't result in an uncontrolled dive. Concluding that in some cases an aircraft's nose couldn't be raised even with maximum pilot manual commands, regulators ordered that suspect parts be replaced.

The following year, the European Aviation Safety Agency issued an emergency order revising certain cockpit procedures to deal with blocked angle-of-attack sensors on thousands of Airbus wide-body and narrow-body jets. And just last month, U.S. regulators increased the number of Airbus A319 and A320 models included in a different safety directive also focused on the dangers of blocked sensors.

Those previous actions primarily covered angle-of-attack sensors that were blocked or rendered temporarily inoperative by icing. The Lion Air probe is assessing other potential causes for problems with the sensor.

Regarding Boeing aircraft, the FAA in 2013 proposed a safety directive mandating inspection and possible replacement of angle-of-attack sensors affecting a total of more than 1,000 747 jumbo jets and older 737 models. The agency determined malfunctioning sensors could result in false stall warnings to pilots during takeoffs.

As the latest investigation gains steam, safety experts increasingly are paying attention to the same category of dire consequences that confronted Airbus crews: forceful, automated nose-down commands while flying manually, which can be particularly dangerous if pilots are surprised and confused about how to counteract them.

Some of the data-processing units for angle-of-attack sensors and others measuring airspeed on the Lion Air jet were manufactured by Honeywell International Inc. A spokesman said the company has been contacted by the National Transportation Safety Board and is cooperating. The probe is expected to examine whether possible problems with those units may have contributed to the crash.

The sensors themselves were supplied by a United Technologies Corp. unit, which didn't respond to a request for comment.

Introducing new systems, even those meant to enhance safety such as the MAX 8's stall-protection features, can come with pitfalls as teething difficulties are addressed, according to safety experts.

When a previous upgrade to Boeing's 737 plane entered service, it also created problems. A British Midland 737-400 crashed in England on Jan. 8, 1989, after an engine failure, killing 47 of the 126 people onboard. Investigators determined new cockpit instruments, though not the cause of the accident, made it more difficult for the crew to manage the situation. They recommended enhanced training for pilots.

"The challenge for manufacturers is to introduce the sorts of technology which have made aviation as safe as it is" while simultaneously "minimizing the conversion training that is required to fly different aircraft of the same family," said Graham Braithwaite, who teaches safety and accident investigation at Britain's Cranfield University.
01-14-2019, 03:08 AM
https://www.wsj.com/articles/cockpit...sh-11547444698
Cockpit Voice Recorder Recovered From Indonesia's Lion Air Crash

Jan. 14, 2019 12:44 a.m. ET

JAKARTA, Indonesia—Divers recovered the cockpit voice recorder from a Lion Air jetliner that crashed in the Java Sea in October, officials said, a potentially important step in helping to understand what happened in the minutes before the new Boeing 737 Max 8 plane went down.

The Indonesian navy said the recorder was recovered Monday about 160 feet from where the plane's other black box, a flight-data recorder, was found soon after the crash Oct. 29. The plane crashed shortly after takeoff on a domestic flight from Jakarta, killing all 189 people aboard.

Navy spokesman Agung Nugroho said Indonesian divers found the recorder in 25 feet of mud. The device was being transported to crash investigators in Jakarta. Investigators hope it will shed light on the flight's final moments, when pilots struggled to counter an anti-stall system and keep the plane from diving.
Thread
Thread Starter
Forum
Replies
Last Post