Decided to pull the trigger on a 4-wheel 4 piston Rotora Big Brake Kit
05-17-2018, 10:52 PM
Registered Member
Join Date: Apr 2018
Location: Issaquah, WA
Posts: 8
Thanks: 0
Decided to pull the trigger on a 4-wheel 4 piston Rotora Big Brake Kit
---
After some extensive research online and through Acurazine, and evaluating big brake kits from Stoptech, Brembo, AP Racing, and Rotora....I've decided to go with a 4 wheel Rotora kit. Going with the 4 piston 355 fronts and 4 piston 350 rears, slotted discs and red calipers. Turns out, Rotora's rear big brake kit maintains the stock parking brake linkage for our TLs, which is a big plus as well. I've had a 4 wheel AP Racing big brake kit on a previous car, and while they are incredible brakes especially for track days, they do not maintain the stock parking brake. I have no intentions of taking my car to a track day, although it's not completely out of the question. I just love the look and our TLs are just too heavy for the stock brakes. Another big plus here, Rotora just happened to be running a spring special, so I got in at a very reasonable price. Just ordered, so I expect to have it all installed in a few weeks. Will share pics throughout the process.
Sharing some pics from Rotora, the white TL pictured is not mine, but mine will look just like that.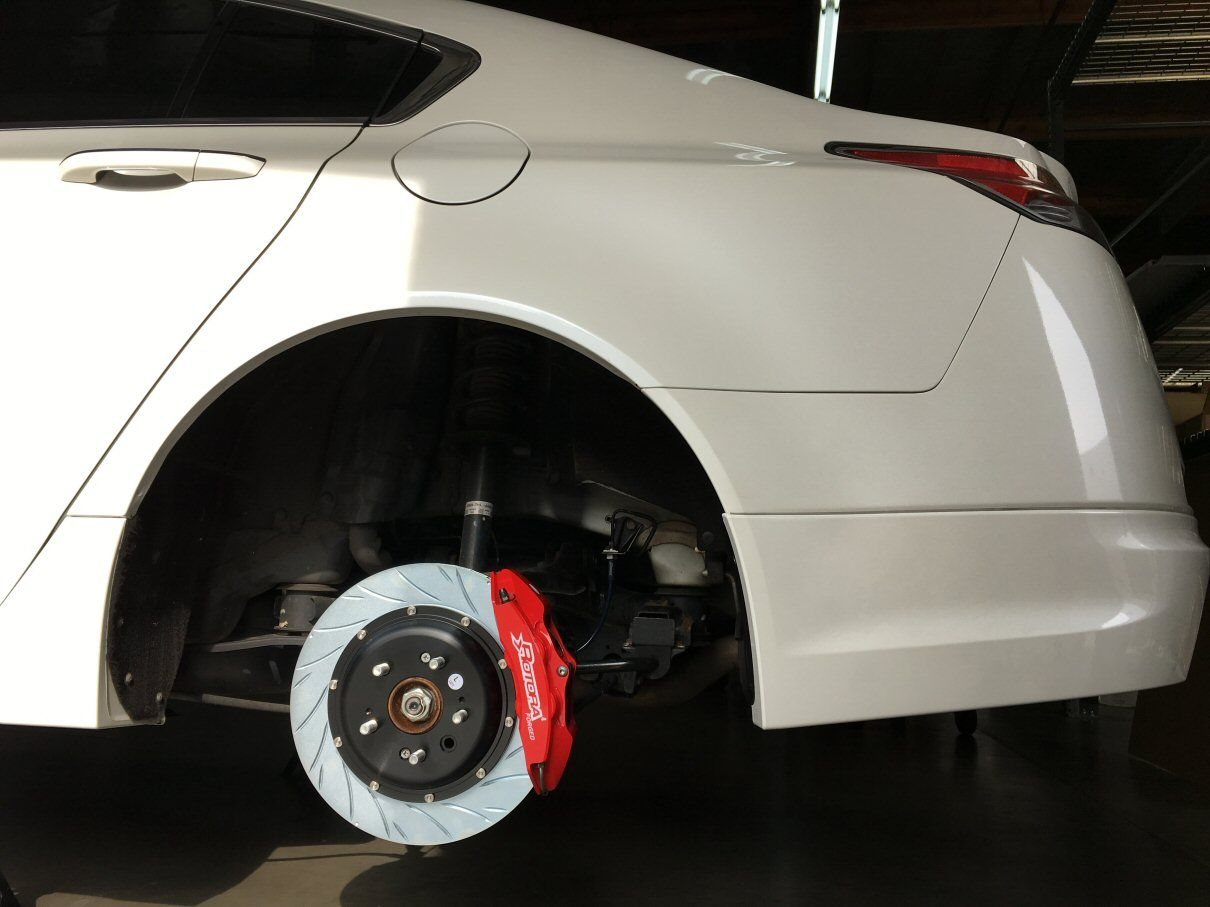 05-18-2018, 02:43 AM
Registered Member
Join Date: Feb 2013
Location: Falcon Heights, MN
Posts: 448
05-18-2018, 02:24 PM
Registered Member
Join Date: Jan 2013
Location: Toronto, Ontario
Posts: 714
Send us pictures when done. I am curious if you are using 18's/19's sized rims....
05-18-2018, 03:35 PM
Registered Member
Join Date: Apr 2018
Location: Issaquah, WA
Posts: 8
Thanks: 0
fortunately, the kit clears 18" wheels
---
For sure. I'll post follow up pics. I forgot to mention another plus to this particular kit, it clears the stock 18s. I run 19s during the summer and my stock 18s are my winter wheels, so ensuring that the big brake kit cleared the 18s was another factor. Turns out the 6 Piston 355 front kit also clears the 18s. Here's a pic that Rotora sent of the 6 piston 355 behind the stock 18s.
6 Piston 355 kit behind the stock 18s
6 Piston 355 kit behind the stock 18
05-18-2018, 07:19 PM
Registered Member
Join Date: Feb 2011
Location: Ontario Canada
Posts: 2,282
From one TL / Rotora BBK owner to another ............Congrats, great choice !!
05-18-2018, 09:36 PM
Helped Jack off the horse
Join Date: Jun 2014
Location: In an igloo
Posts: 26,629
I did a track event last year with a friend, and he ended up bringing his 2013 Acura TL 6MT out
I remember him coming into the pit after a 20 minute run and his front rotors/calipers were literally smoking. Those oem brakes are not made for any kind of above average use... this rotora kit would have been a blessing for him!
05-19-2018, 02:03 PM
Registered Member
Join Date: Apr 2017
Age: 28
Posts: 378
Any chance you can give us a ballpark figure of how much this set up cost?
05-19-2018, 02:35 PM
Registered Member
Join Date: Oct 2005
Location: Westchester NY
Age: 35
Posts: 1,156
Today, 10:46 AM
Registered Member
Join Date: Dec 2011
Location: Alberta, CANADA
Posts: 798
Thread
Thread Starter
Forum
Replies
Last Post
3G TL Tires, Wheels & Suspension
Fourth Generation TL (2009-2014)
Second Generation CL Discussion (2000-2003)
Second Generation CL Discussion (2000-2003)
Second Generation CL Discussion (2000-2003)