Volvo: Polestar 2 News
07-17-2018, 01:58 PM
Registered Member
Join Date: Aug 2010
Location: Spring, TX
Age: 33
Posts: 11,677
Volvo: Polestar 2 News
---
https://jalopnik.com/the-electric-po...-of-1827642978
The Polestar 2 electric car will have a claimed 400 horsepower and a range of 350 miles,
Polestar
COO Jonathan Goodman confirmed last week at the
Goodwood Festival of Speed
.
According to Goodman, who spoke to
Autocar
about the new brand's new planned lineup, the Polestar 2 will be the automaker's entry-level car and Tesla Model 3 competitor.
Along with its around-400 hp and 350-mile range, Goodman also revealed the Polestar 2 will be priced around $40,000 to $66,000, and will be introduced shortly after the 2019 production start of the Polestar 1.
Goodman also had some advice to the other automakers diving into the EV game with flashy, futuristic and mostly-ugly designs, speaking to
Autocar
:
"Other brands may be doing that, but if we're looking at a market worth 30m cars within seven years, it isn't going to be niche, it's going to be mainstream. So you just design a great-looking car – not one with a big blue flash down the side."

In contrast to the cultish following that rival brand Tesla has attracted, Goodman also wants Polestar to have an inclusive attitude towards its customers."I think it's very dangerous for brands like ours to sit here and ask 'what's our type of customer?'", he went on. "Electric cars will be just as appealing to young executives as they are to retirees. It's a new market, and purchase intentions will vary. So we've got to be a welcoming brand that's not geeky, cliquey or judgmental."
That approach may actually make sense. The Camry and F-150 didn't become the titans they are because they looked wild or had particularly powerful performance or anything like that. They're just good cars, and that's the business Polestar is looking to be in.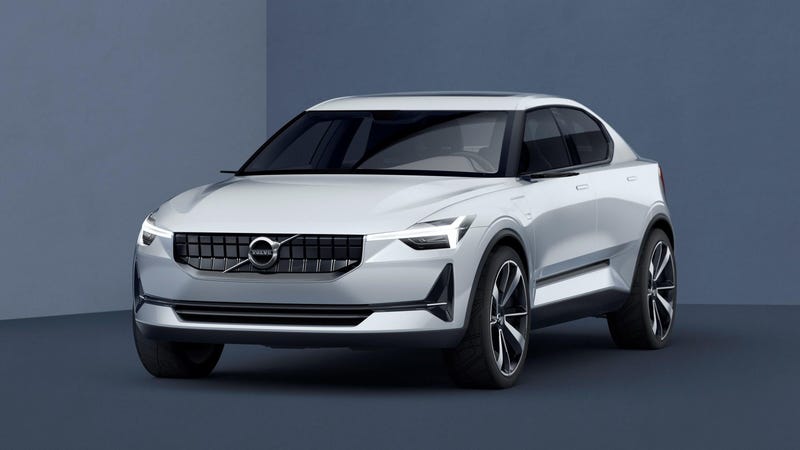 01-04-2019, 11:59 AM
Registered Member
Volvo
is giving the world a glimpse at the Polestar 2, its first battery-electric car, promising 400 hp and approximately 300 miles of range when it goes on sale. Due to enter production in 2020, the Polestar 2 will be a four-door fastback sedan offered at the
Tesla Model 3
price range, according to Volvo.
Polestar,
you will recall, has had an interesting journey. It began as an outside tuning and racing company, was later purchased by
Volvo
outright as an AMG-style in-house tuner and was finally (and somewhat controversially) turned into Volvo's
hybrid and EV sub-brand
. The first vehicle of
the refocused Polestar brand
, dubbed
Polestar 1
, will be a
pricey plug-in hybrid luxury coupe
and will enter production later this year. Polestar 2, however, will be an EV aiming at the middle of the EV price range currently occupied, at least for the moment, by the
Tesla Model 3
, pending the arrival of several competitors.
Does this mean that the Polestar 2 will start at $35,000, or rather $33,000, given
this week's Tesla price cut?
This seems unlikely -- Volvo has indicated that the Polestar 2 might start around $50,000. The automaker also plans to offer the Polestar 2 on a subscription as well as cash sales basis, with the former intended to be a more premium version of the Care by Volvo program.
Still, the Polestar 2 is meant to be a premium sedan, so it won't compete with the likes of the
Nissan Leaf
or
Chevrolet Bolt
, opting for a more luxurious interior along with a greater range.
Another item that Volvo is promising in the Polestar 2 is the world debut of Google Android HMI and the debut of the in-car variant of Google Assistant.
It remains to be seen whether Volvo will aim for the production volume of the Model 3 as well, but all indications suggest that it will be a somewhat more niche vehicle, with Volvo aiming to build about 60,000 units per year. It also remains to be seen whether the decision to sell these two vehicles as
Polestars
will pay off for the automaker: Volvo has great name recognition, while there are plenty of Volvo owners out there who haven't heard of Polestar. If there is one thing that Tesla has demonstrated very well, it is that brand recognition and cachet are very important in the luxury EV segment -- Polestar will be starting from scratch instead of using the well-known and well-liked Volvo name.
Read more:
https://autoweek.com/article/green-c...#ixzz5bf9dw7Mj
02-27-2019, 06:42 AM
Registered Member
02-27-2019, 08:19 AM
Registered Member
Chinese money (Geely) clearly aiming for the Chinese (PRC) market for EVs ....
02-27-2019, 09:22 AM
Ex-OEM King
Join Date: Dec 2013
Location: Minnesnowta
Posts: 5,879
I'd buy it over the Tesla simply because it has a gauge cluster though Volvo reliability is questionable already, a new electric powertrain probably won't make it better.
02-27-2019, 09:28 AM
Registered Member
+1 on the gauge cluster. Who wants to look at an iPad on steroids while driving? Not me.

Also, wish the ride-height were lower. Why does it have to look so "trucky"? Oh yeah, quality of roads in China is ... variable ....
02-27-2019, 11:13 AM
Registered Member
Join Date: Aug 2010
Location: Spring, TX
Age: 33
Posts: 11,677
Looks good, except the XC ride height.
Thread
Thread Starter
Forum
Replies
Last Post