Porsche: 911 News
03-20-2019, 02:39 PM
Registered Member
Join Date: Aug 2010
Location: Spring, TX
Age: 33
Posts: 11,900
https://www.carscoops.com/2019/03/po...elivered-cars/
Porsche confirmed our report, saying that it will indeed reproduce the four examples of the 911 GT2 RS that were lost with the cargo ship. Find the official quote at the end of the article. (Update 3/19/2019)
Production of the
911 GT2 RS
ended last February, but apparently Porsche is resuming manufacturing (at least a few cars) in order to attend to a handful of customers in Brazil, whose vehicles were lost in a recent shipping accident.
A cargo ship named Grande America sank off the coast of France on March 12 following a fire that broke on one of the containers on deck, taking with it some 2,000 cars.
Audi
Brazil reportedly confirmed that the ship was carrying a number of A3, A5, Q7, RS4, and RS5 models.
Porsche, however, hasn't publicly confirmed having cars on the same vessel, but thanks to an anonymous tip, we got hold of a letter sent by Porsche Brazil to a customer, telling them that their
911 GT2 RS
can not be delivered due to the accident of the Grande America.
We loosely translated the letter:
"We are sorry to inform you that, due to a fire, a Grimaldi group ship, that was transporting your vehicle, sank on March 12, 2019. And for that reason, your GT2 RS can not be delivered.
As you may know, Porsche ended the 991 GT2 RS production on February 2019 and under normal circumstances, it wouldn't be possible to give you another car. But, due to the nature of the situation, and considering that you're a loyal and highly valuable customer for our brand, Porsche has decided to resume the
GT2 RS production
in Germany, and your vehicle will be produced in April, with delivery scheduled for June.
We recommend that you contact your local Porsche Center for further information."
Sources from Brazil mentioned that the cargo ship carried at least four examples of the Porsche 911 GT2 RS, along with few other models, including
718 Caymans
and Boxsters, as well as Cayennes.
According to a Porsche spokesperson, Porsche Brasil confirms that 37 of its new cars, in route from Hamburg, Germany to Santos, Brazil, were aboard the vessel Grande America that suffered a maritime incident near the coast of Brest, France, on March 12, 2019. Among the fleet were four 911 GT2RS units.
"In a special decision and to uphold its commitment to its valued Brazilian customers, Porsche has ensured that those units will be reproduced in the order in which they were originally confirmed", the spokesperson added.
04-16-2019, 11:33 PM
Senior Moderator
2019 Porsche 911 Speedster
---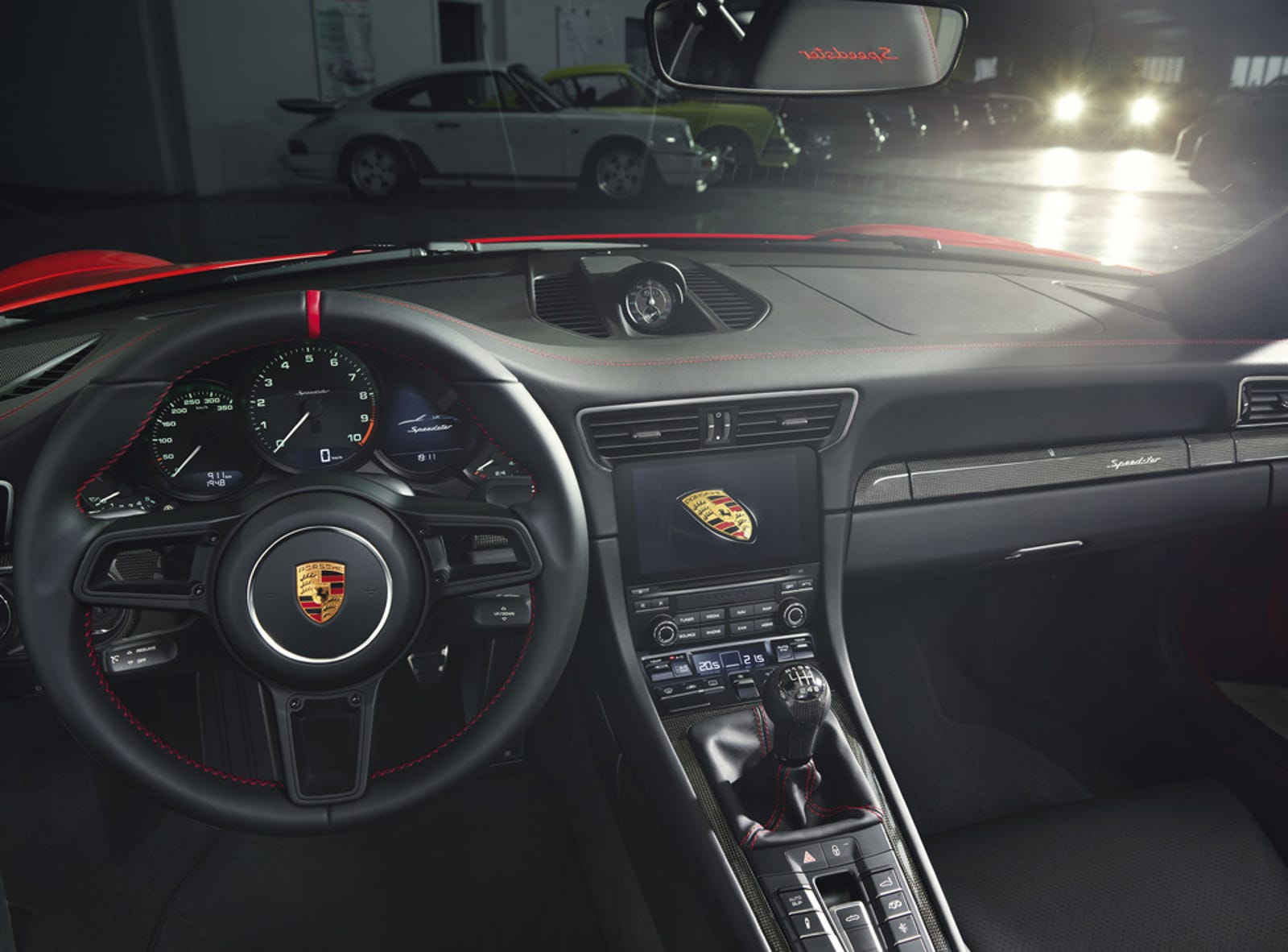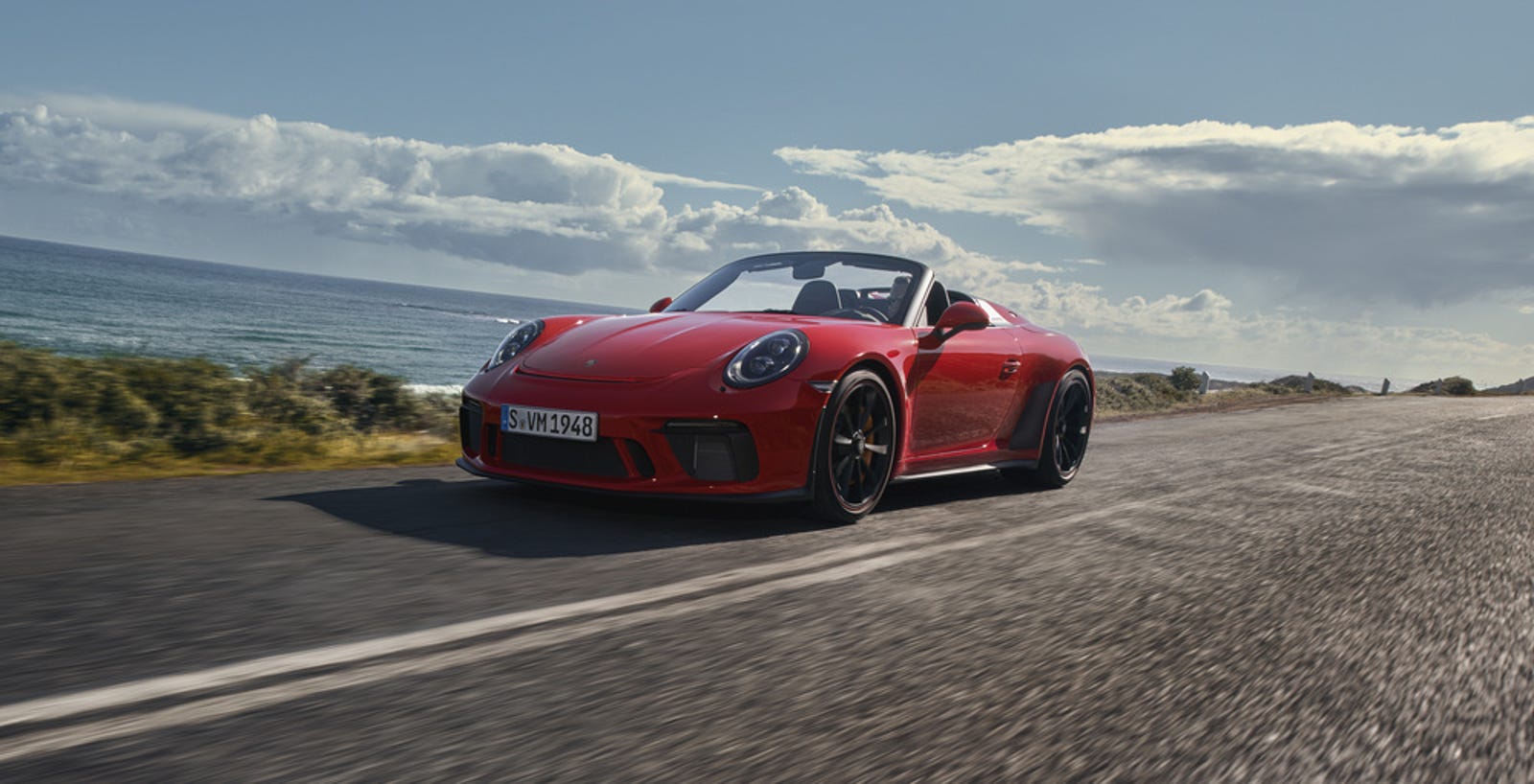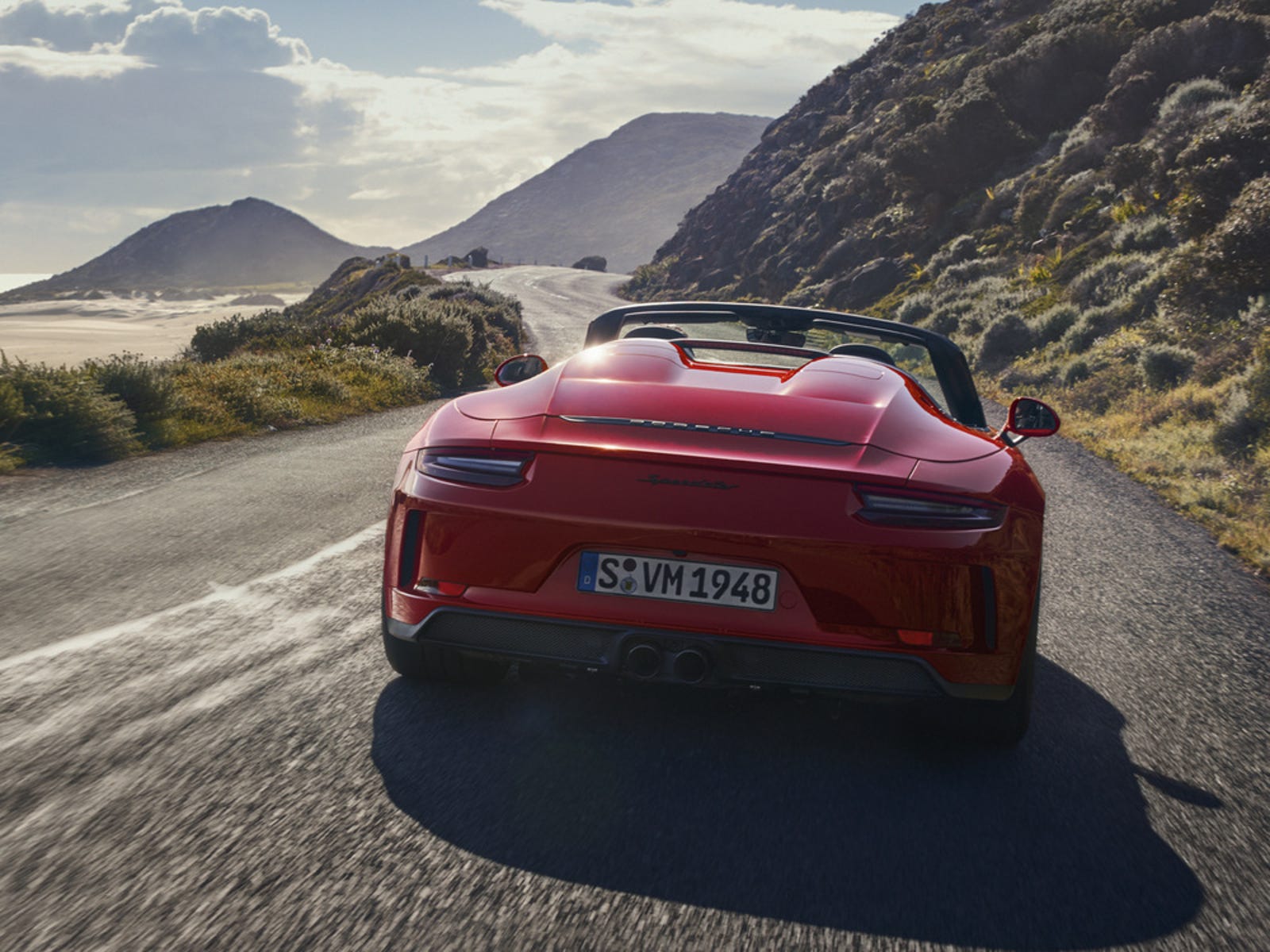 04-16-2019, 11:34 PM
Senior Moderator
More pics here:
https://www.autoblog.com/2019/04/16/...-show-pricing/
Info:
Porsche
has gotten our attention right off the bat at the 2019
New York Auto Show
by bringing the 911 Speedster for its North American debut. It won't be plentiful, limited to just 1,948 units worldwide. It won't be cheap, either. The
2019 Porsche 911
Speedster will cost $275,750, which includes the delivery fee of $1,250.
The 911 Speedster borrows its naturally-aspirated 4.0 liter flat-six engine from the 911 GT3 and 911 GT3 RS. That produces 502 horsepower and 346 pound-feet of torque, with a pulse-elevating 9,000-rpm redline. It gets individual throttle bodies for improved response, and is mated to a GT Sport six-speed manual transmission. It'll do 0-60 miles per hour in just 3.8 seconds, before continuing to a top speed of 192 miles per hour.
How badly do you want to feel 192 mph in the open air?
Speaking of which, the 911 Speedster comes equipped with a manually operated lightweight fabric top. We won't image it'll see much time in the closed position, though. Behind the cockpit are the two signature streamliner bulges, making the Speedster instantly recognizable. The weight reductions continue inside the car, with lightweight door panels with storage nets and woven door pulls. The car makes extensive use of carbon fiber, as well.
If you're lucky enough to own one of these Speedsters, you can also get an exclusive Porsche Design 911 Speedster Chronograph watch. It features a carbon fiber dial, a rotor modeled after the Speedster's center lock wheel, and a strap made of Porsche interior leather.
04-16-2019, 11:34 PM
Senior Moderator
Geebus...$275K for a roofless (but gorgeous) GT3...
04-23-2019, 06:34 AM
Moderator
Regional Coordinator (Southeast)
Join Date: Dec 2003
Location: Mooresville, NC
Age: 33
Posts: 41,379
This one looks so much better in the real pictures I have seen compared to the last one. The back doesn't look like it sticks up as high or is atleast better blended into the qaurter panels/fenders.
06-26-2019, 07:53 AM
Registered Member
Join Date: Aug 2010
Location: Spring, TX
Age: 33
Posts: 11,900
https://jalopnik.com/the-new-porsche...tio-1835854159
The new 992
Porsche 911
will get a series of Heritage Design Packages that pick and choose various style flourishes from 911s of time passed in a series of special editions. And because it wouldn't be a real special edition without its own watch, the cars are getting matching timepieces, too.
The first of these special heritage 911s has already been shown off as the new
911 Speedster
that was revealed at the New York Auto Show this year. However, the rest of the upcoming models won't all necessarily have such dramatically altered body styles. Instead, they'll get some vintage flourishes like the Speedster did, just on the standard 911 body.
You know, just a few casual limited edition 911s. Nothing crazy.
The first of those is expected next year, though it's unclear which classic 911s it will be specifically modeled after. Porsche says it's pulling interior and exterior materials and colors from classic Porsches ranging from the 1950s to the 1980s, and it sounds like the Heritage Design Packages may spread out over multiple cars for the next few years.
Some of those special materials include the vintage 1970s Porsche emblem, which the next Heritage model will wear on its hood, and as
Car and Driver pointed out
, interior materials like corduroy, tartan, houndstooth, Pepita, and Pasha are apparent in some of the style book photos included in the
press release
.
One of the images also shows a concept rendering of a Heritage 992 interior and its direct inspiration, the dashboard of a 1964 model, with wood dashboard trim, meshing well with the inherent throwback aesthetic of the five driver display dials on the new 992.
The cars will be produced in limited numbers with matching Porsche timepieces, and the vehicles are meant to highlight and embrace the contrast between the technological advancement of the modern cars with the style flourishes of the classics.
If it means more houndstooth, crazy carpet and wood dashboards in modern cars, I'm all for it. Even if they're all going to be stupidly appreciating the moment they're sold.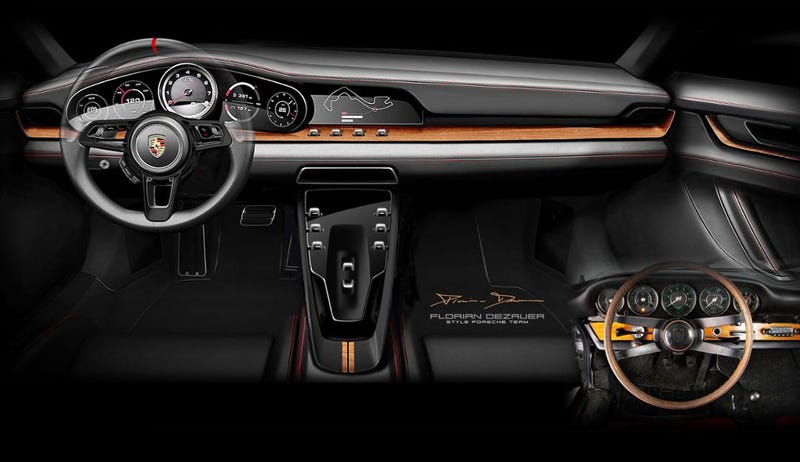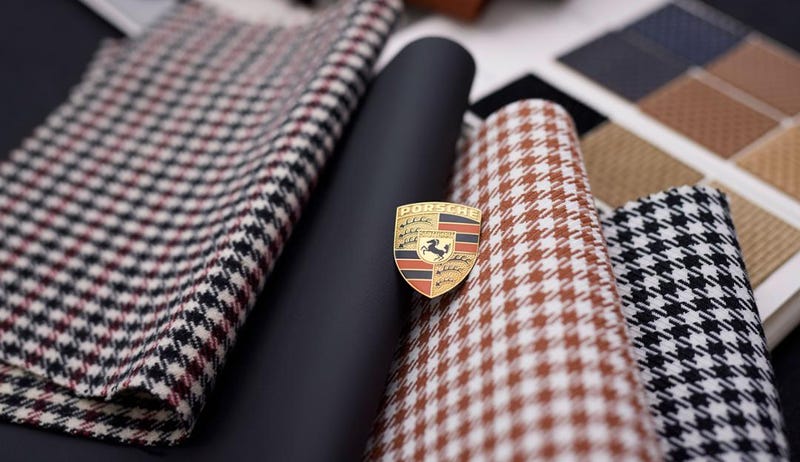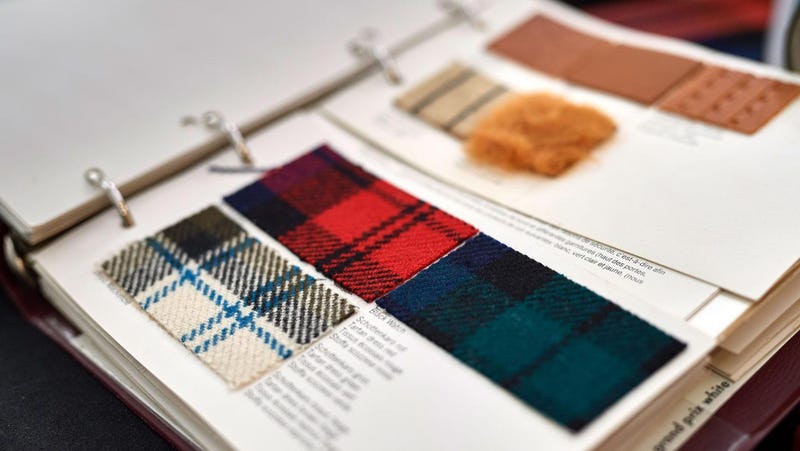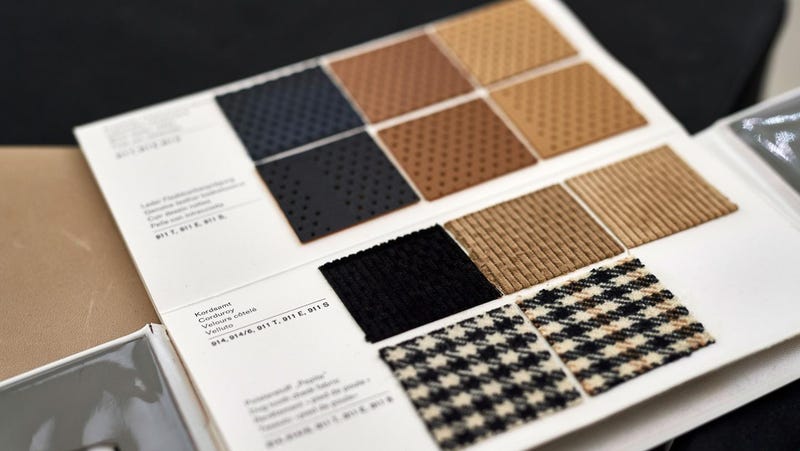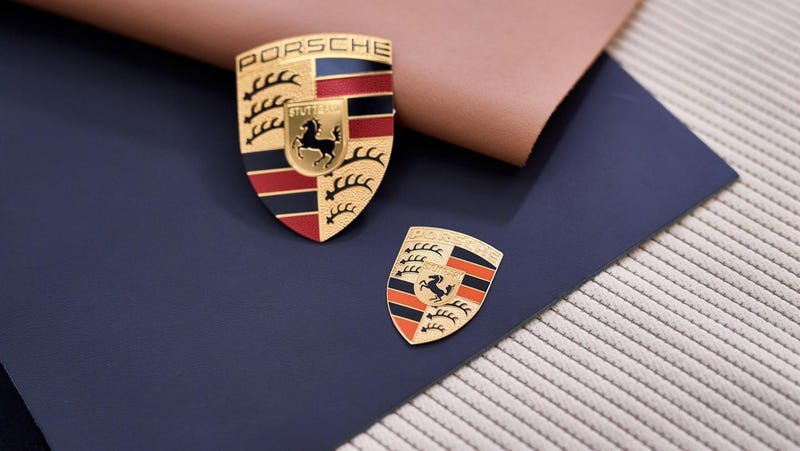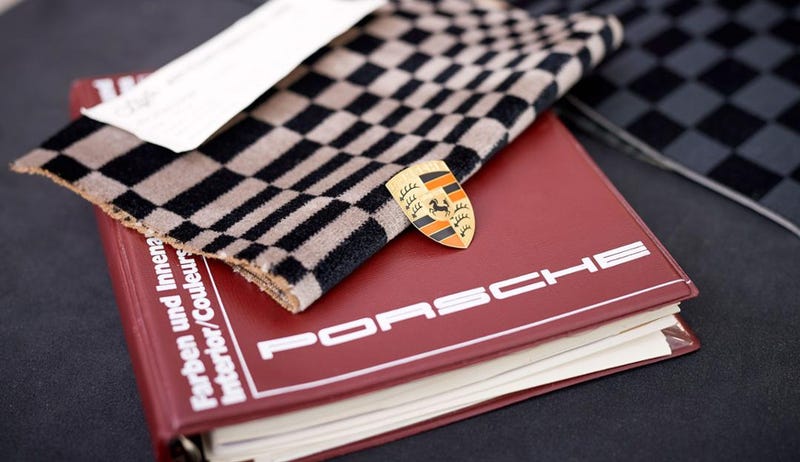 07-08-2019, 04:10 PM
Registered Member
Join Date: Aug 2010
Location: Spring, TX
Age: 33
Posts: 11,900
Some of the audio seems off/different camera source, but still amazing
07-15-2019, 02:27 PM
Registered Member
Join Date: Aug 2010
Location: Spring, TX
Age: 33
Posts: 11,900
https://www.motor1.com/news/359852/p...rga-spy-video/
You can see some odd things at a traffic light like a next-gen
Porsche 911 Targa
sitting alongside the upcoming
911 Turbo Cabriolet
. Neither of them the vehicles are wearing much camouflage, despite driving around on public roads.
This clip is brief but provides enough of a view of the Targa to see some of the details. The tail wears only marginal camouflage around the corners of the taillights. The need for this concealment is unclear, though, because the styling looks the same as the standard
Carrera
model. The exhausts are slightly different by using trapezoidal outlets rather than the Carrera's circular exits.
The rest of the car doesn't show any obvious camouflage, but the roof is in place. Judging by the visible cut lines, it appears that the top retains the existing version's complicated mechanism where the entire rear deck lifts up to make room for the roof section (see below).
The powertrain for the Targa is almost certainly the same as the Carrera. The current S model produces 443 horsepower (330 kilowatts) and 390 pound-feet (529 Newton-meters) of torque. The complicated roof likely adds some weight, so reaching 60 miles per hour (96 kilometers per hour) probably takes longer than the Carrera S' 3.5 seconds.
The debut date for the new 911 Targa is a mystery, but Porsche has a whole lot of variants of its iconic sports car yet to put on sale. For example, the
911 Turbo
and Turbo Cabriolet are still to come, and
spy shots show
that the new
911 GT3
is deep into development. They add up to a whole lot of 911s arriving in the months to come.
Photo/video at link above.
Thread
Thread Starter
Forum
Replies
Last Post
Fifth Generation TLX (2015+)
3G MDX Discussion (2014+)
Second Generation NSX (2017+)