Porsche: 718 News **GTS Versions Revealed (page 16)**
08-22-2018, 08:38 AM
Registered Member
Join Date: Aug 2010
Location: Spring, TX
Age: 33
Posts: 11,951
https://www.motor1.com/news/262996/c...-spyder-spied/
Porsche's dynamic duo was seen undergoing final testing with virtually no camo.
The range-topping versions of Porsche's 718 have been spotted countless times, but now we're being given the rare opportunity to see the Cayman GT4 and the Boxster Spyder together while undergoing final testing. The camouflage is basically gone, although we have a feeling the exhaust system of both cars will go through some changes between now and the official debut.
Of the two cars, the coupe looks a bit more aggressive thanks to the massive rear wing extending all the way to the body's hips, but the droptop is also quite interesting with is new fabric roof incorporating a pair of flying buttresses. For obvious reasons, the
Boxster Spyder
doesn't get the Cayman GT4's rear wing as instead, it features a subtle spoiler lip making it look a tad bit more aggressive than the Boxster GTS' rear end. The Spyder's redesigned rear deck further contributes to the car's appeal and should look even better in topless form.
Besides sharing the menacing black paint and the wheels, the two cars are also expected to feature the same naturally aspirated flat-six engine adapted from the
911 GT3
. By "adapted" we basically mean de-tuned since
Porsche
surely won't allow the two cars to match the Nine Eleven's 500-horsepower muscle. While the jury is still out on the GT4's and Spyder's power, output of the 4.0-liter unit should easily surpass the 400-hp mark to allow the dynamic duo distance itself from the 365-hp GTS models.
With Porsche only masking the LED daytime running lights, it's probably a sign the wraps are about to come off and we won't be too surprised if the 718 Cayman GT4 and the 718 Boxster Spyder will be unveiled at the same time. While putting the finishing touches on the two cars, Porsche is also preparing a new track-only
Cayman Clubsport
and is also toying around with the idea of a
rally-ready Cayman
.
08-22-2018, 08:56 AM
Fahrvergnügen'd
Join Date: Mar 2001
Location: Maryland
Age: 47
Posts: 13,149
01-03-2019, 03:01 PM
Registered Member
Join Date: Aug 2010
Location: Spring, TX
Age: 33
Posts: 11,951
Costco
Can't wait to see what the GT4 will shape up to be
https://www.netcarshow.com/porsche/2...gt4_clubsport/
Three years after the premiere of the first Cayman GT4 Clubsport, Porsche unveiled its successor. The new Porsche 718 Cayman GT4 Clubsport represents a consequent further development of the successful model from Weissach.
In developing the new Porsche 718 Cayman GT4 Clubsport, the focus was put not only on further improved driveability and faster lap times but also on the sustainable use of raw materials. The 718 Cayman GT4 Clubsport is the first ever production race car to feature body parts made of natural-fibre composite material. The driver and passenger doors and the rear wing are made of an organic fibre mix, sourced primarily from agricultural by-products such as flax or hemp fibres and feature similar properties to carbon fibre in terms of weight and stiffness.
Powering the 718 GT4 Clubsport is a 3.8-litre flat-six engine producing 425 bhp (313 kW). Compared to its predecessor, this represents a 40 bhp increase in performance. The power is transferred to the rear wheels via a Porsche dual-clutch gearbox with six gears and mechanical rear axle differential lock. The lightweight spring-strut front suspension is taken from its big 911 GT3 Cup brother. The impressive racing brake system features steel brake discs all round measuring 380 mm in diameter.
Tipping the scales at 1,320 kg, the 718 Cayman GT4 Clubsport, delivered ex-works with a welded-in safety cage, a racing bucket seat as well as a six-point harness, is a real lightweight.
For the first time, the near-standard mid-engined racer comes in two versions ex-works for global track driving excitement: the "Trackday" model and the "Competition" variant for national and international motor racing. Only the "Competition" edition is offered in the UK.
The "Competition" model - which is available in the UK via the Porsche Cars GB Motorsport department - features a raft of details relevant for racing. The shock absorbers can be adjusted in three stages. The safety fuel tank with a capacity of 115 litres is suitable for long-distance events. Thanks to a brake balance system, the balance bias can be infinitely adjusted between the front and rear axle. An integrated air jack system guarantees fast pit stops. The quick-release racing steering wheel adopted from the 911 GT3 R ensures a range of adjustment options for the individual needs of the drivers. An automatic fire extinguishing system adds another safety feature for the racetrack. The 718 Cayman GT4 Clubsport "Competition" is priced at £130,300.00 plus VAT (157,000 Euro), and is not homologated for road use.
"The new Porsche 718 Cayman GT4 Clubsport possesses significantly more racing genes than its successful predecessor," says Porsche's head of motorsport Fritz Enzinger. "The power of the engine has increased considerably. At the same time, we were able to increase the downforce and the cockpit is now even better suited to drivers' needs. I'm confident that we can build on the excellent sales figures of the predecessor, of which we have delivered 421 cars."
Technical description Porsche 718 Cayman GT4 Clubsport (Type 982)
Concept

Single-seater, near-standard production-based race car, not road homologated

Engine

Aluminium six-cylinder mid-positioned boxer engine with rigid mounting
3,800 cc; stroke 77.5 mm, bore 102 mm
Max. power: 425 bhp (313 kW ) at 7,500 rpm
Max. rpm: 7,800 rpm
Max. torque: 425 Nm at 6,600 rpm
Compression ratio: 12.5:1
Racing optimised water cooling with thermal management for engine and gearbox
Four-valve technology with adjustable camshaft phasing and variable valve timing VarioCam Plus
Fuel quality: Super Plus unleaded, minimum 98 octane
Racing optimised electronic engine management (Continental SDI 9)
Integrated dry sump lubrication
100-cell metal catalytic converter complying with DMSB specifications

Transmission

Rear wheel drive
6-speed PDK gearbox with rigid suspension and electronic control unit optimised for racing
Reinforced dual mass flywheel
Internal pressure oil lubrication with active oil cooling
Differential lock optimised for racing

Bodywork

Lightweight body in aluminium-steel composite construction
Welded-in roll cage, certified according to FIA Art. 277
Front bonnet with quick release fasteners
Rear hood with quick release fasteners
Fixed rear wing with "swan neck" mount made of natural-fibre composite materials, including the sideblades, black aluminium wing supports with integrated carbon fibre Gurney flap
Driver and co-driver doors of natural-fibre composite materials
Roof including escape hatch, certified according to FIA Art. 275a
Recaro race bucket seat with longitudinal adjustment and padding system, adjustable to the individual needs of the drivers (in accordance with FIA Standard 8862/2009 - the latest FIA requirements)
Three-piston air jack system
Provision for safety net
FIA-certified towing loops, front and rear
Motorsport centre console with enhanced functionality and adapted usability
Six-point safety harness
115-litre FT3 safety fuel cell with "Fuel Cut Off" safety valve complying with FIA regulations

Suspension

Front axle:

MacPherson suspension strut, adjustable in height, camber and track
Forged suspension links: optimised stiffness, double shear mounting, high-performance spherical bearings
5-bolt wheel hubs
Racing 3-way shock absorbers with rebound and 2-stage compression adjustment, high and low speed
Electromechanical power steering with variable steering ratio
Anti-roll bar, 3-hole design

Rear axle:

MacPherson suspension strut, adjustable in height, camber and track
Forged suspension links: optimised stiffness, double shear mounting, high-performance spherical bearings
5-bolt wheel hubs
Racing 3-way shock absorbers with rebound and 2-stage compression adjustment, high and low speed
Adjustable blade-type anti-roll bar

Brake system

Front axle:

Aluminium, mono-bloc six-piston racing callipers with "Anti Knock Back" piston springs
Steel brake discs, multi-piece, ventilated and grooved, 380 mm diameter
Racing brake pads
Brake balance adjustment via a balance bar system

Rear axle:

Aluminium, mono-bloc four-piston racing callipers with "Anti Knock Back" piston springs
Steel brake discs, multi-piece, ventilated and grooved, 380 mm diameter
Racing brake pads
Brake balance adjustment via a balance bar system

Electrics

COSWORTH instrument cluster ICD with integrated data logger
Upgraded fault diagnosis with PIWIS motorsport tester
Porsche Track Precision Race App
Integrated lap trigger via GPS signal
Electronic throttle system
Lightweight lithium-ion (LiFePo) battery, 60 Ah, leak-proof, mounted in passenger footwell
Emergency cut-off switch in cockpit and outside left of the windscreen
Driving stability system PSM (Porsche Stability Management) with ABS, traction Control (TC) and Electronic Stability Control (ESC), able to be completely deactivated
Tyre pressure monitoring system (TPMS)
Central fire extinguishing system in accordance with FIA regulations
Air conditioning
Electric wing mirror adjustment
Multifunctional CFRP motorsport steering wheel with pit speed limiter and quick release coupling
Centre console with map switch to adjust the ABS, ESC, TC and switch between preset tyre circumferences

Weight/dimensions

Total weight: 1,320 kg
Total length: 4,456 mm
Total width: 1,778 mm
Total height: 1,238 mm
Wheelbase: 2,456 mm

Rims/Tyres

Front axle:

One-piece light-alloy forged wheels in new weight-optimised rim design, 9J x 18 offset 28 with 5-bolt mounting
Delivered with Michelin transportation tyres, dimension: 25/64-18
Michelin slick/wet tyres, dimension: 25/64-18

Rear axle:

One-piece light-alloy forged wheel in new weight-optimised rim design, 10.5J x 18.5 offset 53 with 5-bolt mounting
Delivered with Michelin transportation tyres, dimension: 27/68-18
Michelin slick/wet tyres, dimension: 27/68-18

Colours

Water-based paint
Exterior: white C9A
Interior: white filler-coat, without lacquer
01-03-2019, 03:49 PM
Moderator
Join Date: Jun 2006
Posts: 27,628
I know it's the Clubsport model, but Christ.

2900 lbs and 425 hp. My head is spinning.
02-08-2019, 11:24 AM
Registered Member
Join Date: Aug 2010
Location: Spring, TX
Age: 33
Posts: 11,951
Rejoice! Porsche Might be Putting the Flat-Six in More 718 Boxsters and Caymans - The Drive
Good news, everyone who loves Porsche's butter-smooth flat-six engine: it's finally going to show up in what's really Porsche's best driving chassis again, and more often. A "well-placed source" told
Automobile
that the flat-six is coming back to
718s
that aren't the range-topping Cayman GT4 and Boxster Spyder.
As to which models are getting the flat-six the 718 platform always deserved, that wasn't made clear. Perhaps it could fill a spot between the hardcore, bare-bones GT4 and the more luxe but still track-ready GTS, or it could simply be the engine for the next-generation 718 GTS,
Automobile
guessed.
Another possibility is that the flat-six is coming further down the model hierarchy into the regular S-variants, which I'm all for. Porsche 718 sales went slightly down last year in an otherwise booming year for Porsche sales, and I know I'm not the only person out there who feels as if the 718 got a less impressive turbo-flat-four to avoid eating the 911's lunch. Even
Automobile's
report on this rumor linked back to its review that was a
hard meh
on the new turbo-four powerplants.
The 911 has become rather chunky in its old age, and the 718 is now the nimbler, more enjoyable to drive platform for many Porsche fanatics out there. You can't tell me that folks are buying the bigger sports car for its backseat that wasn't designed for full-size humans, either. Offering more 718s with a flat-six again seems like a no-brainer when it comes to reviving 718 sales.
Which flat-six would be heading back where it belongs wasn't specified by
Automobile
, either, although they pointed to rumors involving a detuned 4.0-liter from the 991.2-generation
911 GT3
, the
992 911 Carrera's
twin-turbo 3.0-liter, or the 3.8-liter from the 991.1 911 Carrera S/GTS and 981 Cayman GT4. The latter seems the most likely, given its inclusion in the just-revealed
718 Cayman GT4 Clubsport
and 718 buyers' snubbing of the turbos.
It'd be a screamer, too, given that the new GT4 Clubsport cranks out 420 horsepower—which would likely translate into a sizeable bump over the previous GT4 road car's
385 hp
even if it were detuned slightly for road use.
How do you say "blaze it" in German?
03-06-2019, 12:56 PM
Registered Member
Looks like the current 718 will soldier on until 2023. This is disappointing since there has usually been a new Cayman/Boxster a year after a new 911.
https://www.roadandtrack.com/car-sho...round-to-2023/
The last two generations of Porsche Cayman and Boxster have arrived on the scene around a year after there's a new 911. That won't be the case this time around, however. At the 2019 Geneva Motor Show, Porsche's soon-retiring sports car chief, August Achleitner, told us the current 982-generation 718 Boxster and Cayman will be around for some time.

"From today's point of view you most likely will see and end [for the 982] in 2023," Achleitner said. "[This] is influenced by the Euro 7 requirements for emissions, which will influence the whole architecture of the car very strongly.

"The situation in Europe isn't really fun because there's a trend to change these requirements with dramatic speed, which does not fit at all to development times in the automotive industry."

In other words, Porsche has to spend so much money and time engineering its motors to meet ever-stringent emissions requirements, it can't put that money into a new platform—especially for a low-volume car. So, the 982 is very likely to stick around for some time.

In 2023, this platform will be quite old since the 982 is really just a heavy revision of the 981 Boxster/Cayman platform from 2012. That's not necessarily a bad thing though, since the Boxster and Cayman are still the benchmarks as far as mid-engine sports cars are concerned.

Plus, we've got a new Cayman GT4 and Boxster Spyder coming this year with a flat-six to keep things exciting, and eventually, we in the US will get the 718 T models. Achleitner's sad to be retiring because he won't be around when those launch. Without naming them specifically, he said they'll be pretty special.

Further down the line, there'll likely be other revisions to the 982 to keep things fresh. A 982.2 generation is likely, and there's a chance a new engine might find a home int he middle of a 718. A flat-six? Porsche won't say, but we're hopeful.
---
Last edited by alex2364; 03-06-2019 at

12:59 PM

.
05-09-2019, 01:55 PM
Registered Member
Join Date: Feb 2017
Location: DMV
Posts: 7,472
Flat 6 in the 718 would be sweet ...
06-18-2019, 09:14 AM
Registered Member
Join Date: Aug 2010
Location: Spring, TX
Age: 33
Posts: 11,951
https://www.caranddriver.com/news/a2...4-photos-info/
It has been three years since the Porsche Boxster and Cayman ditched their naturally aspirated flat-sixes for turbocharged flat-fours. While we still haven't made peace with that change, Porsche's bean counters say customers didn't seem to mind. Like their predecessors, the 718 models find about 25,000 new owners a year globally, and the impressive performance figures speak for themselves. Despite that, the new 2020 Porsche 718 Cayman GT4 confirms what corporate actuaries won't admit: Cars this good deserve equally special engines.
The new 718 Cayman GT4 uses a 4.0-liter, 8000-rpm, bored, stroked, and turbo-free version of the 992-generation 911's 3.0-liter 9A2EVO engine. Hitting the high notes requires new cylinder heads, valves, pistons, connecting rods, and crankshaft. The intake manifold, with two resonance flaps, is also new. The free-breathing six-cylinder makes 414 horsepower at 7600 rpm and 309 pound-feet of torque from 5000 to 6800 rpm. That's an increase of 29 horses over
the 2016 GT4
, which made identical torque. The only gearbox paired to this engine is a six-speed manual. Porsche says it could have wrung 400 horses from the turbo four that powers
the 718 GTS
but used this flat-six instead to avoid turbo lag altogether.
Why not detune the GT3's 4.0-liter engine instead? Because when Porsche flips its flat-sixes 180 degrees to mount them in the middle (with the transmission behind the engine), that leaves no room for
the 911 GT3
's external oil tank. Even without borrowing the GT3's magic, Porsche promises this engine will deliver the nasty cold starts and raspy symphony of its classic (or three-year-old) models.
In modifying this new model from the current-generation 718 Cayman, Porsche spaced the exhaust pipes farther apart as on the GT2 RS and stretched them into ovals that sit in a large new diffuser. The low stance, new front bumper, larger side intakes, and towering wing identify the GT4 as the top of the 718 Cayman food chain.
The GT4, which Porsche says can hit 188 mph, has an adjustable wing that helps it generate 50 percent more downforce than the last generation did, up to 330 pounds. It borrows the 911 GT3's front suspension and brakes—15.0-inch rotors all around with six-piston calipers up front and fours in the rear, or 16.1-inch front units and 15.4-inch rears with the optional carbon-ceramics—and adaptive dampers from
the GT3 RS
. The ABS and stability-control programming are RS spec, too.
The anti-roll-bar end links, camber, and toe can all be manually adjusted, although the ride height—1.2 inches lower than a standard 718's—is fixed. A clutch-type limited-slip differential with brake-based torque vectoring pairs with electric power steering. The GT4 has wider tires than in lesser models, with 245s at the front and 295s at the rear; Porsche fits either Michelin Pilot Sport Cup 2 or Dunlop Sport Maxx Race 2 tires on new 20-inch wheels. At roughly 3300 pounds, the GT4 is heavier than before, in part because of the enlarged diffuser and a bigger starter motor. It is also nearly 200 pounds heavier than the Cayman GTS by Porsche's reckoning, although fans of the flat-six will likely forgive the extra weight.
While the new engine employs the usual composite oil pan, forged pistons, and plasma-coated cylinders, it's the first flat-six Porsche to feature cylinder deactivation. Deactivating the auto stop-start function disables the cylinder deactivation. As in previous GT4s, there are no driving modes. These cars are always in Sport, although a button allows drivers to enable or disable automatic rev matching. In all other manual 718s, rev matching can't be turned off unless you're willing to forgo stability control, too.
U.S. models get pull straps instead of door handles and either one-piece buckets or 18-way power seats. Europeans can delete the stereo and order a roll bar, six-point harnesses, and a fire extinguisher as part of the Club Sport package. Otherwise, it's an all-black affair on both continents, with silver stitching and faux suede on the seat inserts, steering wheel, and shift lever. Full leather is available with silver, yellow, or red stitching.
When the Cayman GT4 arrives next spring, it will cost $100,450 to start, which is $18,500 costlier than a manual Cayman GTS and $2900 more than
its new Spyder
sibling.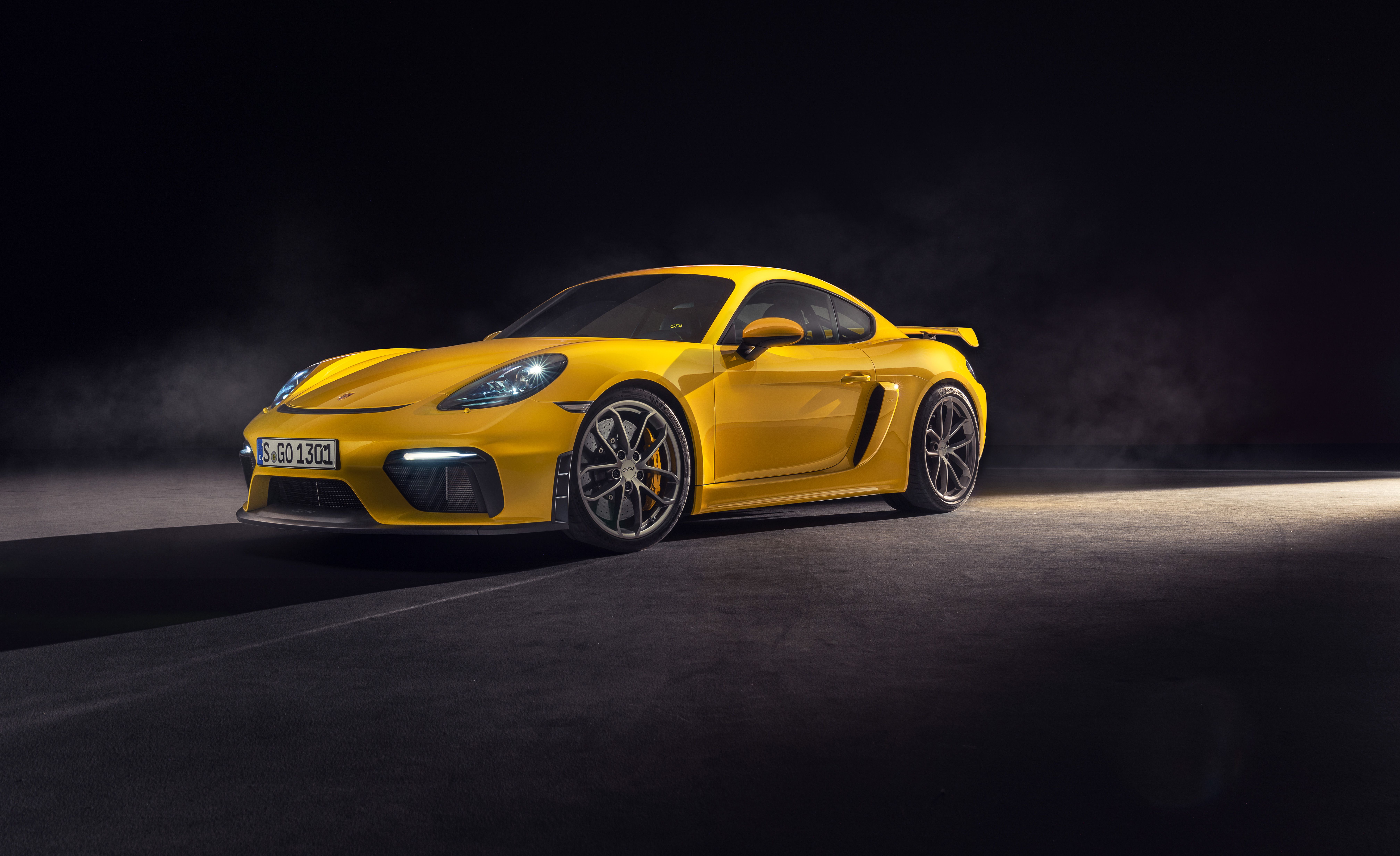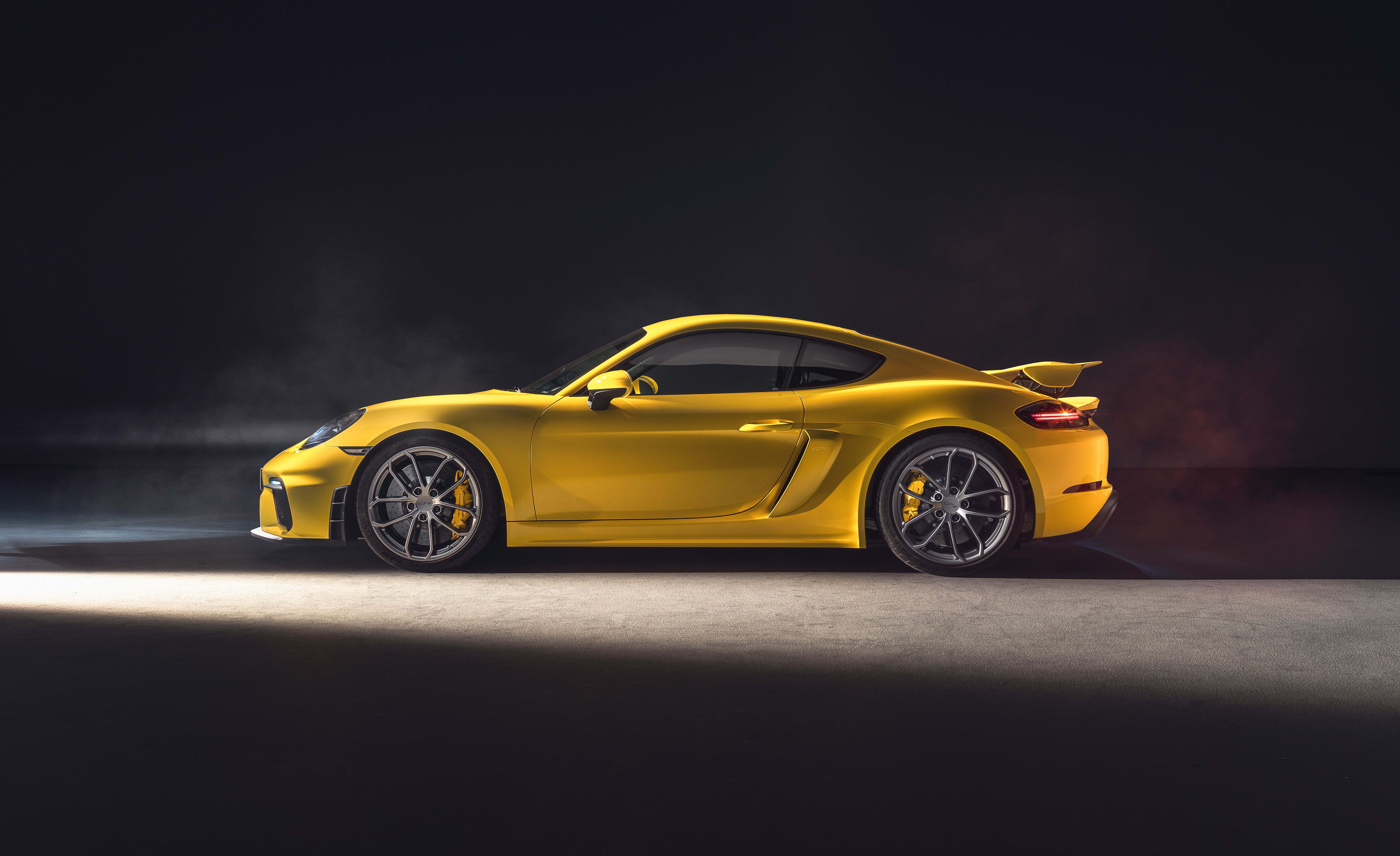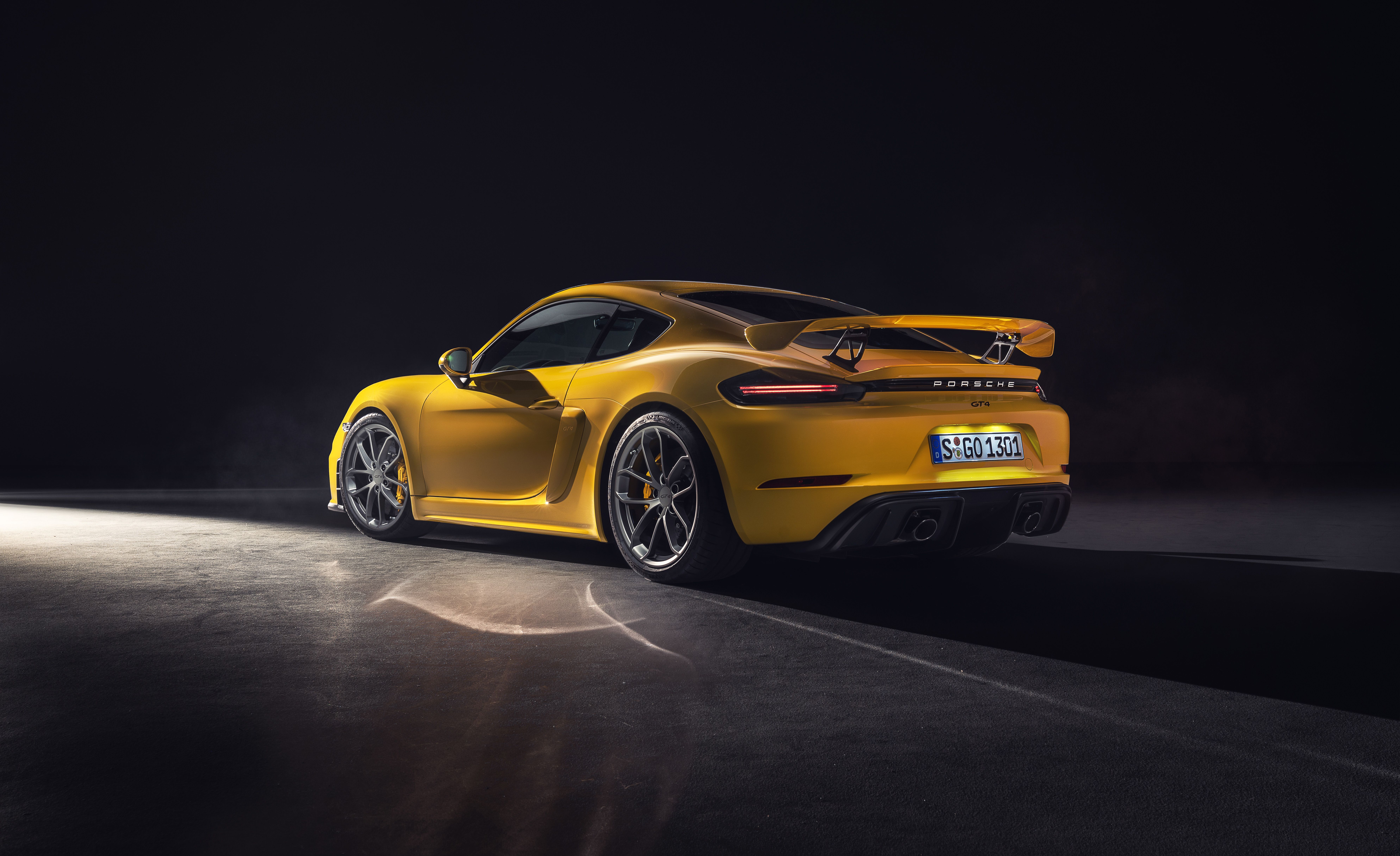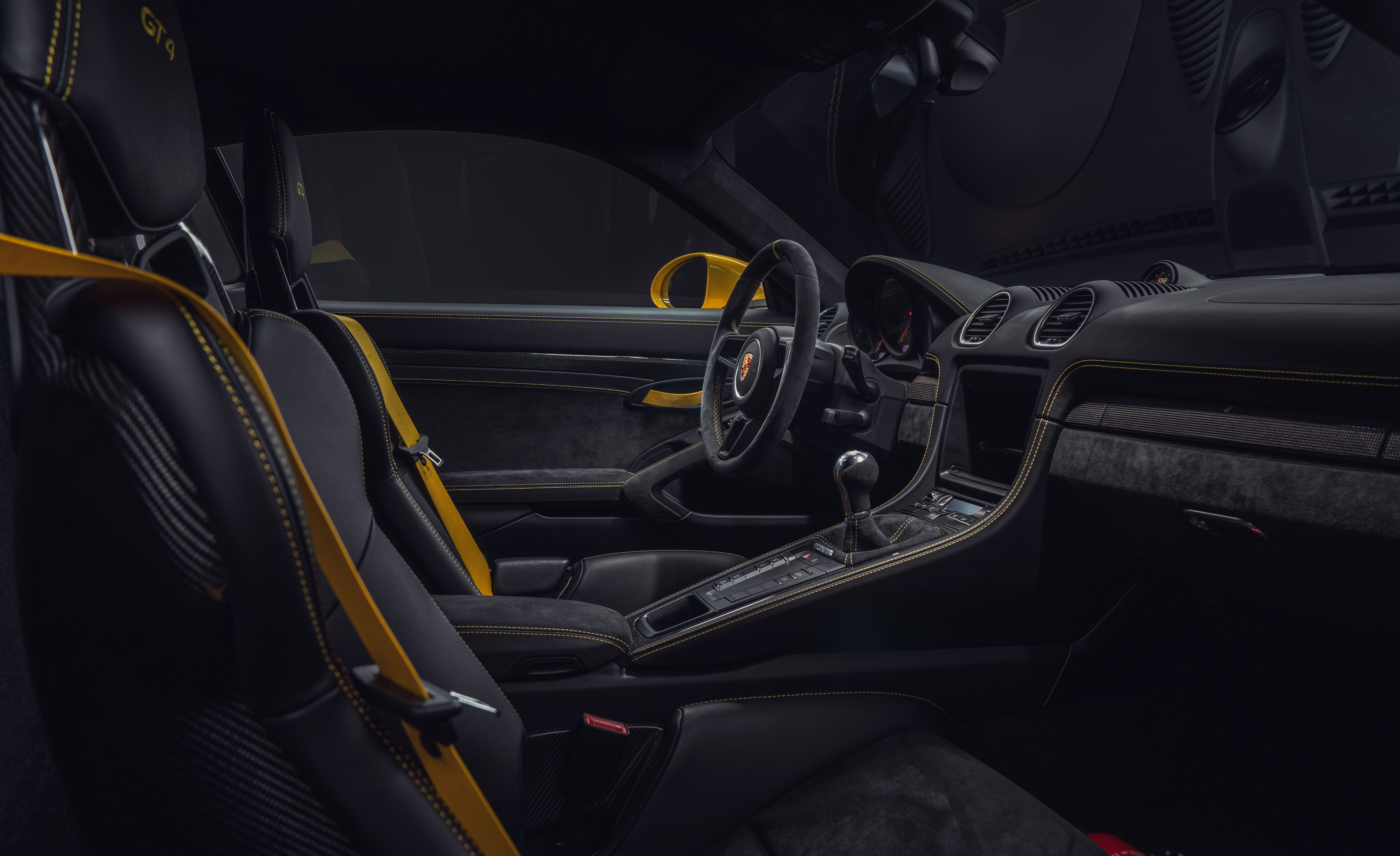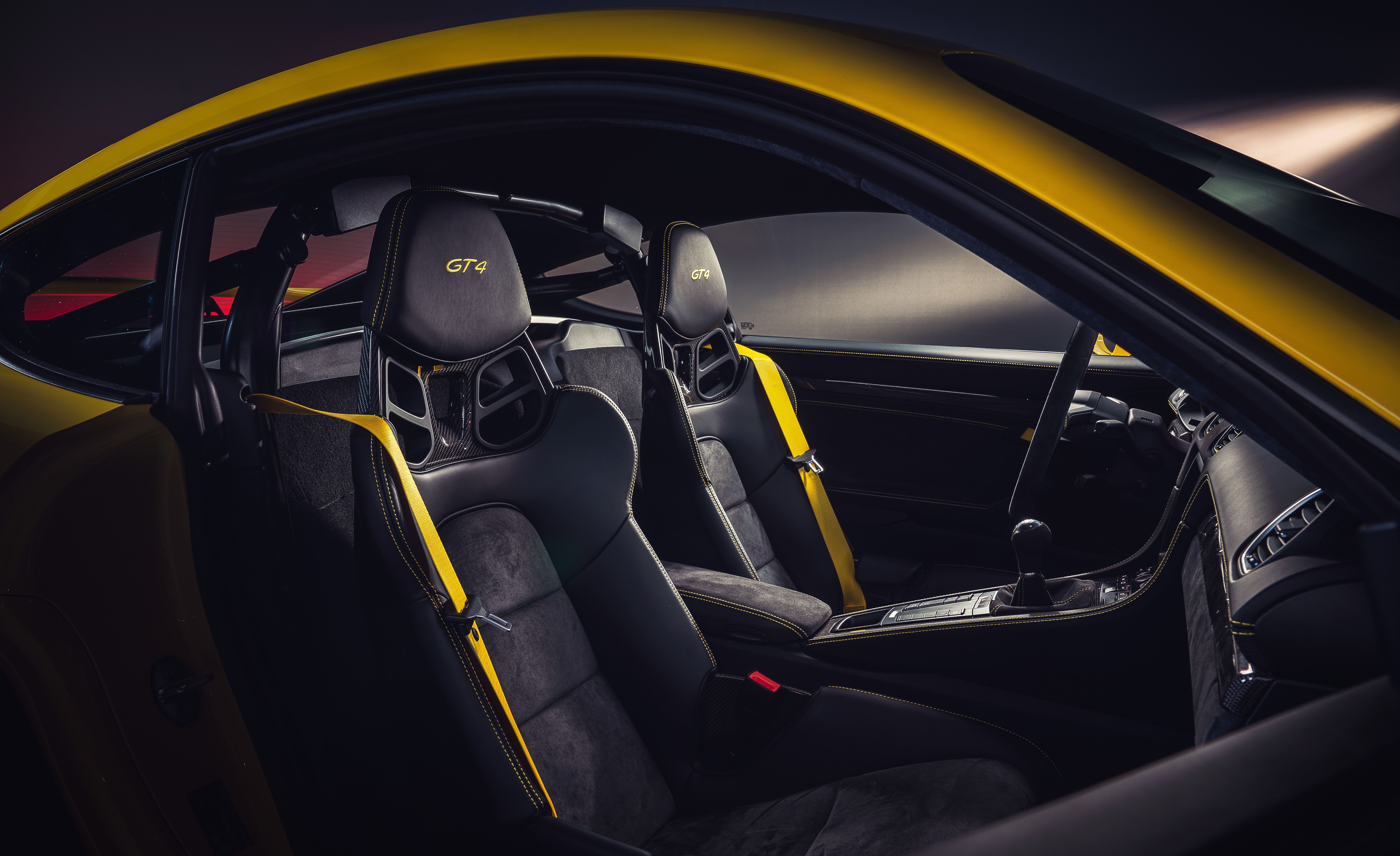 Thread
Thread Starter
Forum
Replies
Last Post