McLaren: Senna News **Victory Grey Version (page 1)**
03-18-2018, 03:08 PM
Senior Moderator
Join Date: Dec 2001
Posts: 145,691
2018 McLaren Senna GTR
---
Per 00TL-P3.2's post about the GTR version, here's the official press release:
McLaren Automotive, the British creator of luxury sportscars and supercars, is to offer a track-only version of the new Ultimate Series McLaren Senna, to be called the McLaren Senna GTR.

Unveiling the McLaren Senna GTR Concept today (March 6, 2018) at the Geneva International Motor Show, McLaren Automotive CEO, Mike Flewitt, confirmed that up to 75 examples of the most extreme McLaren car ever will be hand-assembled in Woking, England, during 2019.

"Excelling on the track underpins the heritage of the McLaren brand and is as important and relevant today as it has ever been," explained Mike Flewitt. "The track-only McLaren Senna GTR will have more power, more grip and more downforce – up to 1,000kg – than the McLaren Senna and post even faster lap times; the very limited number of customers who secure this car will be buying the closest experience you can get to a race car without actually lining up on a circuit grid."

Expressions of interest will be taken at the Geneva Show and thereafter, with exact technical details of the McLaren Senna GTR confirmed later this year. Based around the same carbon fibre Monocage III structure as the McLaren Senna to ensure the core strength and rigidity needed for a top-flight track car, the McLaren Senna GTR will be similar in weight to the 1,198kg lightest dry total of the road-legal McLaren Senna. With more power and greater torque from the 4.0-litre twin-turbocharged V8 engine than the 800PS and 800Nm developed in the road car – horsepower will increase to at least 825PS – the car will be faster than the 'standard' model in a straight line. The additional benefit of a race-style transmission, revised double wishbone suspension and Pirelli slick tyres – together with up to 1,000kg of downforce – will ensure that the McLaren Senna GTR will also post the quickest McLaren circuit lap times outside Formula 1.

The 'form follows function' McLaren design philosophy that is at is strongest in the McLaren Senna provides – quite literally – the ideal platform for the McLaren Senna GTR. The car will have a wider track and new fenders front and rear, the changes to the carbon fibre body simplified by the fact that the fenders and other aerodynamic components have been designed as 'clipped on' to the cockpit structure, allowing relatively easy modification. The McLaren Senna GTR will also feature a new wheel design, developed specifically for circuit use.

The front splitter of the McLaren GTR Concept is larger than the road-car component and contributes to improved front aerodynamic performance, as does the rear diffuser which is both larger and extends further back. The rear deck is the lowest of any McLaren and aids both aerodynamic performance and cooling, as well as helping to optimise the performance of the active rear wing.

The design of the doors benefits aerodynamic efficiency, the outer skin being 'pushed in' as far as possible towards the centre of the car to better channel airflow. Unlike the road-legal McLaren Senna, the McLaren Senna GTR will feature a polycarbonate 'ticket' window.

"The McLaren Senna was designed from the outset with the full spectrum of road and track requirements in mind, so developing a GTR version is within the scope of the original project," explained McLaren Automotive Design Engineering Director, Dan Parry-Williams. "The McLaren Senna GTR Concept unveiled in Geneva is not the finished article but it does give a clear indication of our thinking for the car, which promises to be the most extreme and exciting McLaren to drive for many years, if not ever."

McLaren Automotive is increasing its focus on providing customers with track-based driving experiences across its full range of cars. A single-make race series has been launched as part of the programme of Pure McLaren track events, allowing McLaren owners with the minimum of an International D-grade licence to take advantage of a full 'arrive and drive' package to race in a 570S GT4 car. To support this and other motorsport activities, a network of McLaren retailers specialising in selling and fettling McLaren's motorsport models has been established; initially 10 in number, the retailers serve Europe, North America and Asia Pacific.

03-20-2018, 01:33 PM
Registered Member
Join Date: Aug 2010
Location: Spring, TX
Age: 33
Posts: 10,896
Function > Form to the extreme for sure.
06-27-2018, 08:28 AM
Registered Member
Join Date: Aug 2010
Location: Spring, TX
Age: 33
Posts: 10,896
https://www.autoblog.com/2018/06/26/...3o82342bnk787/
McLaren's Senna doesn't just have the moves, it has the swagger
LISBON, Portugal — Ferrari owners don't just
buy a car
, they buy an image of performance and sophistication. Let's be honest: this reflected glory is a primary motivating factor for
supercar
ownership, and it's great for self-esteem. More to the point, it's sustained Ferrari for the last 70 years. And now McLaren, on a much steeper learning curve, is catching on that supercars need more than just dominating performance figures to reach the next level. If you're going to name your car after Ayrton Senna, it had better be something special.
Evidence is provided by the fact that the McLaren Senna isn't just wickedly fast, it puts you in the driving seat of a car named after one of the most revered
F1
drivers in history, built by the road car arm of the team that powered him to three championships. Driving it might not make you his equal, but the marketing gold is self-evident.
McLaren isn't letting this opportunity slip through its grasp, not least in its choice of launch venue — Estoril circuit outside of Lisbon, the scene of Ayrton Senna's first Grand Prix win back in 1985. The manner of that victory, conducted in pouring rain and seeing him lap all but one of the field, set in place a legend. OK, he did it in a Lotus and not a McLaren. But given how many of the people behind this car also started their careers at Lotus, that's kind of appropriate, too.
Thankfully it's not raining when I arrive at Estoril, so we won't be required to display similarly God-given driving talent. That doesn't make it much less intimidating, though. Having had
the full technical deep dive
, I confess to approaching this drive with a degree of trepidation. Sure, it's road car with street tires, air-con and touchscreen navigation. But 789 horsepower in a car weighing less than 2,900 pounds, fueled and ready to roll?
The Senna's 1,764 pounds of downforce at 155 mph is an impressive number, but pretty much an abstract concept unless you live on the track. But its 0-124 mph time, a whole second faster than
a hybrid-enhanced P1
? That's one to wake you up. Likewise, a track briefing before heading onto the track revealed that our braking point from 180 mph for Estoril's first turn will be 60 feet past what it would be in a
720S
.
A few reconnaissance laps reveal Estoril to be narrow, technical, and with an odd mix of slow, tight corners and hugely committed high-speed ones. All with authentic, mid-1980s quantities of run-off. Which is to say, not much. If this introductory session was supposed to calm nerves before the main event, it comprehensively fails.
The Pure White Senna to which I am assigned is basically an Imperial Stormtrooper in automotive form. And about as warm and cuddly. I realize this car's looks are divisive, but in the context of a live pit lane it makes a whole lot more sense. Flashes of blue from the brake calipers and movable aero vanes within the front fenders are cool little flourishes, and the lucky 500 who've made the list will be able to
mix and match these visual features
according to taste. Or lack of.
When configured to Race mode, the car adopts a lower, raked stance, wheels sucked into bodywork race car-style while that rear wing casts — in every way — a large shadow. With much of the sill lifting away with the door, access is surprisingly good. Thanks to the manual adjustment to wheel and seat (the latter weighs less than nine pounds), you can quickly find an appropriate race car seating position with the wheel right into your chest. Warnings about braking forces noted, I accept the invitation to nip the shoulder straps up tight against the HANS device without registering this also tightens the crotch belts. I'll live to regret this.
I don't have a whole lot of time to register the cabin, except to say that it's minimal, carbon weaved and stylishly pared back to the minimum. Owners have the choice of slightly heavier glass lower door panels that most have taken, while this car's fixed carbon bulkhead (you can have a glass one) gives the cockpit an authentically claustrophobic race car vibe. The intercom clicks in and my courageous chaperone cheerily informs me he won't have much time for direction beyond the basics of "brake" or "power."
And then we're off, literally following the tire tracks of Ayrton Senna.
Charismatic engines have never been a McLaren forte, but what this uprated 720S motor lacks in operatic soundtrack it more than makes up for in punch. Unlike the P1, "torque fill" doesn't come from an electric boost, it comes simply from lack of weight. Meaning you can short shift and brace the available traction against the swelling 590 pound-feet of torque rather than risk it lighting up the rear tires at the more explosive end of the rev range.
Unlike other McLarens, there's little sense of turbo lag, the transition between off- and on-throttle instantly communicated through neck muscles and an engine solidly mounted to the Monocell III structure you're lashed into. From the tight opening complex of turns, the track feeds into the back straight and a chance to really let it rip, the 125 mph kink gone in a flash and another 20 mph on the digital speedo between there and the braking point for the looming left-hander. My head is struggling to keep pace. A loud word over the intercom — "BRAKE!" — wakes me up.
Like all McLarens, the pedal is perfectly aligned with your left foot, making it easy to trail-brake in and bury the nose into the apex while overlapping your throttle input to power through while leaning heavily on the abundant downforce. There is, no doubt, all manner of clever stuff happening with interlinked aero, springing, damping and anti-roll — but the real trick is making you forget about that and concentrate on the honest feedback through fingertips and seat of the pants. Trust quickly replaces fear.
Steering feel is super sharp, another McLaren family trait, and you can sense an onset of deliberately engineered, rear-end-cooling understeer if you overcook your corner entry speed. But once through that, the traction is just immense. The P Zero Trofeo R tires all but bite chunks out of the track surface as the combined mechanical and aero grip delivers incredible traction.
The seemingly endless fourth gear final turn really shows the downforce. Coming around, that whisper of front end push alerts you to the limits before the track straightens, and then your eyelids are once again peeled back by the violence of the acceleration. And then there's the braking into turn one, the wing moving seamlessly through 35 degrees of motion to go from drag-reduction mode to its most aggressive setting. It's not just that over-tightened harness that has me crying out, the deceleration hurling me against the straps, but the car absolutely locked to its line as the car bleeds downforce off the front axle to counteract weight transfer and keep the car flat.
Like all McLarens, the Senna does without mechanical sway bars, the black boxes in charge of the P1-derived Race Active Chassis Control instead using the hydro-pneumatic spring chambers to support the car while the inside wheel can be left compliant to run up onto huge chunks of curb. The speed is stunning. But so is the confidence this car inspires in even an average driver.
For all the track swagger, this is where the Senna's ambition becomes clear. McLaren may say it drives like a track car for the road, but the truth is it's still more the other way around. This is a subtle but important distinction. We heard that a British owner intends to drive his car straight from the factory and 800 miles across France to Paul Ricard circuit for a Pure McLaren track day at the end of July. Nothing in my experience with the Senna suggests this owner will be too challenged doing so.
And this, not the performance, is the most shocking thing about the Senna. The things that are meant to make it intimidating — the numbers, the looks, the intensity — actually make it less so. Because every input has an instant output, you know exactly what the car is up to. This accuracy is inspiring rather than scary. It's basically like a million-dollar, 800-hp Lotus Exige with air-conditioning. Which, given the shared history through Senna, this circuit and the guys that developed it, is kind of appropriate. Likewise, that there is a confrontational, ruthless streak in its pursuit of pure speed — like the man himself, the Senna isn't afraid of courting controversy. And the way it looks and the way it goes present challenges not everyone will accept.
This, arguably, is its biggest win. You may indeed bathe in the reflected glory of driving a car named after F1's most celebrated hero. It's a reflection of McLaren's growing self-confidence it feels now is the time, and this is the car, to do the same. That's a bold play in every respect, and one that McLaren has just about pulled off perfectly.
06-27-2018, 08:29 AM
Registered Member
Join Date: Aug 2010
Location: Spring, TX
Age: 33
Posts: 10,896
06-27-2018, 08:29 AM
Registered Member
Join Date: Aug 2010
Location: Spring, TX
Age: 33
Posts: 10,896
07-27-2018, 02:59 PM
Registered Member
Join Date: Aug 2010
Location: Spring, TX
Age: 33
Posts: 10,896
https://jalopnik.com/theres-a-paint-...enn-1827917603
There are two definitive things that everyone instantly knows the second they look at the McLaren Senna. Number one, it's an extremely, face-bendingly fast car. Number two, it's a bit unpleasant to look at. But this one, chassis number 001, is doing a hell of a good job fixing that.
Now, I'm not saying it's
flawless
, mind you. It's got an incredibly dorky outline of the Interlagos race track on its face (which McLaren helpfully points out has the badge denoting the start/finish line), which is just unnecessary. Would people not see the giant wing? Would people not see how low it is to the ground? Would people not know it's called a Senna? These are already very racy and very Brazilian things.
And the paintjob also appears to be a blatant ripoff of the
Bugatti Veyron L'Or Blanc
:
See? Just look at the Senna one more time:
But you know what? Besides the lack of originality, I don't really care one bit. The L'Or Blanc is a gorgeous car, and frankly, every car should come painted like that. There's an old Subaru SVX parked outside my apartment that would lovely in white with blue drizzled everywhere all over it. It would look like a fancy cake. And everyone loves fancy cake.
The thing I love most about this particular Senna, however, isn't the "MSO Aurora Blue" and "MSO Anniversary White" paint job. It's that upon taking delivery, owner David Kyte (who is apparently some sort of
stocks and shares man
), immediately drove it along with three other Sennas from the McLaren headquarters to the Paul Ricard Circuit, according to a
McLaren press release
.
Which is 870 miles away.
Good on you, David Kyte, for deeply understanding that cars are meant to be driven. And for also buying the one good-looking McLaren Senna.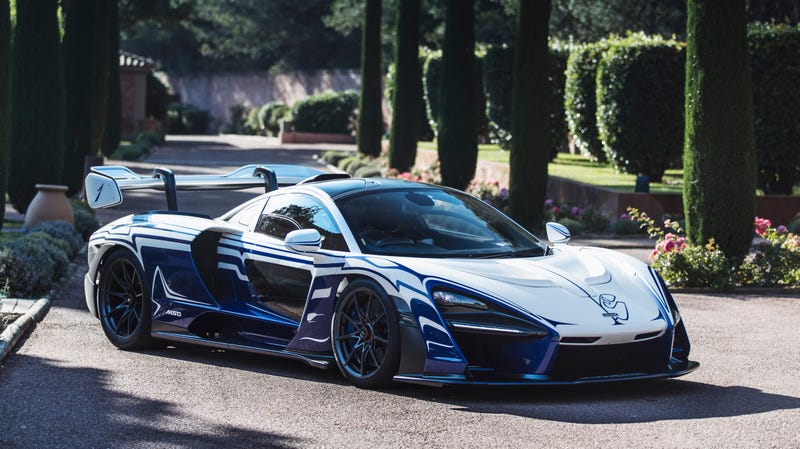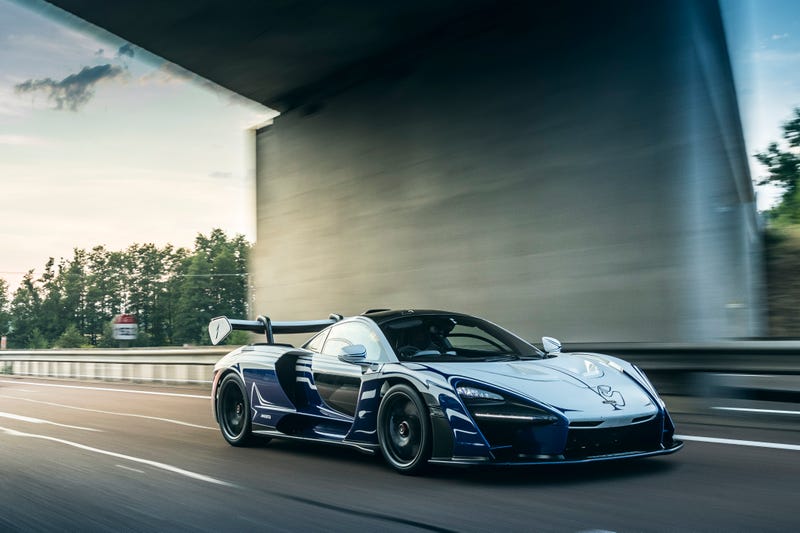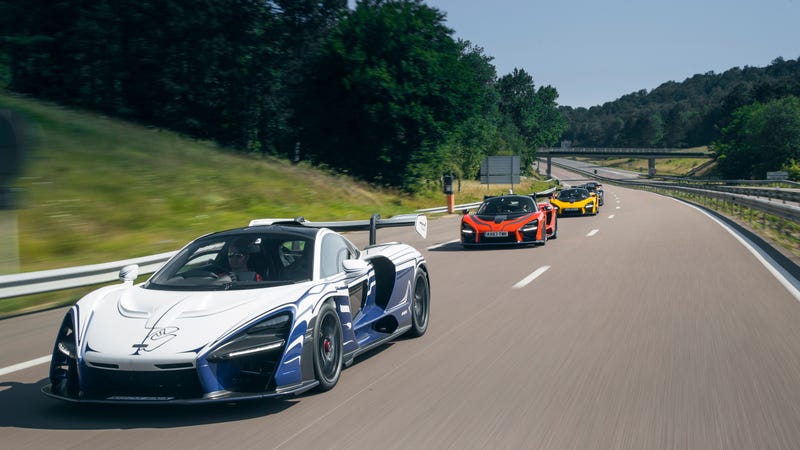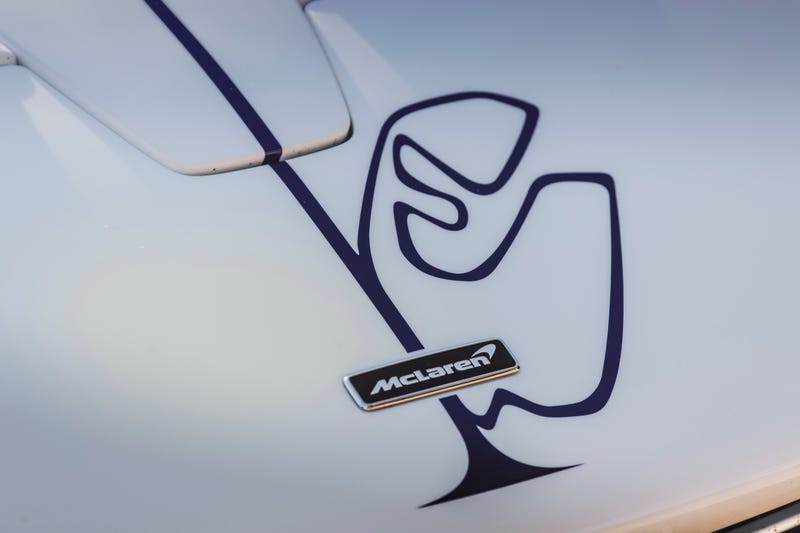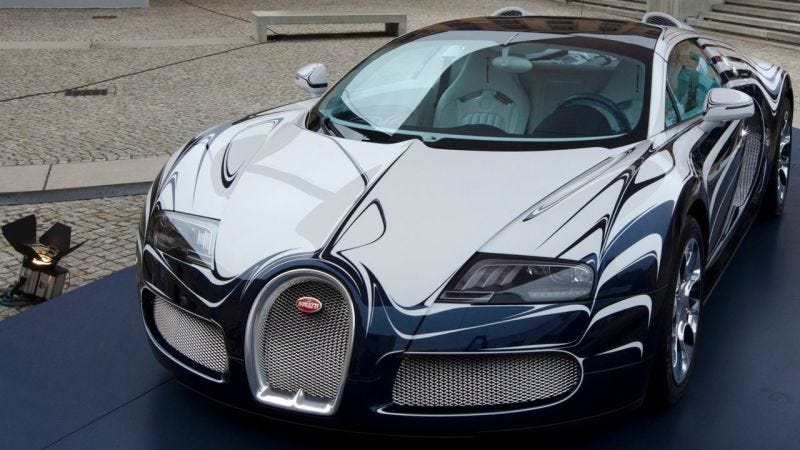 08-14-2018, 01:09 PM
Registered Member
Join Date: Aug 2010
Location: Spring, TX
Age: 33
Posts: 10,896
https://jalopnik.com/heres-why-the-m...n-a-1828332006
"Wait a second,"
you scream at your computer.
"You mean to tell me that U.S.-spec McLaren Sennas don't get the same exhaust as the euro-spec ones?"
This is true, but for once it's not a bad thing. Our American Sennas are even rowdier than what's pootling around Europe right now.
I personally did not notice that the exhausts on American-sent Sennas didn't match the ones that debuted first for Europe. I was busy staring at all the aero wondering how that would fit into the future GT1-spec car that exists in my dreams right now.
Also I was wondering if anyone would take out that plastic panel in the door and drive around with their leg hanging out.
But McLaren brain genius
Peloton25
did notice the difference, and set to clearing the air about it on the Notes app of the soul, Instagram. The basic explanation is that Europe has tight noise regulations that the U.S.A and other parts of the world do not, so McLaren designed its Euro Sennas to have baffles on its outer two exhausts and also a third exhaust with more restriction to keep noise down at low speed. Higher speed opens things back up to full noise.
It's kind of like the exact opposite of how the
Honda Civic Type R
has three exhausts with a loud middle for more noise at low speed, then a quieter outer two exhausts for a softer highway cruise.
In any case, here's Peloton25's explanation:
I reached out to McLaren, which confirmed that this is officially official. What McLaren wasn't exactly sure of was what the exact decibel levels allowed for each exhaust is, but if I hear back from them I'll update this post.
But there you have it. American (and other non-European) Sennas are louder and brasher than the ones in their home market. I guess I shouldn't be all that surprised after all.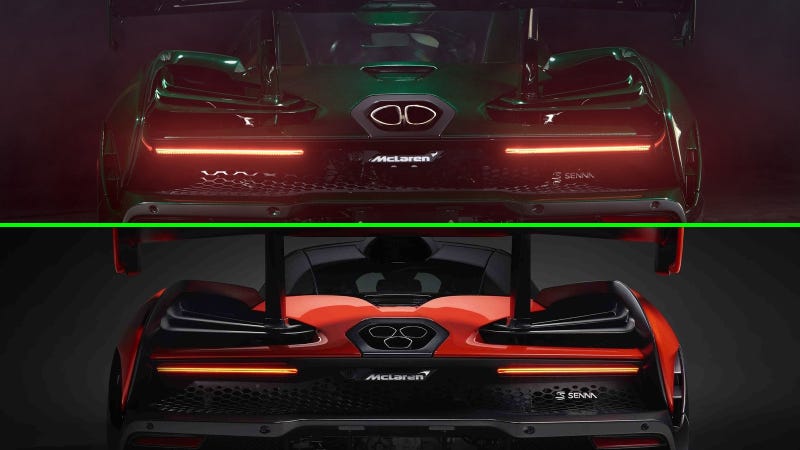 08-15-2018, 04:02 PM
Registered Member
Join Date: Aug 2010
Location: Spring, TX
Age: 33
Posts: 10,896
https://www.carscoops.com/2018/08/11...cy-white-blue/
McLaren is only making 500 examples of the
Senna
, and with so many customization options on offer from its Special Operations division, there's no reason any two should ever leave the factory in Woking exactly the same.
We've seen a handful already, including
Michael Fux's green carbon example
, and
the very first one
that was done up similar to the
Bugatti Veyron Grand Sport L'Or Blanc edition
. And now we have another.
Depicted in this video is the 11th example, and it's decked out in a rather unique color scheme of Fuji white and electric blue with loads of exposed carbon fiber. The blue detailing continues inside, and the owner went for the optional glass lower door inserts.
The Senna packs a 4.0-liter twin-turbo V8, tuned to deliver 789 horsepower (588 kW) and 590 lb-ft (800 Nm) of torque channeled to the rear wheels through a seven-speed dual-clutch transmission. With a featherlike dry weight of just 2,641 pounds (1,198 kg), it'll hit 62 mph (100 km/h) in 2.7 seconds and top out at 211 mph (340 km/h) – and this despite the enormous amount of downforce that'll make it corner like it's on rails.
The hypercar was commissioned by Hussein Musallan, a Saudi collector who apparently has a penchant for McLarens – with the number 11, no less. His
Mercedes
SLR McLaren was the eleventh made, as was his
MSO HS
(an exclusive version of the 650S), and his P1 was also the 11th manufactured. Judging from
his Instagram feed
, he's also had (or at least driven) a handful of Bugattis, Paganis and Koenigseggs as well, not to mention a smattering of Ferraris, Lamborghinis, Porsches and exclusive
Mercedes
, too.
Seems like a nice life to us, and we're sure he'll enjoy driving his Senna at least as much, if not more.
01-17-2019, 10:24 AM
Registered Member
Join Date: Aug 2010
Location: Spring, TX
Age: 33
Posts: 10,896
https://www2.motorauthority.com/news...ads-to-auction
Barrett-Jackson will play host to the sale of a 2019 McLaren Senna, a car that has been sold out since it made its debut in 2017. Any party interested will surely need a checking account with well over seven figures if they plan to play ball.
The Senna headed to auction wears the VIN ending in 005 and is one of 500 cars McLaren built in the production run. This example is mighty sinister looking with a Black Amethyst exterior color over black accents. The hue gives off a deep purple vibe in some lighting conditions, a proper exotic touch to McLaren's
lightest supercar ever
.
Like every other Senna, there's a 4.0-liter twin-turbocharged V-8 on hand that produces 789 horsepower and 590 pound-feet of torque. The power, along with the car's slippery shape, lets the Senna clip of
0-62 mph in 2.8 seconds
and 0-124 mph happens in only 6.8 seconds.
Keeping a foot mashed into the throttle will eventually take the supercar to a top speed of 211 mph. As we've said in the past, the figures are absolutely worthy of the Senna name.
McLaren named the supercar after the late Ayrton Senna, who snagged three Formula 1 world championships driving for McLaren.
Around the track, where the supercar is most at home, the Senna creates 1,400 pounds worth of downforce to stick the car to the pavement. The supercar also weighs just 2,641 pounds and features McLaren's ProActive Chassis Control system.
Double wishbones and the front and rear include adaptive dampers interconnected hydraulicly. Sensors relay info, which the suspension uses to adjust damping in just two milliseconds, while Pirelli P Zero Trofeo R tires ensure maximum grip.
It'll likely be some time before new Senna owners are ready to part ways with their $1 million supercars, so those who missed out on the initial purchase wave will need to act quickly at the Barrett-Jackson auction scheduled for Saturday in Scottsdale, Arizona.
03-08-2019, 09:47 AM
Registered Member
Join Date: Aug 2010
Location: Spring, TX
Age: 33
Posts: 10,896
https://jalopnik.com/2020-mclaren-se...814-1833150550
While I still think the car is ugly, throwing a bunch of racing kit, aero pieces, and a subtle livery on the new
2020 McLaren Senna GTR
allows me to rest my eyes and instead focus on the car's 814 horsepower and $1.44 million price tag. It's for the track only, so forget picking up groceries in this McLaren.McLaren has taken the Senna, a very fast car named after a very fast man, squeezed 25 HP more out of its twin-turbo 4.0-liter V8by a slight remapping and removing the secondary catalyst, which also happens to make the car a lot louder. That's what we call a win-win.
Sadly, though, the side-pipe exhaust on the Senna GTR concept car didn't make it to production, so you're still blasting out the back, but that change also helped bring dry weight down 22 lbs to 2,619 lbs, giving the Senna GTR the
best power-to-weight ratio of the entire McLaren lineup
.
The car also puts down 590 lb-ft of torque, has the same 7-speed transmission as the regular Senna, and can now reach the same levels of down force as the regular car at lower speeds, making the car much stickier to the road surface and presumably faster around a track.
The car is also 1.3 inches lower than the road-legal car, a widened front and rear track, with the variable suspension swapped out for double wishbones and other gear developed for GT3 cars through the company's customer racing program. There's also adjustable camber, four-way adjustable dampers, and 19-inch wheels.
All 75 copies of the £1.1 million, ($1.44 million), plus taxes, road-
illegal
Senna GTR have been sold, likely destined to be parked in the same garage as their street-smart siblings in giant houses next to racetracks that are empty most of the year.
03-08-2019, 09:47 AM
Registered Member
Join Date: Aug 2010
Location: Spring, TX
Age: 33
Posts: 10,896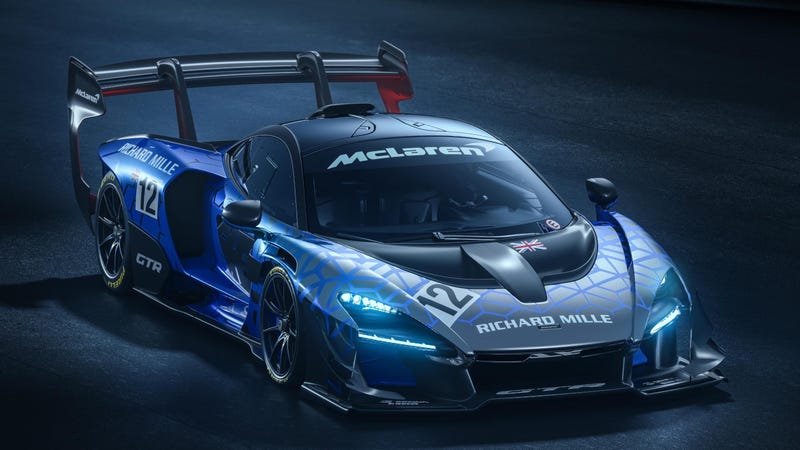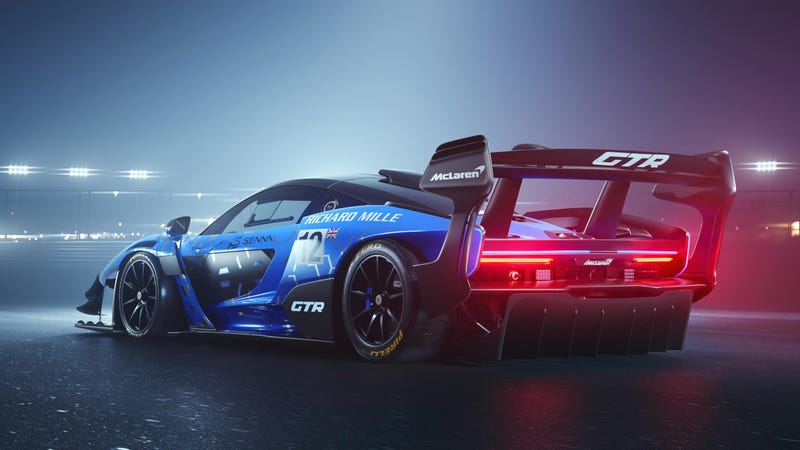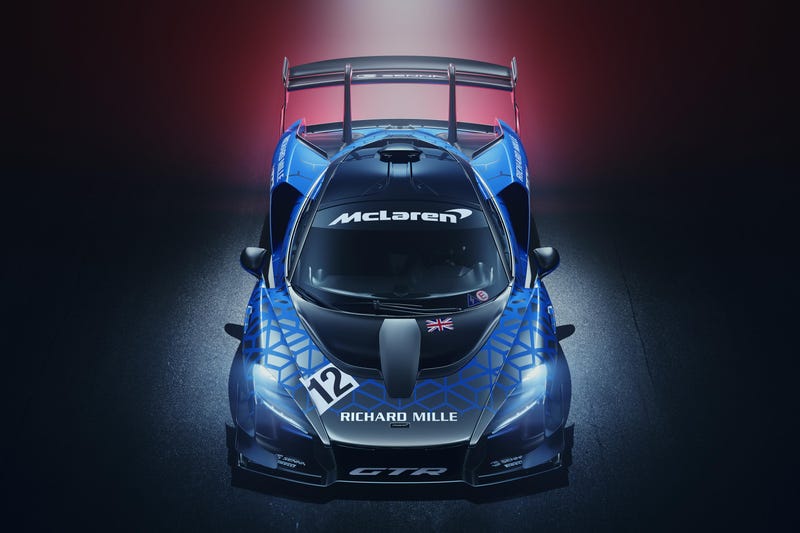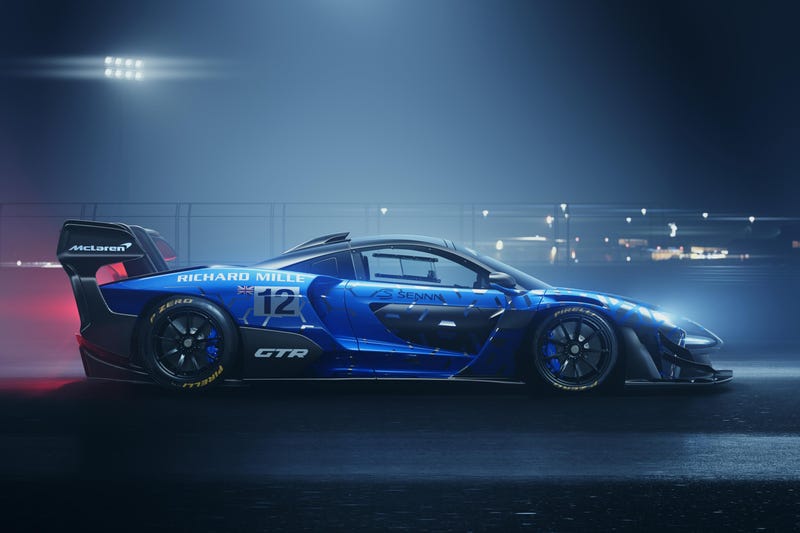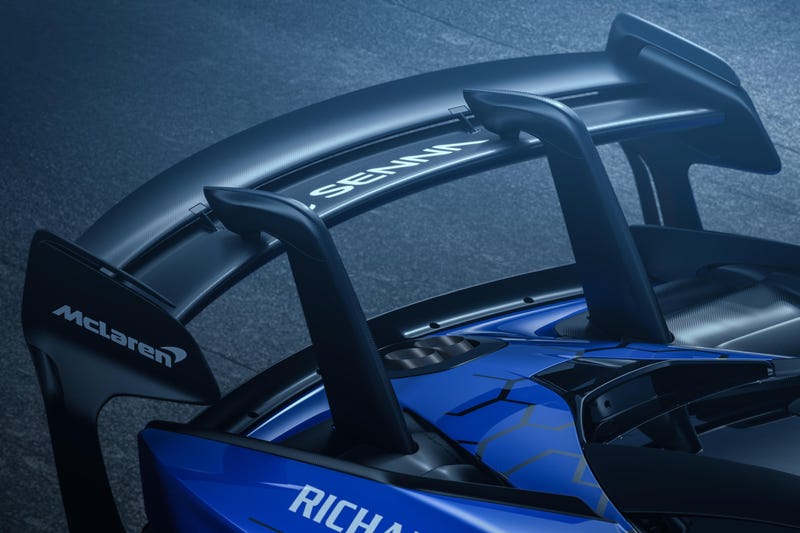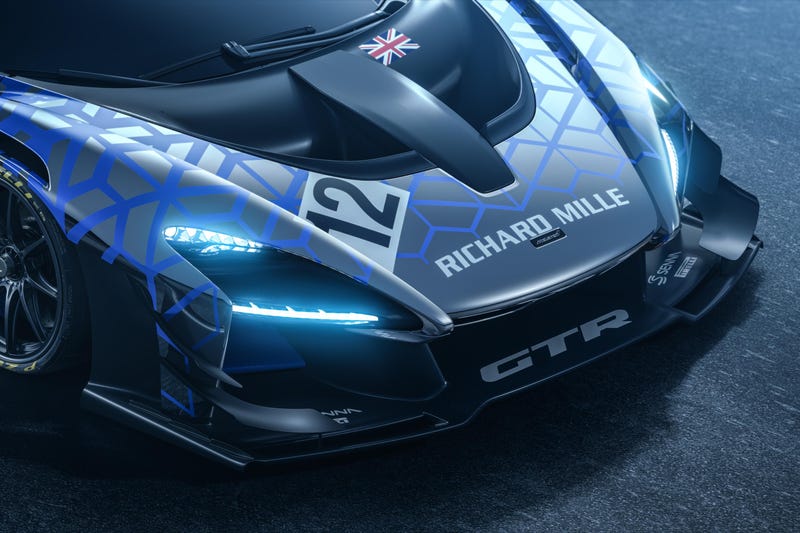 Thread
Thread Starter
Forum
Replies
Last Post