Mazda: MX-5 News
07-05-2018, 07:29 PM
Thread update?! Mazdaspeed news?!?!?
...
Always liked the Renown 787B livery. Or maybe it's the car it originated from.
08-13-2018, 10:32 AM
Registered Member
Join Date: Aug 2010
Location: Spring, TX
Age: 33
Posts: 11,273
https://www.autoblog.com/2018/08/13/...-drive-review/
New power, same feeling

When Mazda announced that the 2019 Mazda MX-5 Miata was getting a serious increase in power, I was both excited and nervous. I was excited because more power is always exciting, and it was no insubstantial increase. At 181 horsepower, it's the most powerful production Miata ever offered, beating out turbocharged Mazdaspeed Miata's 178 horsepower. Plus it has more revs to play with.

But what had me worried was whether this power would mess up the friendly, playful character of the Miata. The 155-horsepower 2.0-liter engine is just about perfect, almost universally loved by the Autoblog staff and other reviewers, with good midrange torque and short gearing that always made it feel quick in nearly every rev range. It felt like the right amount of power for the chassis, too. There was just enough to get it loose without working too hard, but it wouldn't spin you around unexpectedly.

I could imagine a couple of ways the new engine could affect that sweet balance, too. A bit too much power could risk some of the Miata's accessibility and predictability. It might become more serious and less fun-loving. I also feared that in pursuit of a higher redline and more horsepower, the low-end of the rev range might become painfully slow. Honda owners know this feeling whenever their VTEC-equipped screamers drop out of the aggressive cam profile, and the Toyota 86 and BRZ suffer from an awful lack of torque right in the mid-range that doesn't recover until nearly redline.

All of this was on my mind when the assembled reviewers were briefed by Mazda engineers about the car. It started out like most presentations, with a brief rundown of the goals of the car and what Mazda has done with the model so far. Then came a chart showing the power curves of the NC, current ND, and the 2019 model, and my fear of a loss of low-end grunt dissipated. The amount of power and torque over engine speed is nearly identical between the old and new ND Miatas right up to around 4,500 rpm. And then from there, the 2019 continues making more power all the way to its 181-horse peak at 7,000 rpm, 500 rpm higher than the previous model's redline. This was a good sign.

Mazda managed to get these gains with no sacrifices through many small upgrades. The throttle body is wider with a slimmer throttle plate, the intake manifold has longer runners and dual paths, and the intake ports are larger. The exhaust valves, ports and header pipes are bigger, and the exhaust cam has a bit more duration and lift. The pistons were redesigned with slimmer skirts for less friction and new tops for better cooling. The rods have stronger, shorter end bolts for less weight, and the crank is stiffer. Finally, the fuel injectors run higher pressure for better fuel atomization.

Mazda also sought greater refinement, adding a dual-mass flywheel to help with transmission noise and vibration, adjusting the electronic throttle to flutter a bit to eliminate vibration from the engine rocking under power, and tweaking the muffler for a smoother sound.

All the presentation slides and engineering talk is fine, but the true test is actually driving the car. Over the course of two days, I drove freeways and mountain roads between San Diego and Pismo Beach, racking up hundreds of miles between a Miata RF Club and soft-top Miata Grand Touring. And what I learned is that I really shouldn't have worried — and heck, with Mazda's nearly 30 year track record of fun Miatas, I really, really shouldn't have worried. The 2019 Miata is basically the current car, but with an extra little layer of icing. And that icing is delicious — almost too delicious.

Let's start with the engine, which manages to feel just like a current Miata when hustling it around town. It's got enough grunt to feel peppy in town, and it isn't so fast that you'll be cursing every speed limit sign you pass. When surface streets give way to a highway on-ramp is the time you'll first notice the extra power and revs — and you'll notice the revs more than the power, since the car is able to hold each gear a little longer to savor the little engine's furious growl for a few moments more. The power, though, is much more subtle. It's not like the hit from a turbocharger or even the cam profile change in some VTEC engine. It basically continues the current Miata's smooth power past the old rev limit of 6,500 to the new one of 7,200. It feels just like the old car, but it just keeps pulling for longer.Then on backroads, the muted bass of the intake and the higher snarl of the exhaust combine with the power to encourage you to keep the engine as close to redline as possible. And it's easy to do so between the car's laser-precise, slick-as-a-light-switch shifter and the engine's willingness to build revs.

Also evident when driving around are the changes intended to make it all more refined, and it comes through in the sound. There's plenty of the old growl, but the whole engine sounds much smoother. It's lost any raspiness and off-pitch notes the old one had. Whether that's a good thing is arguable. I personally liked that the current Miata was a bit uncouth. It was like it was wearing a slightly wrinkled T-shirt, and the new one is wearing a well-ironed collared shirt. Neither is really bad, just different.

What hasn't really changed with the Miata is, well, basically everything else. Chassis-wise, it feels as nimble and stiff as ever. It's light weight lets it quickly change directions without drama, and the somewhat soft suspension results in some body lean, but it also means it can handle uneven back roads without being upset and bumped loose. The chassis is constantly letting you know which end of the car is getting a little loose, and nothing happens overly quickly, so you have plenty of time to correct with throttle and steering inputs. The steering is delicate and light, which fits the personality of the car perfectly, but its feedback and precision fall a bit short of the 86 and BRZ.

Related to all this are some interesting differences and lack of differences between the two cars I drove, an RF Club with the BBS and Brembo package, and a soft top Grand Touring. The Club is definitely a bit more stiff, though still exhibiting lean on corners. I also can't recommend the BBS and Brembo package. The wheels certainly are sharp, but the Brembo brakes didn't feel particularly stronger than the standard units. Save your money and buy some upgraded pads and the wheels of your choice. In general, the brakes on both cars could be firmer. Also noticeable between the two cars was the RF's extra weight. For reference, the RF is a bit over 100 pounds heavier than the 2,339-pound manual soft top.Going around corners, you could feel the whole car pushing wider.

The tradeoff to the Miata's charming engine and handling is that it's not ideal for long highway jaunts or especially bumpy city streets. First off, it's not quiet. Wind, road and tire noises are omnipresent, regardless of whether you're in the RF or a soft top. The difference is between low roar and medium roar. Also, while the Miata has relatively soft suspension, it's still small, light, and doesn't have that much suspension travel, so you'll still be bounding up and down a fair bit over bigger bumps.

Inside, nothing has changed either except the inclusion of a telescoping steering wheel. As Mazda representatives explained, it was its own major engineering project to keep weight down; the new unit only weighs another half pound. It's sure to make getting comfortable easier for most people, though another inch outward would have been nice for my preferences. Still, the driving position is quite comfortable and low. The Recaros are the same, which is sure to please Associate Editor Reese Counts. While they do offer good support, those of larger build, such as myself, may prefer the less bolstered stock seats. The interior is also still attractive, and the controls are a breeze to use. The plastics are cheap and hard, but that's not something you'll be too worried about. The cupholders are still subpar, and the passenger side is still tight.

There are a handful of other small changes to the Miata. The most notable is the GT-S, which finally lets buyers have all the comfort features of the GT along with the Club trim's stiffer suspension and limited-slip differential. Pricing has also gone up a few hundred dollars for the RF models, and pricing for the soft top is coming soon.

The important takeaway: Even with the extra power and tweaks for refinement, Mazda hasn't ruined the Miata formula in the least. It's the same light, playful little car that's stolen our hearts for years, made just a little sweeter.
08-15-2018, 09:57 AM
Registered Member
Join Date: Aug 2010
Location: Spring, TX
Age: 33
Posts: 11,273
https://carbuzz.com/news/here-s-how-...019-mx-5-miata
Unfortunately, we had to learn the hard way.
If you've read
our recent review of the updated 2019 Mazda MX-5 Miata
, you likely remember a lyrical tale of belting through the twisting roads of the Angeles National Forrest with the sound of a redesigned 181-horsepower SkyActiv engine providing a glorious soundtrack for a glorious day. Unfortunately, our day driving the Miata wasn't quite as perfect we made it out to be. Approximately 10 turns into the Angeles Crest, well beyond the point where cell phones lose their reception, we hit a rock on the apex of a blind corner. The air in our tire immediately departed and as we learned the hard way, the Miata doesn't have a spare.
This isn't surprising, as nearly one-third of all new cars have ditched the spare tire in exchange for weight reduction and increased fuel economy. Of course, this meant we had to rely on a can of fix-a-flat and a portable air compressor. We'll give you three guesses on how that worked out. We ended up having to hobble the car to a local ranger station where we called Mazda to come to our aid. This is when we learned that the company had secretly removed even more weight from the car. Those geniuses over at Mazda never stop obsessing over the smallest details.
We were finally rescued with a brand new BBS wheel to fit our Club car, but changing the tire wasn't as simple as we had anticipated. In a bid to further reduce weight, Mazda has quietly switched from a 21-mm bolt to a 17-mm one. Our rescuers had to quickly run over to the hardware store to get a new socket, then we were on our way. It may be a minor change with a minimal effect on overall weight, but it just proves how devoted Mazda is to keep the Miata as one of the lightest sports cars on sale today.
09-27-2018, 10:53 AM
Registered Member
Join Date: Aug 2010
Location: Spring, TX
Age: 33
Posts: 11,273
https://www.autoblog.com/2018/09/27/...estored-miata/
In August 2017,
Mazda announced that it will be offering factory quality restoration work
for the original, NA body
Mazda MX-5 Miata
introduced in 1989. The program also included parts support, as
Mazda
wants to underline how much the original Miata still means to it. The program was launched with exemplary work carried out on a Miata owned by Mazda, but the first customer car has now been finished.
The first car was picked from 600 applications sent to Mazda. Out of all these cars needing factory certified work, the 1992 British Racing Green V-Special owned by retired tomato farmer Keiji Nishimoto was chosen to be the first. The Eunos-badged limited-edition car was bought new by Nishimoto, and he told Mazda the car had been instrumental in creating some wonderful road-trip memories. The V-Special edition came in a British roadster-style color combination: "Neo" green over tan leather, complete with a retro-style Nardi wood wheel. The car also has a front strut bar and a limited-slip differential.
Nishimoto had already been planning to get his car restored, but getting it done by Mazda during the summer was even better. The car was finished in August, and it was officially handed over to its owner in September. To have owned and enjoyed a car for a quarter-century and getting a chance to experience it in as-new condition again must be a fantastic experience. Nishimoto says the car is now good for another 25 years of driving.
For the time being, the TÜV Rheinland certified restoration program is only available for Japanese customers. But since a large percentage of first-generation Miatas are still on the road, and a large percentage of those will need bodywork done in all the usual places, we would happily see Mazda reach out to European and American customers as well.
09-27-2018, 01:08 PM
Registered Member
Join Date: Feb 2001
Location: Los Angeles
Posts: 15,358
That is neat! I wish Honda could do that to S2000...
02-07-2019, 01:33 PM
Registered Member
Join Date: Aug 2010
Location: Spring, TX
Age: 33
Posts: 11,273
https://jalopnik.com/the-mazda-miata...ran-1832433410
Mazda is celebrating three decades of the Miata at the
Chicago Auto Show
, where the car first debuted back in 1989, with the
2019 Mazda MX-5 30th Anniversary Edition
. Not with a hardcore racing setup, nor a limited run of hardtop coupe models, or anything wild like that. Just this orange color.
The color is called Racing Orange and bespoke to this special edition, and it's part of the anniversary package that also includes orange brake calipers (Brembo in the front, Nissin in the back), orange-accented Recaro seats, dashboard, shifter, and door trims, 17-inch Rays aluminum wheels, a mechanical limited-slip differential that's exclusive to cars with a manual transmission, a nine-speaker Bose audio system,Apple CarPlay and Android Auto, and a 30th anniversary badge.
It'll be available in both soft-top and RF models, and will be limited to just 3,000 cars worldwide, with 500 coming to the U.S. Pricing starts at $34,995 for a soft-top manual, or $37,595 for the RF, with the automatic a $500 option or $400 respectively.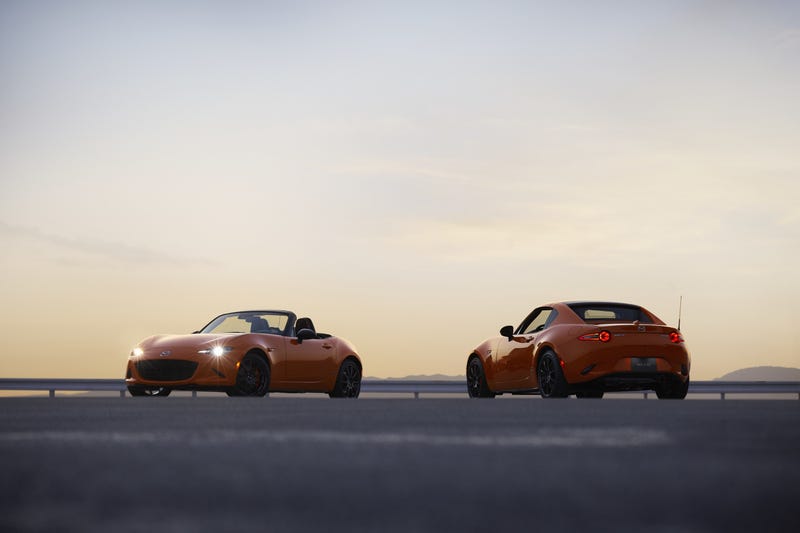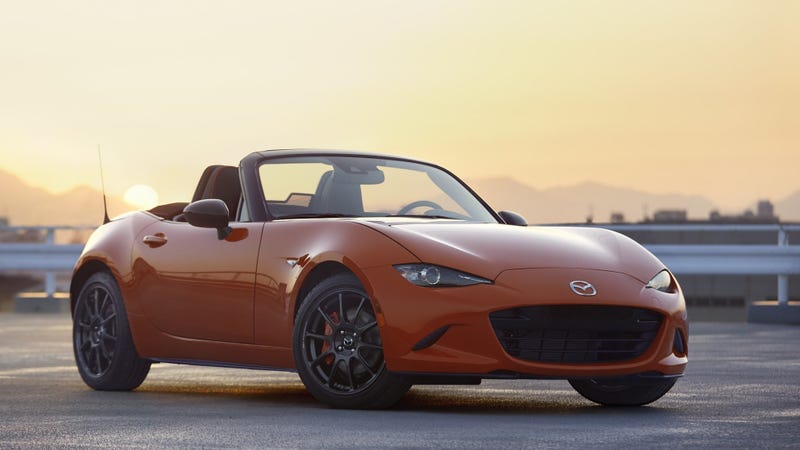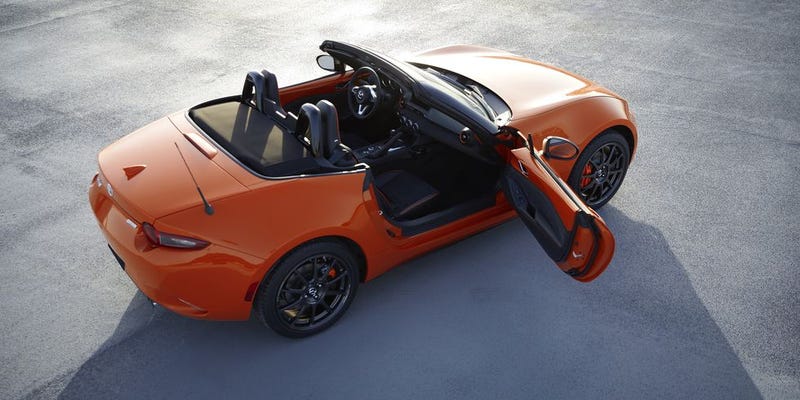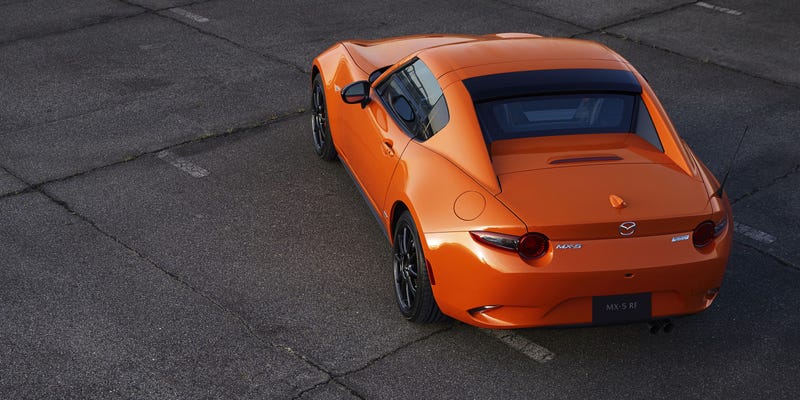 02-07-2019, 02:15 PM
Moderator
Join Date: Oct 2004
Location: Las Vegas
Age: 34
Posts: 56,415
but wtfff 35k for a Miata?
02-07-2019, 02:22 PM
RF starts around $32k

Hardtop convertibles just cost more
02-07-2019, 02:24 PM
Registered Member
Join Date: Aug 2010
Location: Spring, TX
Age: 33
Posts: 11,273
02-07-2019, 02:42 PM
02-08-2019, 11:29 AM
Registered Member
Join Date: Aug 2010
Location: Spring, TX
Age: 33
Posts: 11,273
And, they're gone.
https://www.autoblog.com/2019/02/07/...ata-sells-out/
It took four hours for the 500 U.S. cars to find buyers
Remember back in 2014, when
Mazda released the 25th Anniversary Mazda MX-5 Miata
and it
sold out in 10 minutes
? Now, just hours ago at the
Chicago Auto Show
,
Mazda
opened the books for t
he 30th Anniversary model
— and you guessed right,
it's now sold out as well
.
This time around, it took four hours, but there's a difference: in 2014, there only were 100 25th Anniversary cars to pre-order, and for the big 3-0, Mazda allocated 500 U.S. cars. We're expecting the 2,500 rest-of-the-world cars will also sell out rather quickly.
The 25th Anniversary model was
Soul
Red, but in the lighting seen in the 2014 article it rather reminds us of the "Sunkist" orange of the original NA generation Miata color test car, the orange one out of six one-off special paint cars. This year's model is more clearly orange, a hue Mazda calls "Racing Orange" and says it's inspired by the 1989 Club Racer concept's ... bright yellow. In any case, it's a good match with the ND's swoopy flanks.
There is — we mean,
was
— a choice of regular Roadster from $34,995 and the folding top RF version from $37,995, and a choice of manual or automatic transmission. It took a refundable $500 deposit to secure one of the 500 cars.
02-13-2019, 09:47 AM
Registered Member
Join Date: Aug 2010
Location: Spring, TX
Age: 33
Posts: 11,273
https://www.autoblog.com/2019/02/13/...rare-for-sale/
It's somehow fascinating that one of the most interesting developments of Mazda's
MX-5 Miata
roadster is the one that isn't a roadster at all. Unlike the NC and ND generations with retractable power hardtops, the second-generation NB Miata got a special coupe version with a fixed roof, done in the style of the first-generation coupe concept. We're talking very limited production numbers: just 179 of these NB coupes were made, and they were all Japanese-market models, so it's not often that one comes up for sale.
Except now
.
Itself even more of a limited-edition car, this sportier Type S version residing in Hong Kong and
advertised on Pistonheads
is one of just 63 made. It's right-hand-drive, as both its Japanese market origins and Hong Kong regulations dictate, and out of the available engine variations it comes with the 1840cc unit and a six-speed manual gearbox. What's more, despite its low 30,000 miles, the 2004 fixed-roof Miata is said to be fully overhauled and restored to as-new condition. We can't imagine those coupe-specific parts such as glass and trim are easy to source, so with these extremely rare cars it's probably best to go with the best condition example you can find, if you can find one to begin with. Rust hits all old Miatas at some point.
With that backdrop, the £30,000 ($38,700) asking price doesn't seem all that unreasonable. With the Miata's enormous enthusiast base, there are now
aftermarket
solutions that imitate the flowing lines of the rare factory coupe, but they do lack the strengthening that
Mazda's
specialty skunkworks shop put in these — and the body-stiffening roof adds a mere 22 pounds to the car's dainty overall weight. For some lucky Miata hobbyist, this particular red coupe might be the crown jewel of their roadster collection.
02-13-2019, 09:22 PM
Moderator
Join Date: Oct 2004
Location: Las Vegas
Age: 34
Posts: 56,415
Thread
Thread Starter
Forum
Replies
Last Post