BMW: iNext News
09-16-2018, 12:16 AM
Senior Moderator
BMW: iNext News
---
From here:
https://money.cnn.com/2018/09/15/aut...ric/index.html
BMW has unveiled its vision for a self-driving electric crossover SUV and, if it actually ends up being a lot like the concept version, it should be a pretty cozy place to hang out.
The BMW Vision iNext is a concept vehicle for now. But BMW executives said they plan to put something like it into production in 2021.

The car was unveiled inside the belly of a cargo plane at John F. Kennedy International Airport in New York. Inside, BMW's executives displayed working versions of some of the technologies being considered for the car, including touch sensitive fabrics and interactive projections. As with any concept vehicle, it's not yet clear which aspects or capabilities will actually be in the production version.

The front end of the Vision iNext features a new version of BMW's trademark "kidney" grill, which features two rounded rectangles. In the Vision iNext, the rectangular shapes are connected by a broad center section, creating something like a massive letter H. This grill is largely cosmetic, however, since a large radiator isn't needed on a fully electric car. A major reason for this center section is to cover the front-mounted cameras and sensors that enable the car's self-driving capabilities.

The interior of the car has a deliberately crafted room-like ambience. The seats, walls and even the dashboard are covered in richly textured fabrics. Instead of the usual center console between the front seats there is a table-like structure with a metal base and an inlaid wooden top.

BMW engineers are working on technologies that would allow the wood surface of the table to be used like a touch pad. This is similar to the way, in BMW cars now, drivers can write letters with their fingers on top of a large plastic control knob. Occupants of the iNext may also be able to write letters and shapes with their fingers on the car's seat fabrics.

BMW executives also showed off a projection technology that allows a user to hold a light cardboard sheet in their lap to use as a sort of tablet computer. Images, which the user can interact with, are projected from above onto the sheet which can even be moved around as it used. The projection beam follows the pad so that it never slips off the page.

One prevailing theme in the design of the Vision iNext is that technology should be, as much as possible, invisible until needed. (BMW calls it "Shy-tech.") That helps the inside of the car be as comfortable and relaxing as possible. When the car is in self-driving mode, the steering wheel draws away from the driver and the brake and accelerator pedal retract into the floor. The front seat headrests also fold back so occupants can more easily see and speak with one another.

BMW has said it plans to design and engineer future models so they can all be produced with a choice of internal combustion, electric or hybrid power. That will allow the company to easily shift production of new cars to suit consumer and regulatory demands as they shift.

The Vision iNext was revealed to journalists at four different airports -- in Munich, New York, San Francisco and Beijing -- over the course of five days earlier this week. The vehicle was packed into an exhibition space inside a Lufthansa Cargo jet that flew to each of the cities in succession. Journalists were invited on board the plane to see the car and speak with company officials.


09-16-2018, 12:16 AM
Senior Moderator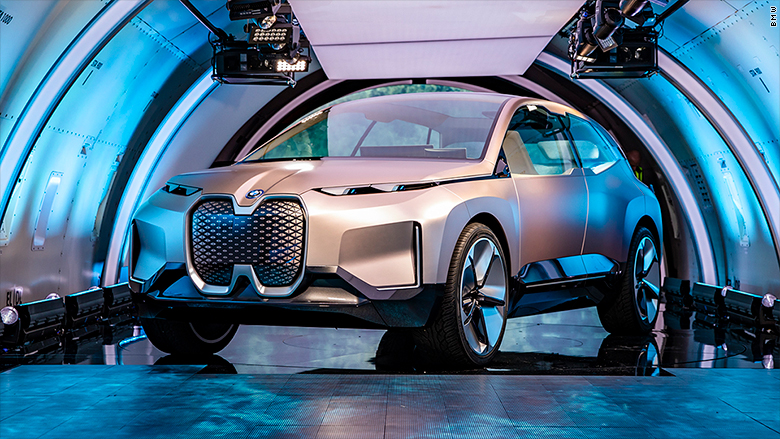 09-16-2018, 11:33 AM
The Third Ball
Join Date: Sep 2002
Location: Los Angeles, Ca
Age: 40
Posts: 46,997
09-16-2018, 11:48 AM
Moderator
Join Date: Aug 2006
Location: Phoenix, AZ
Age: 47
Posts: 14,374
That thing is horrendous.
09-16-2018, 02:13 PM
Senior Moderator
Yeah, iUgly comes to mind.
09-17-2018, 12:09 AM
Registered Member
Join Date: Dec 2014
Posts: 4,878
Jesus!! Kill it with fire! Holy hell, I know it's a concept but eww.
09-17-2018, 10:32 AM
Registered Member
Join Date: Aug 2010
Location: Spring, TX
Age: 33
Posts: 11,988
Merc's EQC is a lot better, even if it's just an electric-ified GLC.
09-19-2018, 10:53 AM
Lucky Enzo!
Join Date: May 2013
Location: Austin, TX
Posts: 7,099
I don't have a ton of respect for Tesla as a company any more. I don't think they have much of a shot in the market, but BMW cannot screw this up so bad. It looks terrible.

This is the car Walter White will drive in Breaking Bad 2050
Thread
Thread Starter
Forum
Replies
Last Post
First Generation CL Discussion (1997-1999)