Acura: NSX News
09-04-2018, 04:01 PM
Registered Member
Join Date: Aug 2010
Location: Spring, TX
Age: 33
Posts: 10,632
09-11-2018, 12:14 PM
Registered Member
Join Date: Aug 2010
Location: Spring, TX
Age: 33
Posts: 10,632
https://jalopnik.com/acura-nsx-recal...ght-1828964985
Acura
will issue
recalls for nearly 1,000 NSX cars, the company announced Saturday, because a pipe connecting the vehicle's two fuel tanks was installed incorrectly. That flaw could increase the risk of fire, Acura said, though no fires have been reported.
The recall affects 967 NSX cars from the 2017 and 2018 model years. Acura said that they will try to reach affected owners by phone, and will replace the fuel tanks to resolve the issue.
Acura also announced Saturday it will also recall 793 NSX cars from 2017 to replace the center rear brake light. Acura's
explains
how the light could cause a cascading series of failures:
A short circuit may occur in the center high mount brake light, causing a blown fuse and deactivation of all brake lights. When this condition occurs, warning lights illuminate on the dashboard, and the engine will not restart after the ignition is turned off.
While not many people will be affected by these recalls, you probably have a recall that needs fixed on your car, so this is a good reminder to check. Don't be a bum! Get
your recalls fixed
. Go to NHTSA's
website
to find out if you have any outstanding.
01-24-2019, 12:01 PM
Alright, alright, alright
Join Date: Nov 2004
Location: Maryland
Posts: 11,851
2019 Acura NSX - One Take
---
01-25-2019, 01:58 AM
You'll Never Walk Alone
Join Date: Jun 2005
Location: Vancouver, BC, Canada
Age: 32
Posts: 8,968
Thanks. Really want to get one!
01-28-2019, 06:21 PM
2006 RRP TL "The Comrade"
Join Date: Jun 2010
Location: Honolulu
Age: 32
Posts: 3,121
02-01-2019, 01:57 AM
You'll Never Walk Alone
Join Date: Jun 2005
Location: Vancouver, BC, Canada
Age: 32
Posts: 8,968
I havent been following the pricing in the US but I did hear that at one point, you could get new ones for like $30-$40k off?
02-05-2019, 07:32 PM
Registered Member
Join Date: Oct 2000
Location: Northern VA
Age: 35
Posts: 1,647
02-07-2019, 11:27 AM
Registered Member
Join Date: Aug 2010
Location: Spring, TX
Age: 33
Posts: 10,632
https://jalopnik.com/heres-a-ton-of-...acu-1832412917
The original Acura NSX was unequivocally a
really good car
when it debuted at the Chicago Auto Show in 1989. This was an incredibly advanced car for its time, featuring an aluminum monocoque, titanium engine components, and super-advanced VTEC variable valve timing. It was a car that punched well above its weight class, making Ferrari sit up and head back to the drawing board. This car had an immense impact on the automotive landscape, and still makes my pulse quicken thirty years later.
To celebrate its birthday,
Acura put out a ton of photos and fun facts
about the original car today. Hereís some of what you can learn from that:
The original NSX began development in 1985 after Honda returned to Formula One.
The Honda R&D engineers began their research on mid-ship sports cars by building a mid-engine Honda City.
The NS-X Concept was smaller than the production car eventually would be, featuring a shorter wheelbase and shorter overhangs.
The Concept also featured an SOHC V6 engine lifted straight from the Legend sedan.
Honda president Tadashi Kume pushed for VTEC to be added to the V6, which made for wider cylinder heads, necessitating a longer wheelbase.
NSX was not intended to be the name for the production specification car, but the success of the concept gave the name momentum and it stuck.
Below are a smattering of photographs from NSX history, including a behind-the-scenes look at the 1990 press test event (Jalopnik was not invited) held at Laguna Seca.
There are also a bunch of original sketches, photos of the conceptís reception at the Chicago Auto Show, and a modern-day shoot between the original model and the lightly-facelifted-for-2019 NSX.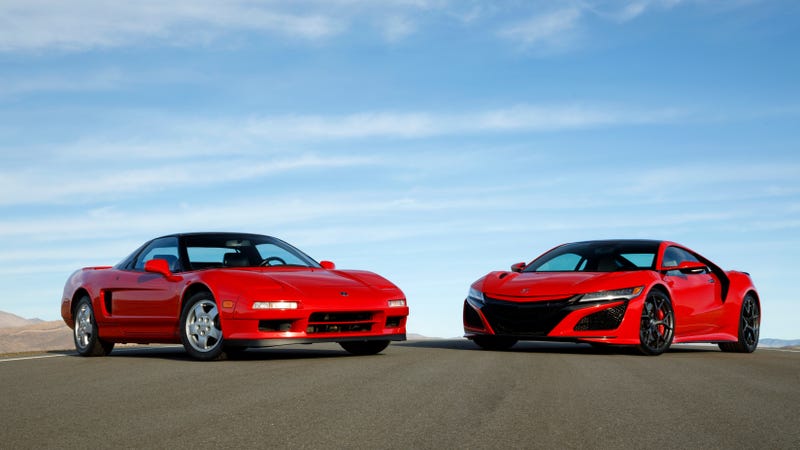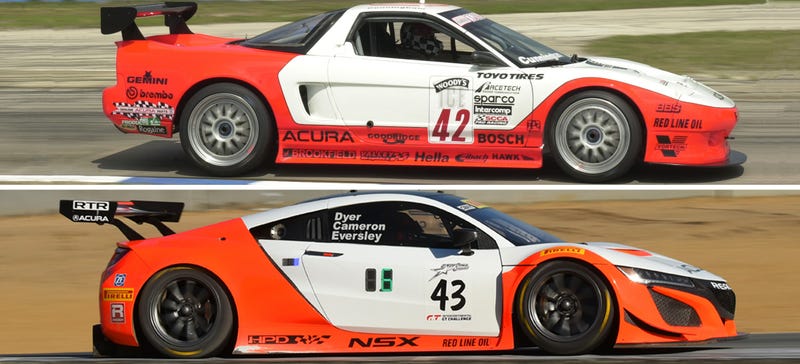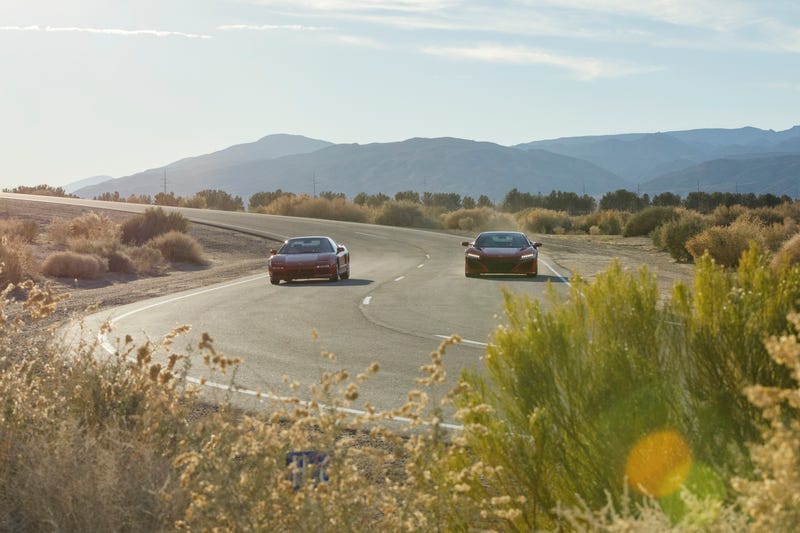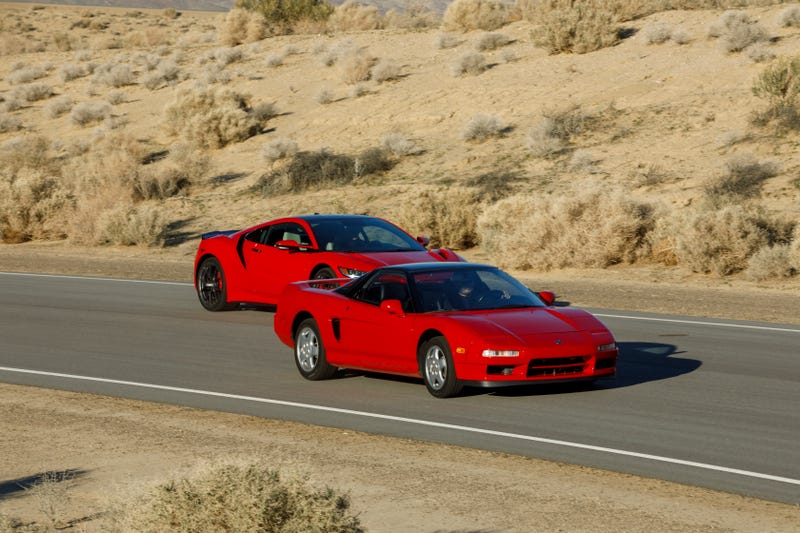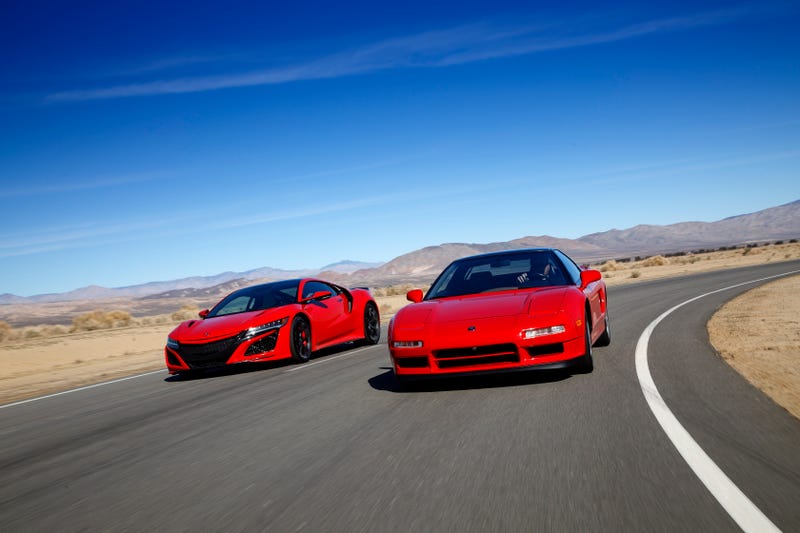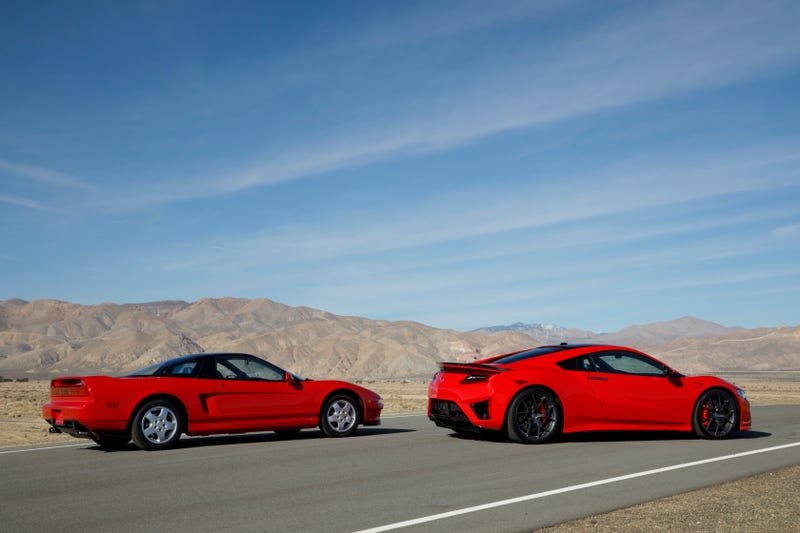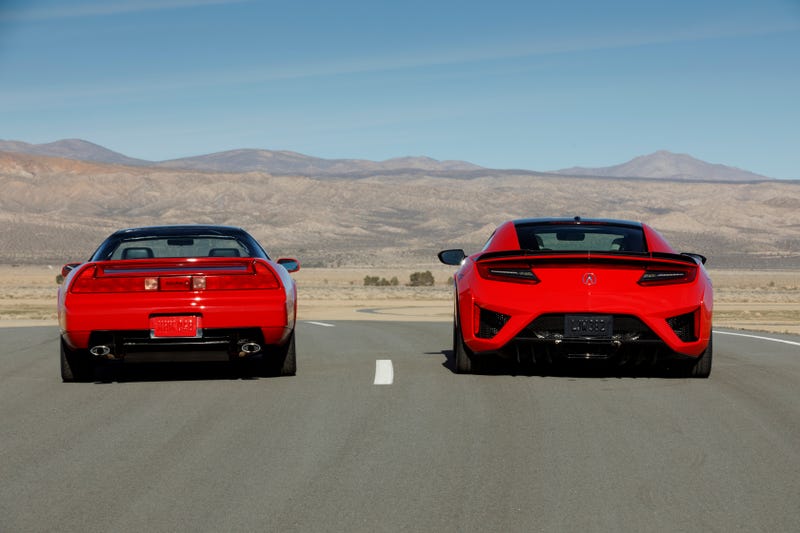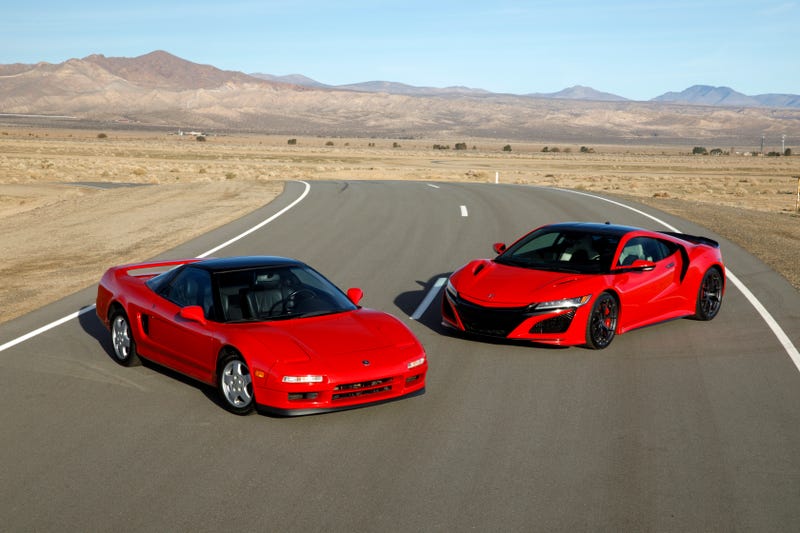 02-07-2019, 12:19 PM
Moderator
Join Date: Jun 2006
Posts: 27,127
Wow, the rear overhang comparison is crazy. It's nice and tidy on the 2G.

The NSX grew on me really quickly and has become one of my favorite looking cars out today.
02-07-2019, 03:01 PM
Senior Moderator
Join Date: Dec 2001
Posts: 145,422
High-res pic if you want a wallpaper.
02-07-2019, 04:10 PM
Moderator
Join Date: Oct 2004
Location: Las Vegas
Age: 34
Posts: 56,230
02-17-2019, 01:59 AM
You'll Never Walk Alone
Join Date: Jun 2005
Location: Vancouver, BC, Canada
Age: 32
Posts: 8,968
The FK8 looks like a minivan beside the NSX:
Thread
Thread Starter
Forum
Replies
Last Post
Second Generation NSX (2017+)
Second Generation NSX (2017+)
Second Generation NSX (2017+)
Second Generation NSX (2017+)