January 2014 COTM Submission Thread
01-02-2014, 04:49 PM
Senior Moderator
Join Date: Jan 2006
Location: Photography Forum.
Posts: 25,002
January 2014 COTM Submission Thread
---
January 2014 COTM Submission Thread is now open for submissions.



Rockstar143 was our last month member and "you" can be our next COTM winner and in the running for our COTY Award. Deadline for submissions will be routine, Deadline for submissions is January 27th 11:59pm EST Get your submissions in now
RULES FOR SUBMISSIONS
ALL entries must have a corresponding filled out garage entry before submission.
1. Picture Maximum for submission posts. Choose your best 3 pics.
2.Submissions must use the Submission Template Below.
3.Modifications must be spaced with comas not individual lines to minimize the length of the post.
4. Other members can nominate for other members as long as the member being nominated PM's me they are ok with the submission.
5.Links to build threads, photo threads, profile, or garage are the only links permitted.



__________________________________________________ ________________________________________________
Username:

First Name:

Car Model:

Mods:

Reason:

Links:
__________________________________________________ ________________________________________________
Do not post comments in this thread. This is for submissions only. Any posts made that are not submissions will be deleted.
---
Last edited by asianspec; 01-21-2014 at

12:47 PM

.
01-21-2014, 01:19 PM
Unregistered user
Join Date: May 2006
Location: Irvine
Posts: 5,686
Likes: 0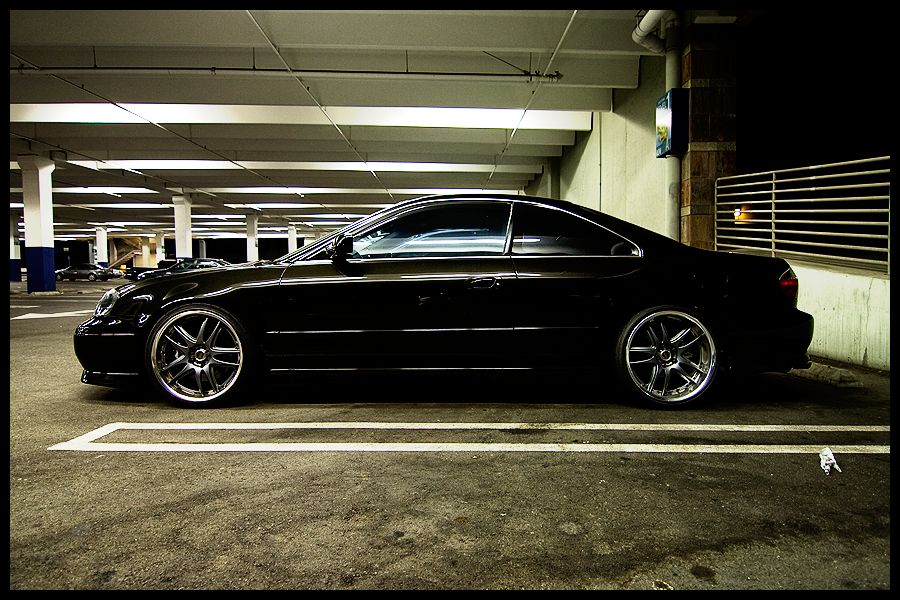 Username: LIPPSTUH
First Name: Phillip
Car Model: Acura CL-S 6MT
Mods: too many wheels, Custom Java Black Pearl Paint, Custom 99-01 TL Lip Kit, Custom 3000k Projector Fog Lights, Weathertech Visor, Rotora Big Brake Kit , AMR Custom Coilovers, Eibach front and rear Sway Bars, SPC Rear camber kit, Shaved rear fenders, AEM Cold Air Intake (Blue), XS Power Headers, Greddy B-Pipe with custom Magnaflow Mufflers (Full cat back), PSPEC True Short Shifter , Voodoo Knob, Super Computer Pedals, Optima Yellow Top Battery, Custom Navigation Mount in OEM Position with Custom climate Control bezel, Avic-Z2 with iPod and Bluetooth bypassed, Kicker SXRC amp remote, Kicker SX1250.1, Audiobahn 4-Channel Amp, JL Audio Front Components, Boston Acoustics Rear Speakers, 3 12" Bravox Subwoofers, 2 Hidden Capicitors, Audiobahn Capacitor bank, Custom Trunk Enclosure
Reason: Because I miss Acurazine.
Links:
https://acurazine.com/forums/2g-cl-photograph-gallery-53/lippstuhs-car-build-494932/
01-21-2014, 07:12 PM
mugen cu2
Join Date: Mar 2012
Location: coral springs fl
Age: 37
Posts: 784
Username : Savclaude
First Name: Savinski
Car model : 2012 Acura Tsx 6 MT
Mods: full authentic Mugen lip kit ( aero sport front bumper,side spoilers and rear half bumper) Mugen vent visors,Mugen licence plate bolts,Mugen shift knob,Mugen ignition cover,Mugen reservoir cover,Mugen oil cap,color matched door handles,color matched interior trim, Ultra racing front sway and rear sway bar,Function and Form type 2 coils,HRE step lip wheels with custom painted face ( lexus silver with gold dipped bolts) 19x9+25 front with toyo 225/35/19 and 19x10+25 with toyo 245/3519,RL front rotors,brembo 350z rotors with custom caliper brackets
Reason: the car was originally purchased for my wife, she said she hated the drive by wire throttle system so she ended up getting a 2013 accord 6 speed MT and I took over the tsx and started modding it
link:
https://acurazine.com/forums/2g-tsx-photograph-gallery-144/savclaude-mugen-cu2-850990/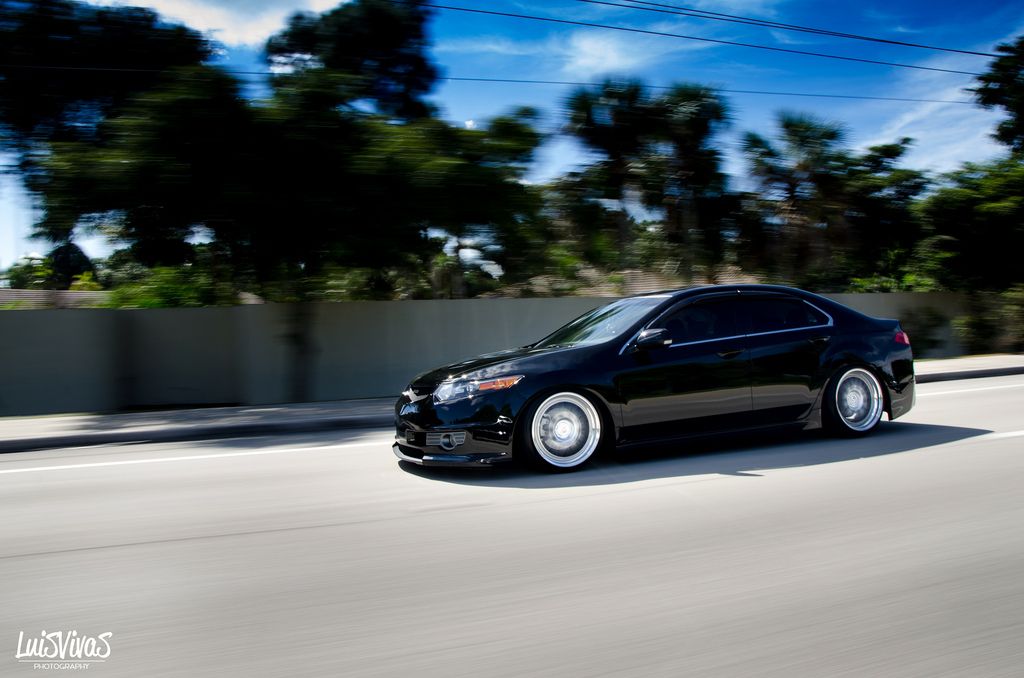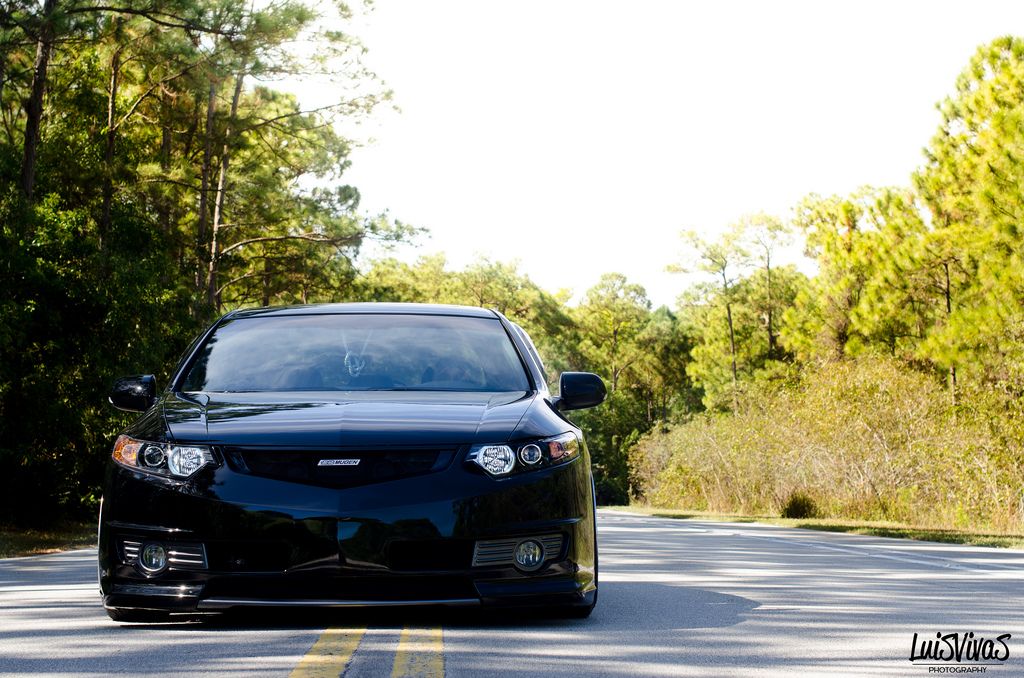 01-22-2014, 01:13 AM
LIST/RAMEN/WING MAHSTA 짱
Join Date: Aug 2007
Location: Orange, CA
Posts: 22,454
princelybug's UA7
---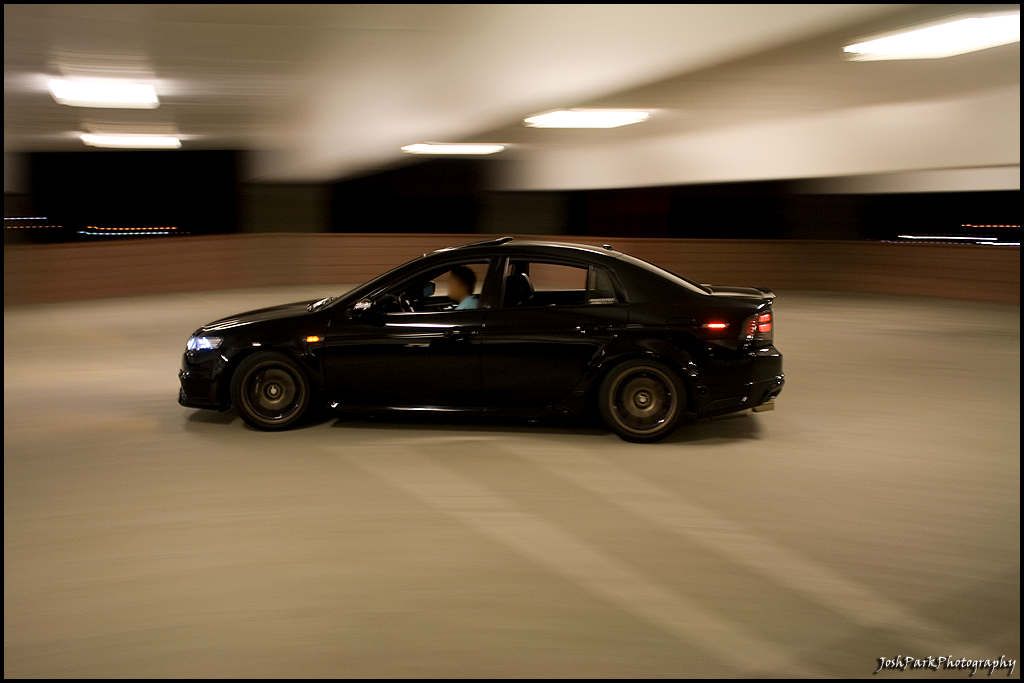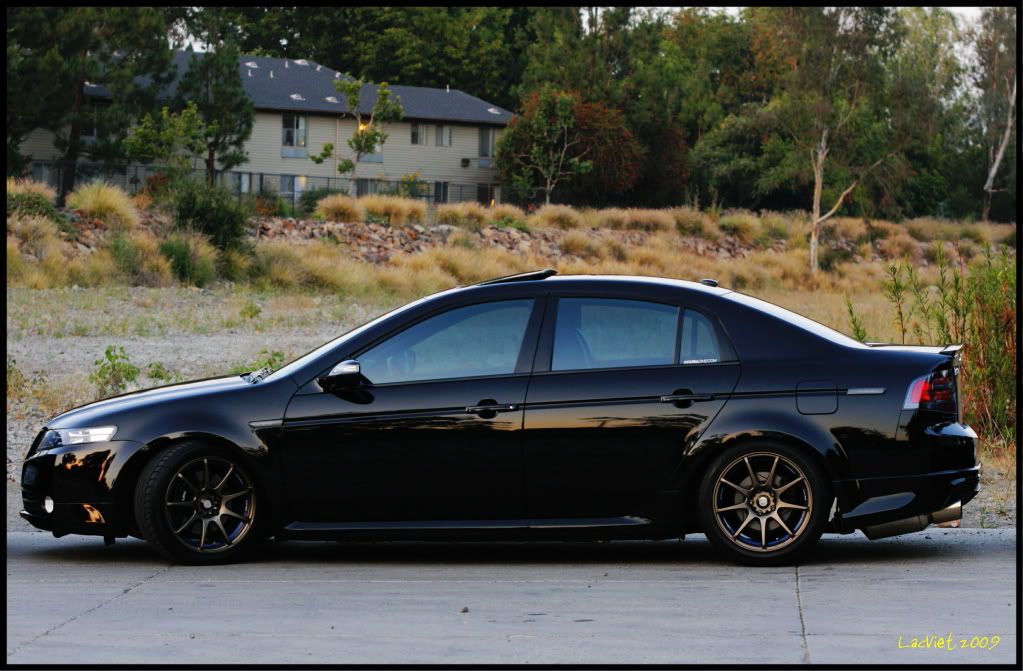 Username:
princelybug
First Name:
Scott
Car Model:
2007 TL Type-
S
Mods:
Engine/Drivetrain Modifications:
-Comptech Short Shifter
-Motul RBF 600 Brake Fluid
-Shifter Cable "Zip-tie" Mod
-UR STOCK size Crank Pulley
-CorSport Shifter Cable Bushings
-4AE NRG Engine Torque Damper
-CorSport RSX Shifter Base Bushings
-Techna-Fit Stainless Steel Clutch Line
-Techna-Fit Stainless Steel Brake Lines
-Innovative Mounts Motor Mounts (85A)
-ATLP "One of a Kind" Single-Tip Exhaust
-Clutch Slave Cylinder Checkvalve Removed
Suspension Modifications:
-Progress RSB
-Ingalls 38725 Rear Camber Kit
-Ingalls 35591 Front Camber Kit
-Neuspeed Super Cup Kit (Race)
Wheels/Tires Modifications:
-OEM TPMS Sensors
-Falken FK 452, 255/40/17
-Weds Sport SA-70, 17x9 +35, bronze
-RacingBrake ET500 Brake Pads-all around
-RacingBrake Slotted One-Piece Rotors (Rear)
-RacingBrake Two-Piece Slotted Rotors (Front)
-Project Kics R40 NEO CHRONO Lug Nuts (Extended)
Interior/Exterior Modifications:
Interior:
-Drop Stop
-Maven Mark One Shift Knob
-Varad SL 210WH Puddle Lights
-PIAA W2 Xtreme White reverse lights
-(11) 9-diode LED's - Car fully LED'd out
-KP Technologies Window Roll-Up Module
-Custom NBP color-matched engine shrouds
-Auto Meter S2000 A-Pillar Gauge Pod 20444
-Auto Meter Sport Comp Digital Pro Shift Light Gauge 3387
Audio:
-JL Audio 10w6v2 Sub
-uncald4 Sub Enclosure
-DICE R4-Silverline Pro
-Alpine PDX 1.600 Amp
-Alpine PDX 4.150 Amp
-Polk Audio db 651s coaxials
-Polk Audio db 6501 components
-Polk Audio db 351 Center Channel Speaker
Navigation:
-2011 Navigation DVD Upgrade (4.92)
Video:
-Rear-View Camera "On-Demand" Switch
Exterior:
-Rolled Fenders
-Cleared Headlights
-Type-S A-Spec Kit
-Uhaul Hitch (24755)
-Nokya 9005 Hyper Yellow DRL's
-Hüper Optik Ceramic 40 Window Tint
-V-LED's Switchback LED's + resistors
-Nokya H8 Hyper Yellow Foglight Bulbs
Reason:
Function > Form; Tracked; Magazine spread.
Links:
(1)
https://acurazine.com/forums/3g-tl-photograph-gallery-96/heres-my-type-s-updated-7-18-11-a-626412/
, (2)
https://acurazine.com/forums/showpos...&postcount=300
01-24-2014, 08:24 PM
Registered Member
Join Date: Jan 2010
Location: Seattle, WA
Posts: 1,964
Repping TeamHD ~ Highly Distractive ~ Seattle, WA
---
Username: carbonTSEX
First Name: RT
Car Model: 2004 Acura TSX 6spd Carbon Grey Pearl
Mods:
Exterior:
2004 Aspec Front Lip Spoiler, 2006 Aspec Side Skirts, 2006 Aspec Rear Lip Spoiler, JDM Accord Euro R Grill, EZlip Front Lip Protector, Mugen Ventilated Window Visors, FLP Trunk Lip Spoiler, Depo EDM Black Housing Headlights, Ebay Yellow Fog Light Kit, Yellow High Beam Bulbs, 8k D2S Headlight Bulbs, 3k Yellow HID Fog Light Kit, 2005 Honda S2000 AP2 Exhaust Tips, 2006 Honda Accord Gold Emblem Kit, 2003 Acura RSX Gold "Type S" Badge, Diamond LED Corner Bulbs and Diamond LED License Plate Bulbs.
Interior:
Comptech Short Shifter, Blox Gold Shift Knob, 15" Kicker L7 Subwoofer, Kenwood 2400watt Amplifier, 0 Gauge Amp Wire Kit (Competition Set Up), 15% Window Tint, and Diamond LED Door Light Bulbs.
Engine/Performance:
Injen Cold/Short Ram Intake, Hondata Reflashed ECU, DC Sport Headers, Custom 2.5 Magna Flow Exhaust, T1R Test Pipe, JDM Honda Type R Valve Cover, JDM Honda Type R Spark Plug Cover and JDM Honda Type R Black Dip Stick.
Wheel/Suspension:
SSR Type F (Touring Gold) 18x9 +50 (effective with spacers +40), Discontinued SSR Carbon Fiber Center Caps, Dunlop Direzza 225/40/18, BC Sport Type BR 30way Coilovers, Drilled & Slotted Rotors, H&R 46mm Extended Wheel Studs, 10mm Sleeve Over Spacers and Work RS Blue Open-Ended Extended Lug Nuts.
Reason: Redemption. Lost TSX of the month by 1 Vote!!! Lets try Azine!
---
Last edited by carbonTSEX; 01-24-2014 at

08:30 PM

.
Thread
Thread Starter
Forum
Replies
Last Post
1G TSX Tires, Wheels, & Suspension
2G TSX Tires, Wheels & Suspension
3G TL Tires, Wheels & Suspension